The PIDA 2021 Domestic & Household Packaging Design of the Year recognises organisations that had designed innovative packaging or materials for products used in the home and garden.
MC for the event, publisher of exclusive media partners Food & Drink Business and PKN Packaging News, Lindy Hughson, congratulated all finalists, noting in particular that some of the refill concepts developed by entrants this year have been well received by consumers.
"The Domestic & Household products category has been subject to considerable media attention of late, with brands answering the call to reduce single-use plastics and making bold moves to introduce refill filling stations in concept stores, as well as having more sustainable refill packs for their products," Hughson said.
The Bronze award went to IKEA (Packsize Australia and IKEA), and the Silver award goes to Cove (Natures Organics).
The Domestic & Household Packaging Design of the Year Gold award winner for 2021 was presented to Zero Co (OF Packaging).
The awards citation explained how Zero Co. set out to reduce the large amount of unnecessary single-use plastics that household products typically use and at the same time clean up the plastic floating in the oceans. Working with OF Packaging, Zero Co created an innovative reuse and refill option that is made from ocean plastic and recycled plastic.
Its dispensers are made from plastic rubbish that it has pulled out of the ocean, beaches and landfill. So far, it has removed over 6000kg of plastic rubbish from the ocean.
Consumers refill their dispensers using a spout pouch. Their reusable refill spout pouches are made from plastic waste diverted from landfill and are designed to be refilled and reused repeatedly. The Zero Co. spout pouches are made from post-manufacture recycled PET and recycled PE. This program has created a closed loop re-use service not seen with flexible spout pouch packaging before in Australia. The pouch packaging can be recycled through soft plastic collection at the eventual end-of-life.
The double spout access feature with anti-drip function provides easy pouring by consumers, while also allowing for easy re-filling by Zero Co. once pouches are returned. Once the end consumer uses the spout pouches to refill their rigid containers at home, the pouches are returned to Zero Co. for sterilisation and re-filling, to then be sent out to another customer.
While each Zero Co. pack has a different pattern, together they create a pallet of pastel tones that link to the Zero Co. brand, as well as give a nod to the greater Australian environment and waterways which Zero Co. are helping to keep clean.
Consumers can also scan the QR code on their pouches to track and view how many times the pouch has been re-used, while also accessing information about the sustainability goals of the company.
Receiving the award, managing director of OF Packaging, Joe Foster, said: "It's been a fantastic opportunity to work with Zero Co who are such an inventive company. This product was launched last October, and since then it's had great success in the market. We've had numerous enquiries from customers around the globe looking to move from rigid containers into spout pouches just like Zero Co, utilising recycled material in the packaging, Certainly we believe sustainable solutions are the way forward for flexible packaging, which is where a lot of challenges lie."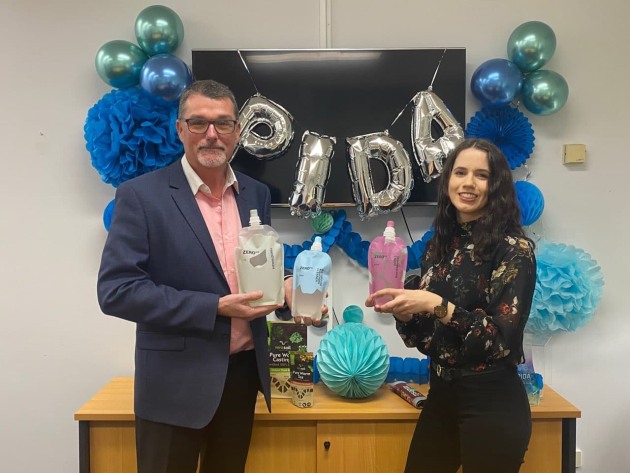 Coordinated by the Australian Institute of Packaging, the annual PIDA Awards program recognises companies and individuals who are making a significant difference in their field across Australia and New Zealand. Winners in the company awards announced today are automatically eligible for entry into the 2022 WorldStar Packaging Awards competition.
Five other categories were announced on Day One:
Food Packaging Design of the Year
Beverage Packaging Design of the Year
Health, Beauty & Wellness Packaging Design of the Year
Labelling & Decoration Packaging Design of the Year