In its FY16 half-year results, Orora has announced increased earnings and further acquisitions in the North American market, to create a $300m POP business.
In the three years since its listing, Orora Group Limited (ASX:ORA) has consistently delivered "solid" performances and met key growth objectives. The latest results maintain this track record. Net profit after tax for the half year ended 31 December 2016 is up 12.3% year-on-year to $92.1 million, with sales revenue nudging the $2bn mark (see results highlights below).
Orora's managing director & CEO, Nigel Garrard said investing for future growth remains a top priority and this is driving innovation initiatives in the group and steering the pursuit of strategic acquisitions. Since December 2013, Orora has announced growth investments totalling around A$380m.
Orora's North American point of purchase (POP) business is on an aggressive expansion path. The company announced today it has signed definitive agreements to acquire Chicago-based The Garvey Group and Los Angeles-based Graphic Tech businesses for US$54 million (approx. A$71 million). This brings to four the number of acquisitions it's made in the POP market since March 2016 when it bought IntegraColor. In January this year Orora completed the acquisition of The Register Print Group.
Garrard said that with these acquisitions the company has, in a short space of time, built a A$300m sales base in the POP sector from which it can grow going forward.
"The latest acquisitions are strategically important in growing the North American Point of Purchase business as they expand Orora's coverage in the US, providing a national manufacturing and fulfilment footprint able to serve corporate customers across multiple locations."
"Orora's Point of Purchase business will now be generating approximately US$230 million in revenue and will offer a unique value proposition in the US market, which we believe will be a compelling factor for customers seeking a full range of product and service requirements across multiple locations."
Strong growth was recorded overall by Orora North America, with the business delivering a 24.7% increase in local currency EBIT to US$41.4 million. This was driven by a 13.1% growth in sales revenue to US$740 million.
What of the "Trump equation"?
Commenting on the current political uncertainty since President Trump took office, Garrard said Orora "remains confident in the US economy" and is not concerned about exposure to imports in the event of a trade policy change, since the majority of its operations in North America have a domestic business base.
Garrard said Orora is adopting a "wait and see approach" and once any new policies are bedded down the company will "adjust business models" if necessary. Overall, he expressed optimism around the proposed lower corporate and personal tax rates, investment in infrastucture and incentives to invest in North America.
"Prima facie, these proposed changes will be good for business in the US," he said.
Australasian market challenges
The Australasian business is facing the dual challenges of flat economic conditions and soaring energy costs, impacting particularly the glass manufacturing business in South Australia and the B9 recycled paper mill.
Orora Australasia delivered a 3.3% increase in EBIT to $109.0 million. This was led by organic initiatives which delivered underlying earnings growth of approximately A$10.0 million, however this was largely offset by cost pressures (mainly energy) in Glass and the Botany Recycled Paper Mill (B9) of approximately $7.0 million. Earnings growth was achieved despite underlying sales increasing by 1.0%.
Commenting on the escalating energy costs, Garrard made it clear that the current situation – exacerbated by the recent power outages in South Australia – is not sustainable, and that Orora is investigating alternative options to generate all or part of its own energy supply.
In Australia, key organic growth investments are on track. The A$42.0 million investment to increase the manufacturing output of the Gawler glass furnaces is on target for completion by March 2017. Two of the three bottle manufacturing lines are already completed, and when the third comes on stream, Orora will have a 60 million bottle per annum capacity, and will have effectively replaced imported wine bottle supply. Increase in Australian wine exports is driving demand for bottles.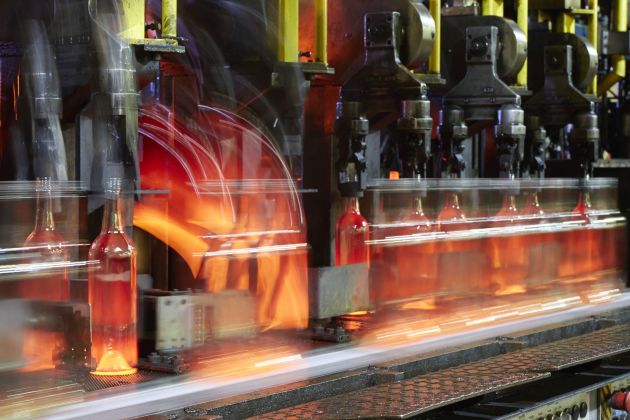 Orora's A$20.0 million state-of-the-art dairy sack line at Keon Park (Victoria) is in the final phase of commissioning and has commenced production, supplying development partner on the project, Fonterra. Garrard told PKN a North American company is impressed by the new technology, and Orora hopes to conclude a supply agreement with them in the coming weeks.
Meanwhile, Orora continues to drive its A$45.0 million Global Innovation Initiative, of which A$26.0 million has been committed to date for delivering customer-led product solutions and enhancing productivity. New business concepts sourced through a successful internal crowdsourcing program, are also receiving funding support through the Innovation Initiative.
Garrard concluded: "Orora expects to continue to drive organic growth and to invest in both innovation and growth opportunities during the remainder of FY17, with earnings expected to be higher than reported in FY16, subject to global economic conditions.
RESULT HIGHLIGHTS
• Net profit after tax (NPAT) up 12.3% to $92.1 million
• Earnings per share (EPS) up 12.3% to 7.7 cents
• Sales revenue up 4.1% to $1,975.4 million
• Earnings before interest and tax (EBIT) up 9.3% to $149.6 million
• Operating cash flow was $157.5 million, up from $126.1 million
• Interim ordinary dividend (30% franked) is 5.0 cents per share, up 11.1%, representing a pay-out ratio of 65%
• Net debt $639 million, up from $593 million at 31 December 2015
• Leverage was 1.6 times, down from 1.7 times at 31 December 2015 and interest cover was 9.9 times, up from 9.2 times