EXCLUSIVE: Part two of the prestigious Packaging Innovation & Design Awards (PIDA) was presented via a virtual ceremony today, with the awards announced across three Packaging Design of the Year (Marketing; Save Food Packaging; Sustainable) and two Professional of the Year (Young; Industry) categories.
In a year which saw an unprecedented number of entries across all PIDA categories, it was hardly surprising that the virtual ceremony, coordinated by the awards organiser Australian Institute of Packaging, was well attended, with over 200 participants. The ceremony was opened by AIP executive director Nerida Kelton.
In the Sustainable Packaging Design of the Year category, due to the high standard of innovative designs that cover such a broad spectrum of the waste hierarchy, the judges decided that this year the winners needed to be separated into subset categories. The subset categories are General, Recycled Content, Reuse, Recycle, Closed Loop and Industrial.
MC for the event, publisher of Food & Drink Business and PKN, Lindy Hughson, congratulated all 26 finalists on the high level of innovation demonstrated in this fiercely competitive category.
"Sustainability has been a buzzword in our industry for many years, but never before have we seen our industry hear the call to action and respond with such a sense of united purpose as we are seeing now. In the last 18 months alone, investment in recycling infrastructure has hit new heights, we've seen the development of some remarkable circular projects, and the successful commercialisation and uptake of new materials by brand owners," Hughson said.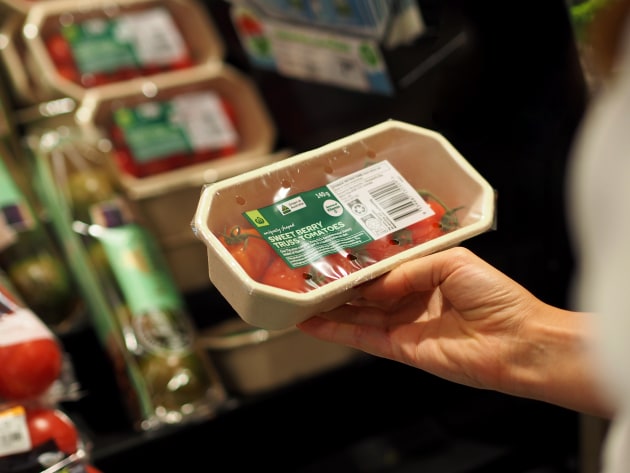 Sustainable Packaging Design of the Year - General
Three High Commendations were awarded to Blue Harvest Oyster Tray (BioPak), Linerless Closures for oil-based dressings (Wellman Packaging), and Lightweight Fliptop (Wellman Packaging), and the Bronze award for General went to Nescafe Blend 43 Lid & Cap (Nestle Australia).
The Silver award for the General category goes to Kapiris Bros Tomato Punnet (BioPak).
Sustainable Packaging Design of the Year - Recycled Content
A High Commendation has been awarded to Dove (Pact Group). The Bronze award for Recycled Content was awarded to Colgate Palmolive (Wellman Packaging & Colgate-Palmolive), and the Silver award for Recycled Content to The Collective (Pact Group).
The Sustainable Packaging Design of the Year Gold Award winner for Recycled Content is SqueezePak squeezy Sauce Bottle (Wellman Packaging).
The SqueezePak squeezy sauce bottle with 100 per cent food grade recycled PE is believed to be a first-of-its-kind in the region and is part of Wellman Packaging's over-arching strategy to become 'better than carbon neutral' and convert all feedstocks to 100 per cent recycled or renewable content by 2025.
In addition, Wellman has addressed other bottle performance improvements through the new design features and processes that deliver:
Improved hot filling performance and bottle stability due to a proprietary reinforced convex base design resulting in reduced panelling of side walls due to negative internal pressures after filling;
~12 per cent increased top load strength which can be traded against an ~8 per cent possible reduction in bottle weight;
~10 per cent larger brimful volume for easier filling, especially when hot filling;
~7 per cent larger label panel area for improved on-shelf presence;
Multi-layer extrusion technology for reductions in pigment use by 50 per cent and concentration of pigment in the outer layer away from the contents; and
SqueezePak squeezy sauce bottle can be produced in a translucent format with reasonable contact clarity bottle, i.e. without colourant, to expand the reuse of recovered raw materials.
Receiving the award, managing director of Wellman Packaging, Craig Wellman, said: "It's been about 18 months to two years worth of work with our team and with our brand owners to bring this one to a head. It has been a great growing process and the key thing here is that sustainability is no longer a nice to have, it is a baseline, and we are all doing such a wonderful job in embracing it."
Sustainable Packaging Design of the Year - Reuse
The Bronze award for Reuse went to Schulz Organic Dairy (Schulz Organic Dairy and Rhima Australia), and the Silver award for Reuse to PodPress Capsule System (REFLO).
The Sustainable Packaging Design of the Year Gold Award winner for Reuse is Cove (Natures Organics).
Cove is an innovative reusable cleaning system, designed to reduce waste and lessen the environmental footprint of cleaning across the kitchen, bathroom, and laundry.
There are three key components to the Cove system: Reusable Bottles, Refillable Pouches, and Plant-Based Ingredients.
The aluminium bottles are designed for continued reuse and durability. Cove bottles feature dispenser components that have been life-tested to last years, far beyond the lifespan of an ordinary cleaning product.
The Cove Refill Pouches use at least 80 per cent less soft plastic compared to conventional cleaning products. The pouches are compact, recyclable and made from soft plastic that is readily recyclable through the REDcycle program. The Australasian Recycling Label (ARL) and clear on-pack communication effectively guides the consumer how to recycle the pack.
The active ingredients in Cove formulations are derived from natural and renewable resources. The Cove Refill Pouch contains 125ml of liquid with a high concentration of actives. The consumer simply adds water at home.
By creating a reusable bottle as part of the system, Cove completely reconfigures the on-going purchases. A conventional cleaning product requires the user to repurchase the bottle and trigger dispenser repeatedly, contributing to landfill, whereas a Cove user buys a bottle once and buys the lightweight Refill Pouch repeatedly instead.   
Commenting on the efforts of Natures Organics, Hughson said: "I commend Natures Organics on winning this award. It is a great system; it's fantastic to see reuse coming to the fore like this, and I think everyone can agree that the packaging is really spectacular to look at, and I think it goes a long way towards making consumer behaviour changes that are so necessary going forward."
Sustainable Packaging Design of the Year - Recycle
Tied Bronze awards for Recycle went to Coles Hot Smoked Salmon (Coles Supermarkets) and Flexi-Hex Sleeve & Pinch Mailer System (MaCher Australia & Flexi-Hex), and the Silver award was presented to Woolworths Meat Tray (Woolworths Group).
The Sustainable Packaging Design of the Year Gold Award winner for Recycle is Melbourne Coffee (Cyclpac).
The Melbourne Coffee concept evolved from a desire to challenge the space of flexible packaging and create a mono structure material for coffee. The innovative solution is a recyclable, sustainable solution for coffee that also offers barrier to oxygen and vapour. 
Cyclpac has developed a packaging solution that could change traditional approaches in the coffee industry for good, replacing 'mixed' laminate packaging materials.
The packaging is 90 per cent LDPE, has a technical barrier to gas and vapour, a mono-structure lamination, BOPE, 7 layer high barrier coextrusion with EVOH, and can be reverse or surface printed. Developing the sealant layer to hold the release valve internally was essential to the development and required some variant testing. When producing a 90 per cent PE mono structure, the resistance to heat offered by the BOPE was critical to product performance and success.
The packaging is entirely recyclable under both the Australasian Recycling Label (ARL) program and the UK-based OPRL scheme.
Receiving the award, managing director of Cyclpac, Edward Whitehead, thanked the AIP and PIDA for recognising the companyfor all the sustainability work and recycling schemes they have implemented. 
Sustainable Packaging Design of the Year - Closed Loop
The Sustainable Packaging Design of the Year Gold Award winner for Closed Loop is Oasis Spice Shaker (Oasis & qDesign Enterprises). This pack also one the Gold in the Marketing Design of the Year category.
Apart from the style and brand cues mirrored across both structures and formats, the one key link is the newly created circular economy brandmark of 'Oasis Loop'. Initially envisaged as a return to store deposit scheme this needed to pivot during the Covid pandemic, due to the negative impact on returnable packaging due to consumer panic over hygiene and secondary use packaging.
This brand mark has been used in store as the key vehicle to educate Oasis's customer base of the system they promote at checkout, by encouraging refilling of the shaker containers with the large format bags.
It is the combination of these two packaging formats using the brandmark as the link that helps enforce this behaviour change and lays the foundation for the next development of Oasis' reuse scheme – a container deposit. Customers are also given the option to return the shaker to store for Oasis to recycle and receive a small discount on their next purchase.
Consumers can bring the empty package into store when purchasing their new spice package and receive a discount. The returned package is de-labelled, cleaned and refilled for sale reducing the need for virgin packaging stock (rigid plastic and labelling) to be produced and shipped.
Customers can also purchase the larger format refill bags of their chosen spice (sold in 100 per cent recycle ready PE pouches) and refill the shaker at home. The lid has been designed to be easily removed for refilling and re-applied manually.
Should the package not be returned to store, all components (packaging and label) are designed that when disposed as a single piece are kerbside recyclable and produced in one polymer (PP).
Receiving the award, director of qDesign Enterprises, Michael Grima, said: "I remember talking about refill models 10-15 years ago and getting sniggers and chuckles about it, but today it is really the norm. For me, to see this is really amazing. We have a lot more work to do, as with many brands, and look forward to seeing continued success in this area."
Sustainable Packaging Design of the Year - Industrial
A High Commendation has been awarded to Telstra (Birdstone Collective, Telstra), the Bronze award for Industrial went to Polyrok (Replas), and the Silver awards for Industrial was tied and went to 1/6 Pallet Retail Ready Platform (CHEP Australia) and NZ Post Jiffy Recycled Shurtuff (Sealed Air in conjunction with NZ Post – Jiffy Recycled Shurtuff).
The Sustainable Packaging Design of the Year Gold Award winner for Industrial for 2021 is VentX Unico (Omni Group).
VentX Unico stretch wrap is 100 per cent recyclable and the 15um film can be dispensed through the Unico Ropers reducing stretch wrap usage by over 50 per cent. The solution requires fewer wrapping rotations and significantly decreases pallet wrapping costs by halving film usage.
The Unico Film allows air to flow freely through the pallet and allows loads to breathe. The stretch wrap increases load ventilation to help prevent moisture build up so that the goods can remain fresh and condensation free, therefore extending shelf life and reducing damaged produce.
The solution reduces chill room electricity costs allowing air to flow through the pallet, cooling the load faster, therefore temperatures are not required to be as low.
Unico Film is ideally suited for wrapping loads that require fast cooling, aeration and controlled temperatures. The solution is perfect for wrapping loads of fresh produce that are likely to get damaged by ripening gases, humidity and mould.
Commenting on Omni Group's win, Hughson said: "It's really good to see the industrial side of the packaging supply chain taken into consideration in this category, because it is really important to see that sustainability is about more than just the primary packaging, it goes right down the supply chain and something that we have to be considering across the board."
Coordinated by the Australian Institute of Packaging, the annual PIDA Awards program recognises companies and individuals who are making a significant difference in their field across Australia and New Zealand. Winners in the company awards announced today are automatically eligible for entry into the 2022 WorldStar Packaging Awards competition.
Four other categories were announced on Day Two:
Marketing Design of the Year Award
Save Food Packaging Design of the Year
Young Packaging Professional of the Year