Kellogg, Nestlé, Coles, BioPak, and CHEP were among the big winners at the Australian Packaging Covenant Organisation's (APCO) Annual Awards ceremony, each taking home multiple accolades. Richard Fine of BioPak was crowned Sustainability Champion.
The finalists and winners (full list below) were recognised for their best practice approach to sustainable packaging design, industry leadership and sustainability education.In total, 22 awards were handed out to businesses in industry sectors as diverse as retail, electronics, manufacturing, healthcare, food and beverage, and agriculture.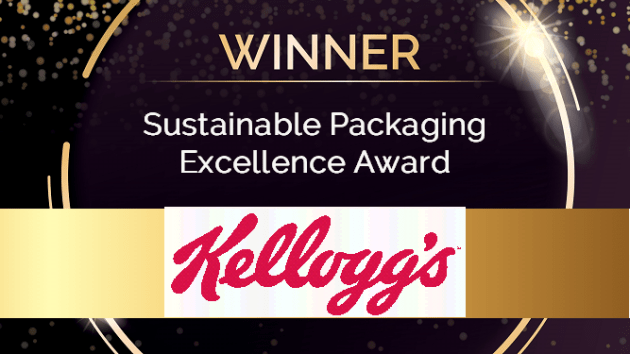 Kellogg Australia took home the ceremony's main prize, the Sustainable Packaging Excellence Award, for its work to optimise 99% of packaging for material efficiency by converting to a renewable packaging format along with the continued application of the Australasian Recycling Label on the company's packaging. The company now has more than 75% of its  packaging labelled as recyclable through the Australian kerbside or REDcycle system.
Head of Packaging at Kellogg Australia, David Roberts, accepted the award. He said, "This award is testament to the dedication and commitment from across our business to ensure we meet our goal of 100% recyclable, reusable or compostable packaging, while also optimising our sustainably produced and packaged foods."
Roberts added that the Kellogg's team is proud of the positive impact its work has had so far.
"Led by our packaging and supply chain teams, we've reduced the amount of packaging we use and increased its recyclability. We also helped educate consumers on how to recycle through the inclusion of the ARL [Australasian Recycling Label] on our packs, and through our partnership with REDcycle," he said.
BioPak Founder Richard Fine took home the coveted Sustainability Champion Award in recognition of his tireless work championing compostable packaging and driving progress towards both the National Packaging Targets and the National Food Waste Strategy Targets.
On accepting the award, Fine said "I absolutely love this industry, I have packaging in my blood. It's an honour to be nominated... My hope is that the seeds we plant and the example we set today will inspire the next generation of packaging professionals to take the baton, run with it, and continue to contribute to the transformation of the packaging industry, from the current linear model towards a more regenerative circular model."
Fine went on to say that sustainability is no longer a fringe movement, but rather a core business requirement, vital to a company's continuing licence to operate.
"Collaboration is key," he said. "None of the sustainability initiatives that I or others have championed would be possible without the support of like-minded and passionate individuals."
Meanwhile, the Our Packaging Future (OPF) Awards, which celebrate projects and initiatives designed specifically to help Australia reach the 2025 National Packaging Targets, counted several well-known companies among its winners.
Nestlé Australia took home both the OPF Award for end-market leadership, for Australia's first chemically recycled content soft food wrapper and the OPF Award for sustainability education (for consumers) for the KITKAT "Give the Planet a Break" recycling campaign.
BioPak was awarded the OPF Award for Improved Collection and Recycling Systems for Compost Connect, a food service focused organic recycling initiative and online platform.
Coles was recognised in the OPF Award for sustainability education (for industry) for its packaging data project across the Coles Own Brand supplier base.
Other award recipients included Beacon Lighting (Outstanding Achievement in Sustainable Packaging Operations) Beacon has fully optimised its distribution packaging and no longer uses any outer packaging on products that are shipped to Australia from overseas suppliers. Returnable wooden pallets are now in place for store deliveries and large commercial shipments.
Also recognised was Austcor (Outstanding Achievement in Sustainable Packaging Outcomes), which has successfully optimised all of its packaging by developing stronger boxes with light-weighted paper, and CHEP Australia (Outstanding Achievement in Leadership), for increasing the uptake of the company's 'Share and Reuse' circular packaging solutions. This has saved over 120 tonnes of carbon emissions through transportation optimisation, increasing pallet stacks, maximising loads and re-routing its journeys.
Brooke Donnelly, CEO, APCO commented: "Each and every finalist recognised here has demonstrated strong leadership and innovation over the last twelve months and we've witnessed many success stories that highlight the very essence of what Australia needs to achieve the 2025 National Packaging Targets – collaboration.
It's fantastic to see APCO's Members continue to deliver such impressive initiatives as we all work together to achieve a circular economy for packaging in Australia."
The winning companies in the 2021 Awards were:  
Industry Sector award winners
         Agriculture & Nurseries – Evergreen Garden Care Australia
         Airline,accommodation and tourism – Virgin Australia
         Chemicals, Hardware and Machinery – General Motors Australia
         Electronics - Kyocera Document Solutions
         Food and Beverage – Kellogg Australia
         General Merchandise and Apparel – 3M Australia
         Healthcare and Scientific – Amgen Australia
         Large Retailer – Coles
         Logistics and Warehousing – CHEP Australia
         Packaging Manufacturers and Suppliers – Lyondell Basell
         Telecommunications – Optus
         Tobacco – British American Tobacco
Outstanding Achievement Awards
         Outstanding Achievement in Industry Leadership – CHEP Australia
         Outstanding Achievement in Sustainable Packaging Outcomes – Austcor
         Outstanding Achievement in Sustainable Packaging Operations – Beacon Lighting
         High Performing New Member Award - Arcadian Organic & Natural Meat Co
Our Packaging Future Awards
         Our Packaging Future Award for end-market leadership – Nestlé Australia
         Our Packaging Future Award for Improved Collection and Recycling Systems – BioPak
         Our Packaging Future Award for Packaging Sustainability Education – Consumer Education – Nestlé Australia
         Our Packaging Future Award for Packaging Sustainability Education – Industry Education – Coles
APCO Sustainability Champion Award