This year for the first time, the Australian Institute of Packaging had a presence at Interpack on the World Packaging Organisation's stand* in the SAVE FOOD pavilion, with AIP executive officer Nerida Kelton fielding high interest in the Australian and New Zealand Save Food Packaging Design award winners on display.
"A significant number of AIP Members visited the stand and it was a tremendous opportunity to showcase Australian and New Zealand Save Food packaging design innovations on a global scale. The AIP looks forward to showcasing many more of our innovations at Interpack 2020," said Nerida Kelton, pictured below with Orora's George Ganzenmuller (left) and Craig Wellman of Wellman Packaging.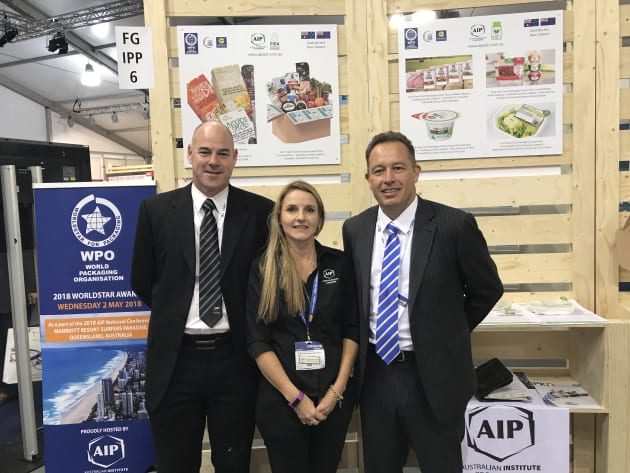 The AIP joined 15 other countries to present the Save Food Packaging Award winners for Australia and New Zealand in the Save Food Org pavilion.
Winners on display included Fresh Technologies Ltd & Sealed Air Food Care for Fressure and Cryovac Freshness Plus, Woolpack Australia for Woolcool, DON KRC for Cryovac Darfresh Vacuum Skin Packaging, Botanical Food Company for Gourmet Garden Herbs & Spices, SPC Ardmona for SPC ProVital Easy-Open Portion Control Fruit Cup and HealthShare NSW for My Food Choice.
More information on the showcased winners can be found here.
Sealed Air Food Care President Karl Deily (centre) visited the WPO and AIP stand. He's pictured here with the WPO's Keith Pearson from South Africa (left) and WPO President Elect, Pierre Pienaar from Australia (whose appointment was announced at Interpack).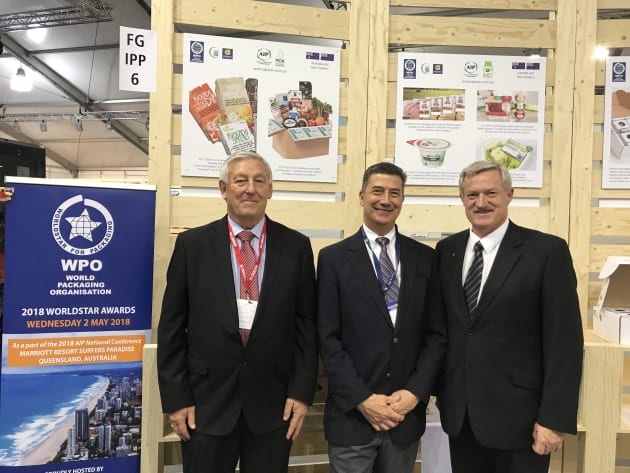 *The WPO and its members (including AIP) are supporting the SAVE FOOD Initiative which is a joint initiative of the Food and Agriculture Organization of the United Nations (FAO), the United Nations Environment Programme (UNEP), Messe Düsseldorf, and Interpack. The goal of the SAVE FOOD Initiative is to fight global food waste and loss; through a global alliance of all stakeholders. In order to support SAVE FOOD, the World Packaging Organisation (WPO) has recently added a new 'SAVE FOOD Packaging Award" to the renowned WorldStar Awards. The awards honour packaging solutions that distinguish themselves for reducing food losses and waste. The winners from across the globe were displayed within the WPO Save Food Org Pavilion.