Krones translates its expertise from the beverage industry into top-notch technologies for liquid food. From blending to transport, Krones and partners cover every process step. Whether it's juices or sauces: if it flows, Krones technology can fill it. And every client gets a custom solution.
Reduced-sugar jams, preservative-free soups, plant-based milk alternatives: healthy, sustainable nutrition is trending right now. Most people in the European Union self-report that they eat a mostly healthy, sustainable diet, focusing especially on avoiding sugar, flavour enhancers, artificial flavourings, fats, and preservatives.
For producers, that means a new set of hygiene requirements for filling liquid food and for the manufacture and handling of containers. Clean and efficient processes are essential, as is low energy consumption.
As a system supplier, Krones has already made all this a priority and offers the right process, plastics, and filling technologies. Krones' expertise in filling water, juices, and beer transfers well to sauces, soups, mustards, and ketchup – with modifications made to account for the higher viscosity of these liquid foods.
Krones head of Sales HPC and Food Josef Deglmann said, "Our goal is to offer our customers flexible, environmentally friendly solutions that are tailored to their needs."
Filling with the utmost precision and hygiene
Like the product, the containers, too, must be sterilised and kept germ-free right up until the product comes into contact with the packaging. The Modulfill NWJ is often the filler of choice for precise, hygienic, and efficient filling of liquid food as it was specially designed and built for precisely this category.
One special feature of the Modulfill NWJ is its filling valves, which close backwards to prevent any product dripping. The fill quantity is determined by way of load cells that are integrated into the valves. These load cells make it possible to achieve extreme precision in filling and in determining fill quantities – for any product regardless of its viscosity or conductivity.
How it works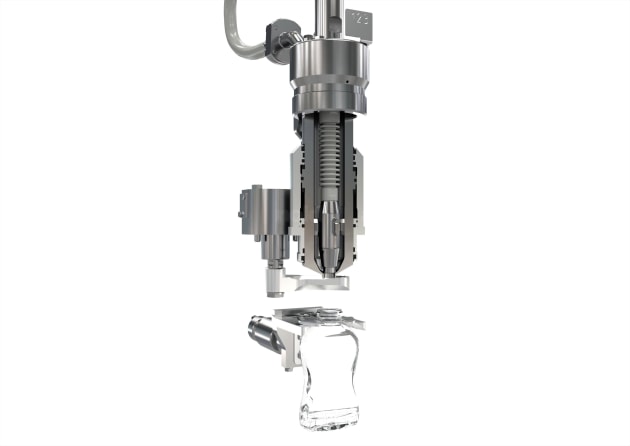 The empty container is centred below the valve and weighed by means of load cells. Once the weight of the empty container has been determined, the filling valve is lowered to just above the container neck finish and opens. The load cell checks the incoming product volume during filling. Once the predefined weight is reached, the valve closes. After a brief settling phase, the weight is checked once more.
Precision is ensured throughout the filling process. The product is held in a rotating central bowl, the pressure of which is constantly monitored. Depending on the product, either nitrogen or sterile air is injected to ensure that a precisely defined pressure ratio is maintained in the container and therefore also in the filling valve.
The fill quantity is also monitored based on time during filling. If defined time limits are exceeded or not reached, the pressure controller adjusts the filling pressure and thus also the flow rate. This constant regulation ensures optimal filling accuracy, even if product characteristics and viscosity fluctuate.
Aseptic filling is often the best choice for achieving the necessary level of hygiene and to ensure a long product shelf life. Krones aseptic systems incorporate microbiology expertise and proven technologies. They provide either wet or dry sterilisation, include a filler with either load cells or flow meters, and work in the high or low output range, all depending on the customer's needs. Because of their incredible flexibility and reliability, they are used by fillers worldwide, delivering top-notch performance under a wide range of conditions.
Easy handling
Have you ever tried to pour ketchup out of a round bottle onto a plate? What happens? At first, nothing (or almost nothing) comes out. And then, suddenly, too much comes out all at once. By contrast, it's much easier to squeeze just the right amount of ketchup from an oval-shaped plastic bottle. That's why liquid food like ketchup is often filled into consumer-friendlier oval-shaped plastic bottles instead of cylindrical ones.
The challenge, though, lies in the details – oval bottles have a long side and a short side. If they're blow-moulded from a preform heated in the standard way, the long sides would be thicker and the short sides very thin because they are further away from the stretching rod. Krones technology remedies this situation.
Krones product manager Plastics Technology, Jochen Forsthoevel, said, "To achieve consistent wall thickness throughout, the preform is given a special temperature profile in the heating module. This selective tempering makes it possible to blow mould preforms to perfectly shaped containers."
How it works
In the blow moulder's heating module, the preforms are first warmed up in the usual way, with the preform rotating. In the final section of the module, however, the rotation is stopped, so the preform is heated on two sides. That establishes an asymmetrical temperature profile around the circumference of the preform and ensures a more even distribution of wall thickness during the stretch blow moulding process. Bottles made of virgin PET and rPET can both be processed in this way.
Adapted to product viscosity and formulation
Before filling comes the process technology: blending and preparing and possibly heating and pasteurising the individual ingredients.
Milkron international sales manager Olaf Drewelowsky said, "The challenge lies in adapting the process technology to the specific viscosity of the product and the individual recipe. Krones engineering has got it covered."
For example, oils have to be refined and filtered whereas grains used for making milk alternatives have to be milled.
Whether you need storage tanks, valves, high-pressure pumps, or pasteurisers: Krones and its partners offer customised turnkey solutions tailored to the product, capacity, and customer's requirements.
Less is more
Like beverage makers, food producers are trending toward making their products in many different flavours and therefore running smaller batches of each. That is especially true of companies that sell their products online. Although most people still buy their groceries in brick-and-mortar stores, online food shopping is on the rise.
In Germany in 2021, online grocery sales generated around 3.9 billion euros in revenue. That was more than one billion euros more than in the previous year.
Food producers wishing to increase their online sales will need more flexibility in filling and packaging, because product diversity is growing while batch sizes are shrinking.
That means new line concepts with fast changeover times are crucial. Krones lines accommodate fast product changeovers and provide the utmost in flexibility.
One-stop shop
Whether the line is for glass, PET, or a combination of the two, Krones is a one-stop shop outfitting not only breweries and beverage bottlers but also food producers around the world with everything from single stand-alone machines right through to turnkey factories.
The Krones Group offers solutions for all aspects of processing beverages and liquid food:
Krones for filling, packaging, and digitalisation;
Evoguard for pumps and valves;
HST for homogenisers;
KIC Krones for adhesives, lubricants, cleaning media, and disinfectants;
Milkron and Steinecker for process technology; and
System Logistics for internal logistics.