Nutella has released five limited-edition jars as part of its 'Spread Good Morning Vibes' campaign, featuring colourful designs on PET shrink sleeves and an augmented reality (AR) experience.
The team at Nutella commissioned a recent study and found that 54 per cent of Australians believe new-found routines have changed their attitudes to mornings over the past few months.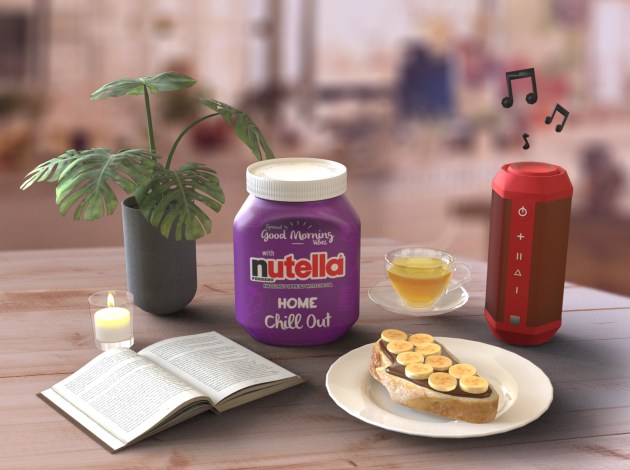 One in three Aussies are spending more time with families in the morning, while 10 per cent of respondents are enjoying the freedom and flexibility to spend more time outdoors, 43 per cent are feeling calmer and 31 per cent are more positive in the morning.
Inspired by the findings, Nutella has launched five limited-edition jars to cater to each personality – green for Family Hugs, yellow for Friends and Good Vibes, red for Love Together, blue for Outdoor Smiles, and purple for Chill Out at Home.
The jars, which were made for local consumers at Nutella's Australian factory in Lithgow, have shrink sleeves featuring an interactive AR experience linked to Instagram, where consumers can scan the QR code and see the jar come to life.
"Nutella's new AR morning experience uses new social technology to bring the breakfast table to life and reflect each morning mood," Nutella senior brand manager Lili Despotovic told PKN.
"Instagram filter technology uses a unique QR colour code to recognise the shape of the jar and design custom interactive vignettes around it that reflect different ways to start the day. The social experience promotes engagement and adds a little fun while you are enjoying your toast with Nutella."
"The 'Spread Good Morning Vibes with Nutella' campaign aims to drive interest and engagement by reflecting different personalities on the jars, represented by bright colours and morning routines. Not only does Nutella taste great, we want to promote positive ways to start the day, especially in these challenging times."
The limited-edition Nutella jars are now available in supermarkets Australia-wide.