Jam and sauce producer Beerenberg partnered with Victoria-based packaging machinery company Recopak to build an expanded factory expected to double its capacity.
The 6500 square-metre Adelaide Hills factory was opened this week by Beerenberg managing director Anthony Paech, who said new equipment would allow it to increase production capacity past 15 tonnes of product in an eight-hour shift.
Paech said the new line will handle 60,000 bottles in a shift and is a mix of old and new equipment.
It was designed and built by a team from Beerenberg in partnership with packaging equipment manufacturer Recopak, which is based in Cobram, Victoria.
MD of Recopak Bill Dopper told PKN:  "After offering several layout solutions for Beerenberg's new factory, Recopak won the project in May 2017 and with one of our partners in Italy (Fbl Food Machinery) we set about manufacturing the complete end of line packaging solution."
Recopak manufactured seven of the new machines and all conveyors at its Cobram factory.
Recopak's involvement comprised the supply of 12 new items of machinery, four relocated machines, more than 150 metres of conveyor and a complete line control system comprising three zones, each with colour touch panels for operator interface.
"The state of the art controls enables one operator to change the width of all conveyor guide rails by selecting the required format on the HMI. Fast changeover was an important part of the scope and it is working extremely well. We are able to monitor the complete line control system from our Cobram office and make any necessary changes online," Dopper said.
"Monday 21st May was the first day of production producing Beerenberg's legendary tomato sauce at 9,000 bottles per hour with very few problems, leaving a smile on everyone's face," Dopper relates.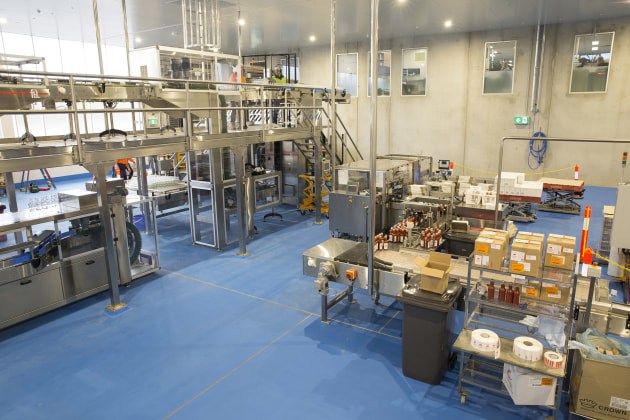 Other additions include two DC Norris cooking kettles, manufactured in England, which allow control of batch temperature and weight, and faster turnaround time between batches, according to Paech.
The Beerenberg Family Farm is making inroads not just in South Australia, but interstate and overseas. Its 75 products are available in 24 countries, including Singapore, China and Japan, and can be found on major airlines and in more than 300 hotels worldwide.
The company has invested in a $14 million-plus transformation over three years, including a new factory, offices and warehouse on land that the Paech family has farmed since 1839.
The new facility enables more control over the cooking and bottling of product, allowing Beerenberg to craft a higher quality of product in larger volumes, Paech said.
Sales have been growing by more than 30 per cent, mostly due to fresh labelling introduced in late 2013, he said.