At Interpack in Germany next week, tna is set to launch the tna ropac 5 case packer, incorporating industry-first technology and capable of speeds of 300 bags per minute.
Following on from the announcement of its new performance 5.0 system, tna is launching the tna ropac 5, an ultra high speed case packer for flexible bags and the only side-load case packer using tna's patented semi-rotary bag stacking technology.
Capable of industry-leading speeds of up to 300 bags per minute (more than double the industry's average case packing speeds) the ropac 5 quickly and efficiently pack small to medium, pillow-style snack bags into secondary containers.
Integrated into tna's performance 5.0 packaging system, and boasting a highly compact design, the new tna ropac 5 offers snack food manufacturers "unprecedented levels of throughput, exceptional equipment reliability and one of the smallest machine footprints", according to tna.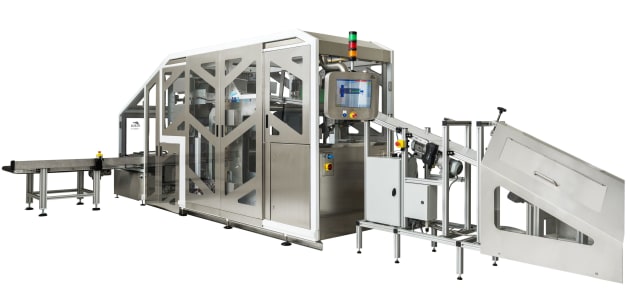 "The snacks market is booming and food manufacturers need equipment that is able to deliver the speeds and efficiencies they need to respond to the ever-increasing demand for packaged snacks," comments Michael Green, group general manager at tna.
"With speeds of up to 300 bags per minute, our new case packer has the potential to double food manufacturers throughput overnight, completely redefining industry standards. When combined with our complete portfolio of high performance turnkey solutions, this means that snack manufacturers can source all their production line equipment from a single supplier, from pre-processing equipment at the start of the line all the way to case packing solutions for the end of the line.
What's more, with our upcoming tna robag 5, we'll soon be able to offer snack manufacturers the industry's fastest bagging and case packaging speeds all in one integrated ultra-high speed system and as part of tna's performance 5.0 concept," Green says.
The company will showcase the new technology at Interpack, in hall 15, booth B22, and at its dedicated innovations hall, located at Station Airport in Düsseldorf. Tna will offer a regular private shuttle service between Interpack and the hall.