Multiple award-winner and Woolpack-innovator Planet Protector Packaging is waging a war against EPS waste in our waterways, winning awards along the way for both the company and its CEO & founder Joanne Howarth.
When Joanne Howarth first conceived the Woolpack solution as an insulated alternative to expanded polystyrene shipping containers, little did she know the global acclaim the company, and she herself, would achieve.
Since 2020, Planet Protector packaging (PPP) has garnered several significant awards and grants, and run a successful crowdfunding campaign, all of which have helped the company continue to expand its manufacturing operations and drive business growth.
Within Australia's packaging industry, Woolpack is fast gaining a foothold. Used for temperature-sensitive foods, seafood, wine, and pharmaceuticals, the insulated packaging solution is made from 100 per cent waste wool, enclosed in a recyclable or compostable food grade wrap, and then used to line the shipping carton. PPP has diverted this wool from landfill, monetised it and created a range of insulated packaging solutions that are now transforming supply chains across Oceania.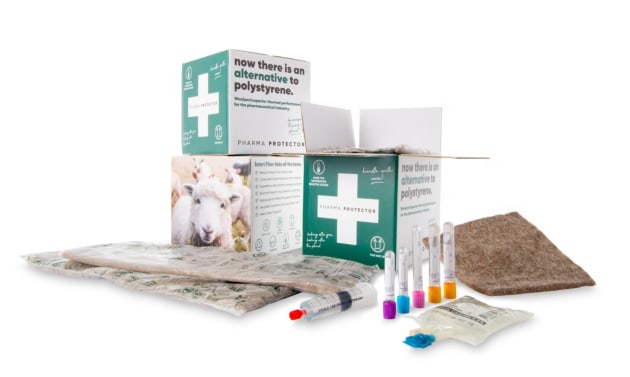 Horizons expand
Apart from growing its NSW operations, PPP has set up a Woolpack hub in Tasmania, and new hubs planned for South Australia and Victoria, with long term plans underway for operations to expand into Asia, beginning with India.
Supported by a Boosting Female Founders Grant, PPP set up shop in Tasmania last year.
"Our Tasmanian hub was set up last year because we received a lot of interest in our Woolpack packaging in that region. As the food capital of Australia, it exports so many incredible products and although Brand Tasmania previously showed interest in Woolpack packaging, the freight to transport it from NSW was cost prohibitive. Being on the ground in Tasmania has given us an opportunity to offer our product more affordably to clients in this region – another step in the right direction to eliminate polystyrene," she says.
PPP is now working with the Brand Tasmania organisation and partnered with TasFoods to showcase Woolpack at Agfest in Hobart in May last year.
A new operation in South Australia's wine country is now also on the cards, says Howarth.
"We are looking to set up near Adelaide Hills," she explains, confirming that the company is currently negotiating a site there to help PPP grow the Woolpack component of its business in that region.
"During Covid we began to focus on research and development in the wine industry. Since losing a lot of business due to China's imposed tariffs on bottled Australian wine, the industry has been looking for new markets, and ways to differentiate itself by providing direct-to-consumer solutions," says Howarth.
"Wine supply chains are sometimes long, and what may not be commonly known is that wines spoil in transit. When wines get too warm in the supply chain, they can become bitter, so a lot of the wineries are also looking for solutions to maintain temperature stability," she says, explaining that PPP's Wine Protector range, which provides cushioning and temperature control to ensure the wine arrives at its destination in pristine condition, provides a packaging solution for local wine companies.
Game-changing facility
PPP is establishing a $10 million, modern wool processing facility in Geelong, to vertically integrate the production of its disruptive Woolpack products.
The funding for the facility was secured by the $4.8 million federal Modernising Manufacturing government grant, awarded to PPP late last year.
Howarth says the company has set its sights on Geelong as a good location for the new manufacturing facility, as one of only two wool scours in the country is located there. The purpose of partnering with the Geelong wool scouring operation is to be enable wool to be washed locally and not sent to China, which is currently the practice.
"Thanks to the Government's foresight in giving us this grant, the new facility will benefit Australia as it will generate new revenue for sheep farmers, create jobs, support rural communities, and increase Australia's sovereign manufacturing capability," she said. "What we're really excited about too is that it will enable us to receive and process circular textiles."
Although current interruptions to supply chains means that purchasing equipment for the million facility could be delayed by a few months, Howarth says the wait will be worth it.
"This facility is going to be a game changer – it will have the capability to process a lot of contract manufacturing," she says, confirming that PPP has already been approached by customers who are currently getting their wool products manufactured overseas and now require the company to do it locally for them.
Gold class
In a highlight win this year, Planet Protector Packaging recently took top honours at the 33rd annual Banksia National Sustainability Awards, winning Gold overall for its Woolpack packaging solution.
Recognising the fine achievement, Graz Van Egmond, CEO of Banksia Foundation, says, "Planet Protector Packaging has the definite X-factor in linking new revenue for sheep farmers with a more sustainable solution to packaging. It is a smart initiative that helps to solve numerous known problems. They have a bold view of the challenges of disrupting a long-established supply chain."
Passage to India
Howarth confirms that PPP is in the final stages of completing its market entry feasibility for India and is hoping to open its operations there by the end of the year.
"Although we're proud of our local achievements, we are mindful that Australia and New Zealand comprise only 1.3 per cent of the global market for packaging. Asia, which is almost on our doorstep, has 46 per cent, which is why we have identified it as an important area for us to accelerate our impact," says Howarth, emphasising that eight of the ten most plastic-, polystyrene- and microbead-polluted rivers, are in Asia.
The Indian venture will focus on the pharmaceutical sector, an area in which PPP has had great success, having launched its Vaccine Protector Solution (winner of multiple PIDA 2021 and WorldStar 2022 Award) during the height of the Covid pandemic.
In closing, Howarth says, "Our Woolpack solution is inspired by nature which invariably has solved some of the world's most pressing global challenges. We are a social enterprise on a mission to leave the planet better than we found it. And you know, when you look at why we're doing it, to prevent the fragments of polystyrene from destroying our oceans, it's a no brainer."
This article was published in the May-June 2022 print issue of PKN Packaging News, p18.