Unilever is trialling reuse-refill initiatives for a range of its products around the world to offer a sustainable solution to single-use plastic packaging, and reduce the amount of plastic in circulation.
The company has highlighted the importance of recycling, yet suggests "refillable and reusable could well be the gamechanger we need" as consumers are increasingly demanding more eco-friendly packaging, less plastic and preferences towards higher quality and personalised packaging.
Unilever has said creating more attractive and functional packaging offers a range of opportunities, from superior user experience to building brand loyalty, as well as saving costs. Replacing 20 per cent of single-use plastic packaging with reusable alternatives could also enable a $10 billion innovation opportunity.
"This is a really exciting area and one where we're aiming to take a leading role. While we've been designing potential solutions and experimenting for some time, it's a new and very different concept for consumers," said Unilever chief R&D officer Richard Slater.
"We're trailing various approaches to tackle the issue, as there is unlikely to be a one-size-fits-all solution. We're determined to make a real difference on the plastics challenge, and so we'll continue to experiment and to test, learn and refine."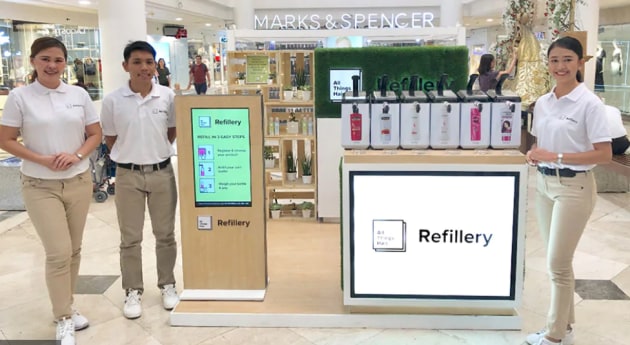 A refillery station trial took place in the Philippines earlier in the year under Unilever's content platform for hair inspiration and advice, All Things Hair. Placed in three shopping centres across Manila, the All Things Hair Refillery gave consumers the opportunity to buy and refill Unilever shampoo and condition brands, such as Sunsilk, Dove and TRESemmé, by paying by weight.
The stations offered 100 per cent recyclable bottles for those who did not have a bottle with them on hand and also functioned as an upcycling hub for consumers to drop off used sachets and plastic bottles. Insights for this pilot program are being shared within the industry and the government to plan a revamp of refilling regulations in the country.
Unilever also introduced a dilutable Omo liquid in Brazil, which uses 75 per cent less plastic. It is a six-times concentrate that can be diluted at home and retails for 20-30 per cent less than the brand's regular three litre bottle.
The project pilot operated in three retailers in Sao Paulo where Unilever gained consumer feedback – such as the importance of a transparent regular bottles – to refine the product, and will now start rolling out in Brazil this month.
Unilever said the reuse-refill initiatives "won't necessarily get rid of plastic completely" as it remains involved in most models but aims to reduce the amount of plastic in circulation and "close the loop" to make sure "most, if not all, the various elements are themselves widely recyclable."