Newcastle sustainable furniture start-up, Resourceful Living, is doing its part for the environment by giving problematic plastics waste a second life, turning it into functional household items.
Reducing plastic pollution and boosting business in the Hunter region, Resourceful Living takes tonnes of discarded plastic, shreds it, heat-presses it, and then cuts it into practical items – ranging from furniture, to clocks, and even skirting boards. 
Based in Beresfield, the company takes waste from yellow bins and environmental clean-up groups, and the process from "pollution to practical" can take as little as two days. 
An end-goal is to help more businesses improve their sustainability, all while bolstering the region's manufacturing industry. 
According to Jess Hodge, Resourceful Living's founder, everything the business can, it does use. And the possibilities for the end results are endless.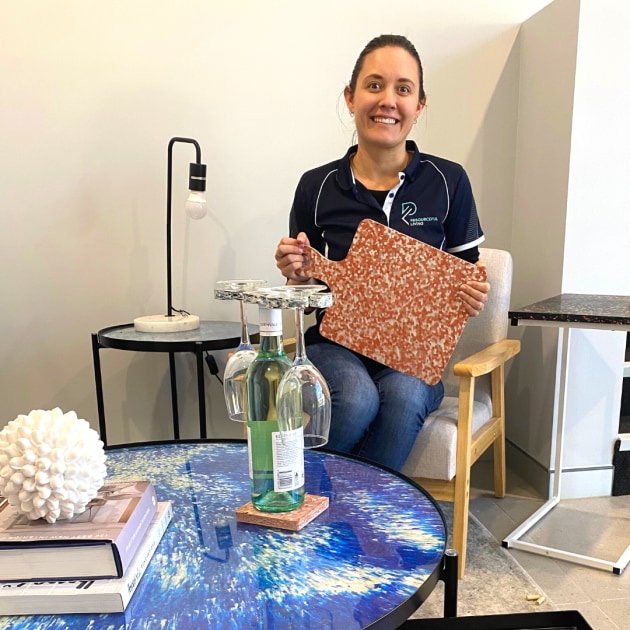 "Covid made Australian companies acutely aware of supply chains and problems accessing products from overseas," explained Hodge.
"Now, we're manufacturing, and we are also trying hard with our price point to compete with bigger companies from overseas. 
"We give plastic materials a second, third or fourth life. In fact, we can transform high-density polyethylene or HDPE plastic into further-use products up to 10 times." 
Resouceful Living's ultimate goal is to remove plastic from oceans and landfill, and recycle and reuse HDPE up to at least 10 times. So far, the company has recycled more than 7000kgs of plastic. 
Adding to its credibility is its "no print" policy, with Resourceful Living completing all production and administration electronically, with paper business received being scanned, shredded, and then composted. 
"When people want to repurpose an item, they can send it back to us, and we can recycle it again and again before finally sending it to a refinery to be made into recycled oil," Hodge said.
"We pride ourselves on working towards a circular economy. This ensures sustainable growth over time, which allows us to reduce the consumption of raw materials, and ultimately, recovering all waste through recycling and using recycled products in the future."
As a testament to the start-up's work, most recently, Resourceful Living received a nomination for the Hunter Manufacturing Awards (HMA) in the Outstanding Start-Up category. 
The HMA represents all businesses actively engaged in the manufacturing sector, including their allies, in the Upper and Lower Hunter, Central Coast, Lake Macquarie, Newcastle, Port Stephens, and Mid-North Coast regions. 
HMA will host the gala awards evening at NEX in Newcastle on Friday 28 October. With the theme being 'Expect the unexpected', the event will recognise the way in which businesses have honed their survival instincts out of the extraordinary levels of uncertainty experienced in the past couple of years.
Fourteen categories are available for application, including the re-introduction of the Apprentice of the Year – Manufacturing Award category.
The registration and nomination period closes on 19 August. Entry is free and you can find all the information you need here.