ProPak Asia has proven successful and an ongoing drawcard for a fair few Aussie companies. INOX and Rhima tell us why they're going back.
For INOX Australia, a food and liquid processing solutions supplier, 2019 will mark the fourth consecutive year the company will exhibit at ProPak in the Australian Pavilion.
INOX Australia MD Robert Becher says: "The level of interest and showcasing of new, innovative INOX technology for the ASEAN food processing industry has been very well-received. Our goal is to bring our Australian food processing expertise and high-quality standard into the ASEAN market and further improve local and international business relationships between Australia and ASEAN.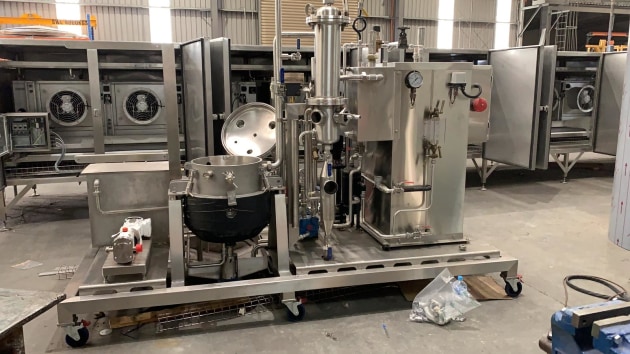 "The ASEAN region is a powerhouse of food processing facilities supplying a vast range of speciality ingredients, beverages and food products globally. The process expertise of INOX from its now 21-year history has seen Australian companies further advance their processing capabilities to efficiently deliver safer and higher quality products to the supermarket shelf.

"The opportunity to develop production in ASEAN with INOX process knowledge and reliable equipment is at the forefront of the INOX business strategy to enhance food production in this region. Our goal is to assist ASEAN food processing companies to gain a competitive edge and target their points of difference in the marketplace with intelligent processing solutions," he said.
INOX will be unveiling its demo-chef cooking system on their stand at ProPak Asia 2019. Based on INOX's 'Chef' series of cooking kettles, the demo-chef is a complete cooking kitchen facility skid-mounted system that enables food processors to trial any type of viscous food product under various cooking conditions.
INOX will also be showcasing its high speed, high shear powder and liquid mixing equipment known as the INSTANTISER and the KELSTREAM scraped surface heat exchanger. T
Rhima, specialist in industrial washing equipment, says it sees growth opportunities in the food manufacturing industry in the ASEAN region. Rhima already has an established base in Singapore and machine installations in Sri Lanka, India, China, Indonesia, Singapore and Thailand.
Darrem Lam, business development executive South East Asia, Rhima says, "Our markets are ever-expanding. Not just food manufacturing but, for example, with the introduction of water-based oils and paints we have supplied washing machines to the automotive and general manufacturing industry.
"The introduction of recyclable packaging requires adequate cleaning processes. As the single-use market is under pressure due to environmental issues, the reusable market will only expand. Items needs to be cleaned effectively and efficiently," Lam says.
"Washing, or rather dishwashing, is a low interest product. It is not glamorous; it does not add any intricate value to a product's taste or market allure. Washrooms are mostly wet, misty areas with high staff turnover and little interest from management. Yet companies have been forced to close due to hygiene issues. A typical example of this has been Garibaldi Smallgoods and recently Maple Company in Canada who, due to swift and decisive action, avoided a disaster," he adds.

"The uniqueness of Rhima products is that they can silently and unglamorously save a company from total ruin even when the product is perfect, the balance sheet healthy, sales expanding and the company riding the crest of the waves," Lam says.
 Rhima will be showcasing pot and utensil washers as well as a multi-purpose crate washer on its stand this year.