In its centenary year, SPC has forged a significant partnership with a Shanghai company that will see the company's packaged fruit brands tap into the world's largest consumer market, and drive investment in packaging innovation.
A signing ceremony was held in Shanghai in late January to commemorate the official partnership between SPC and China State Farm Agribusiness (CSFA) including the signing of the contract (Master Distributor Agreement).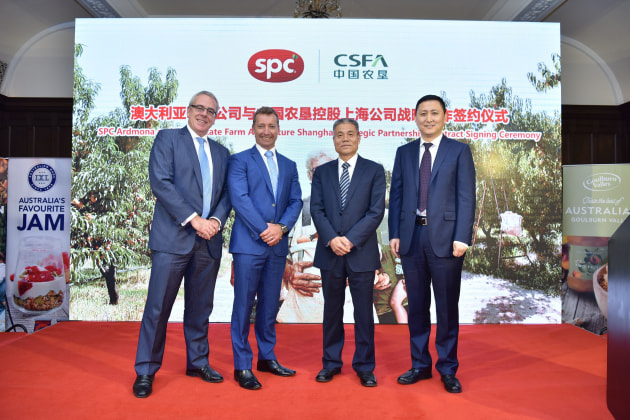 Speaking to PKN, SPC managing director Reg Weine says the company has already shipped its first two containers to be sold cross border in the economic free trade zone.
All products will be produced and packed here in Australia as finished products under the Goulburn Valley, SPC or IXL brands.
"It's all about leveraging our clean, green credentials and provenance," Weine says.
Asked what steps SPC is taking on pack to create track-and-trace transparency for the Chinese consumer, Weine says: "We currently have QR codes on the labels and have been trialling GPS co-ordinates on packs, which allows consumers to search on-line and locate the orchard where the fruit was grown as well accessing beautiful imagery of the orchards and Goulburn Valley."
Initially SPC will focus on supplying its premium Goulburn Valley fruit range in 700gm plastic jars, but the the contract has prompted investment in new packaging technology to support new product development.
"We are installing a new state-of-art pouch filling line and high care facility to support our pouch fruit NPD for China," Weine says.
Weine notes that packaging plays an important role in the overall brand positioning and is a strong cue to 'premium'.
"We will continue to evaluate the best packaging formats to convey and reinforce our premium position," he adds.
Commenting on the potential flow-on benefits of the deal for SPC's supply chain, Weine responds: "All of our stakeholders will benefit over the long term from our market entry in China but it does take time to build a brand in any foreign market let alone China. Those that benefit directly include our growers, packaging, labelling and equipment suppliers, logistic providers and marketing agencies. Naturally, many downstream suppliers also benefit and for every $1 spent on SPC products it returns $1.73 to the Victorian economy."
This launch looks set to be the first of many with other products in SPC's portfolio to follow suit as well as new products tailored for the Chinese market.
"We have conducted extensive qualitative and quantitative consumer research in China. We are developing bespoke products based on those insights and unmet consumer needs, specifically for the Chinese market and the Chinese palette but still anchored in our Goulburn Valley provenance and with a premium brand position."
"In our 100th year, we are thrilled to be able to bring our premium Goulburn Valley & SPC packaged fruit to the largest consumer market in the world," Weine says. "China represents a significant business opportunity for SPC in the years ahead, and this is an important step in realising our growth strategy."