Interpack's slogan "Every innovation has its starting point" is already ringing true in the crowded aisles of the 19 halls at the Messe fairground in Dusseldorf. PKN shares a few highlights.
As the doors opened on day one of Interpack, the world's leading trade fair for packaging and processing, the organisers were anticipating record visitor numbers over the course of the week-long show running from 4-10 May in Dusseldorf.
Interpack 2017 has recorded the highest demand among exhibitors in its history of over 55 years, with bookings for about 20 per cent more space than was available at the exhibition centre with its 262,400 square metres in 19 halls.
Around 2,700 exhibitors are present, coming from about 60 different countries.
PKN had a busy first day, with stand stops including:
• tna (we checked out their amazing VR experience, which covers potato chip processing and packaging, from raw potato to case packing; and later in the week we'll attend the launch of the new case packing system that has the "ability to manufacture time" – by segregating different parts of the case packing process and having them run simultaneously to bring the case packing speed for flexible bags up to 300bpm, as Group GM Michael Green explained);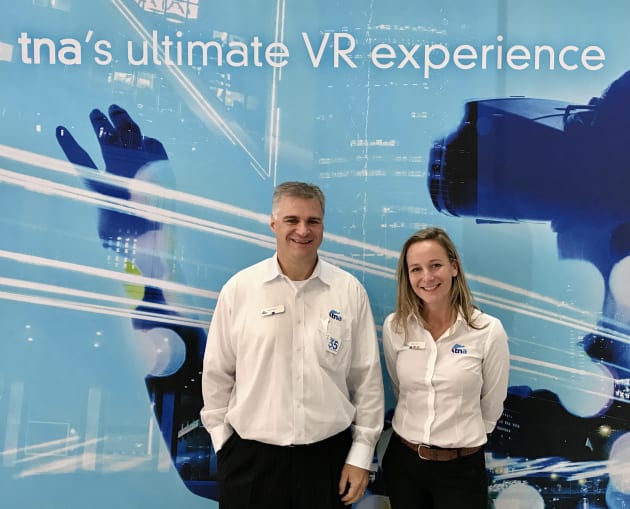 • HP (we spoke to brand design guru Silas Amos on the stand and heard that he believes we've only just scratched the surface of possibilities with digital print in packaging – the challenge is to frame design ideas using digital print technology in a way that adds value to the brand, rather than just novelty; we also heard that Amcor has bought an HP Indigo 20000 for its plant in Belgium).
• Schutz (which launched a number of IBC innovations, including the Ecobulk SX-D which is designed to protect flammable and explosive filling products).
• RPC (which had its extensive range of containers designed for the on-the go market on show and has just made its second Australian acquisition, this time of Amber Plastics, following its purchase of Synergy packaging late last year).
• SICK (which is highlighting its Industry 4.0 developments and specifically for packaging has launched the KTS KTX vision system that boasts a good eye for contrasts and colours; SICK vision sensors have the necessary intelligent detection, measurement, assessment and communication functions to allow for future-proof process and quality controls in the context of Industry 4.0).
• Micvac (which was showcasing a new addition to its retail offer is a dual-compartment thermoformed microwave ready meal pack just launched by the Swedish Gooh company; and spoke to them about their Australian licensee Saizeriya which is manufacturing ready meal packs using Micvac materials and microwaving tunnel).
• Taghleef Industries (which was celelebrating its successful collaboration with Mars, Mondi and Rodenburg to develop a bioplastic [biaxially oriented PLA film] wrapper for Snickers. The material is NATIVIA NESS, the bio-based resin for which is a second generation starch compound, with the starch coming from the waste stream of French fries.)
• Uflex (we spoke to the company's vice president Anantshree Chaturvedi about 'bleeding edge' barrier film developments that are ideal for the Australian market, some so new that trials were still running last week).
More highlights will follow next week, and in our July-August issue which will include a comprehensive report.