We bring you four of the latest developments in the ever-evolving segment of smart packaging, from companies such as UPM Raflatac, Smartglyph, and Shazam.
1. Just add magic
A product verification and tracking solution has been launched following a partnership between UPM Raflatac and content management company Magic Add.
The RafMore smart label solution combines pressure-sensitive labels and unique machine-readable codes to offer more options for product verification and tracking, marketing analytics, and consumer engagement.
RafMore allows brands to give each labeled product a unique digital identity, according to World Press Online. The unique codes embedded into the label designs are stored in a cloud database and act as an information channel at every point on the product's journey.
For brand promotion, RafMore can be used to boost consumer engagement by providing new ways to tell a brand's story.
RafMore also allows brands to create new service models, accurately track and trace products, improve inventory accuracy, verify authenticity and protect against counterfeiting attempts.
RafMore will be shown at Labelexpo Europe 2017 in Brussels, Belgium from September 25–28.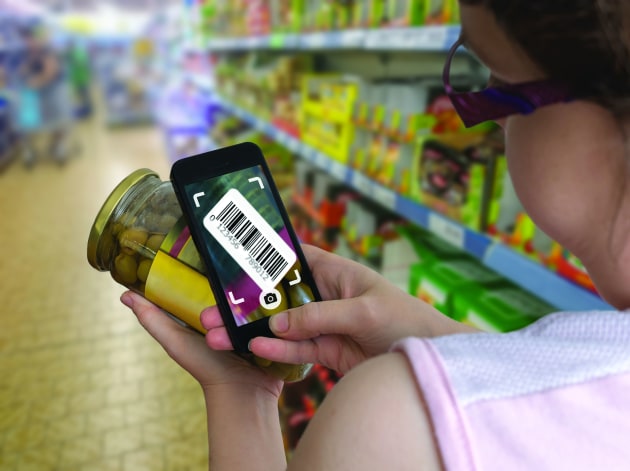 2. No barcode changes needed
SmarterBarcodes allow consumers to interact with product packaging by scanning the product's existing barcode with their mobile device.
Without any change to the existing packaging or barcode, SmarterBarcodes, from technology company Smartglyph, turn a standard barcode into a two-way communications channel.
This secure technology requires no design changes and works with any product that carries a barcode.
The technology allows brand owners to communicate with consumers at a price that's cost-effective, even on smaller pack sizes, according to Smartglyph.
SmarterBarcodes can immediately make packaging interactive, providing the consumer with access to enhanced product information such as videos, verbal and written text, discount coupons, games or promotions.
3. Kitchen know-how
The Shazam app has been used by a UK food company to give consumers digital connectivity.
National Flexible and Reproflex 3 have worked together to enable a new Heat & Eat product from Fairfields Farm to deliver more information to the end user, according to Packaging News UK.
The graphics have been embedded with a digital watermark to allow the consumer to learn the correct way to prepare the food.
Reproflex 3 works as an agent for Shazam, digitally enabling the graphics in complex print processes of packaging.
4. The iPhone 8: NFC support ahead
Apple's iPhone 8 will open up opportunities in packaging with its near field communication (NFC) tag support.
The Apple IOS 11 will give users a NFC reader which can interact with NFC tags anywhere.
Smartphone-readable NFC tags are already adding 'intelligence' to a range of packaging types.
Thinfilm is anticipating the phone's launch by preparing to deliver NFC tags that consumers can read straight from their iPhones.
The team has already developed an NFC scanner app that will allow iPhone users to tap their phone to NFC tags, save, and manage their favourite scans.