A national collaboration to help bridge the gap between Australia's $20 billion food waste problem and the 3.6 million people affected by food insecurity was outlined this week at the 2018 AIP National Conference.
Keynote presenter, Karli Verghese of RMIT University, shared new details about the Fight Food Waste Cooperative Research Centre (CRC), which she described as "the most exciting thing that has happened in food waste in my life".
The CRC will comprise three research programs tackling three key problems: reducing food loss and waste throughout the supply chain; transforming the unavoiable waste into valuable products; and engaging with industry and consumers to deliver change.
"Industry groups are going to be working with us on our different industry projects, and then we will be able to disseminate that out through the broader community through workshops, training courses, newsletters, and so on," Verghese said.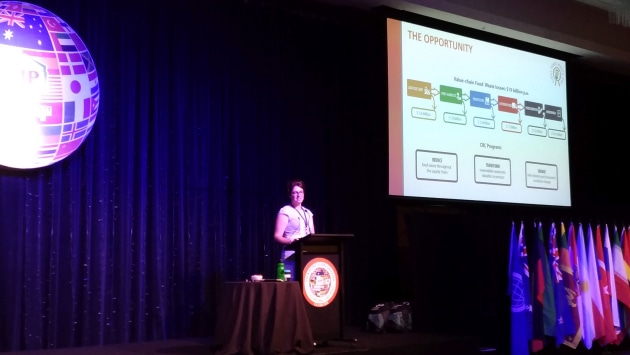 Keynote speaker and CEO of Foodbank Australia Brianna Casey told attendees that enough food is already produced globally to feed everyone.
"Just a quarter of what we waste globally would be enough to end world hunger," she said.
"We've got a pretty big incentive to do better than we are doing at moment, and the packaging industry is fundamental to getting it right."
"If you're not driven by the social impetus of why we need to reduce global food insecurity, lets look at the environmental cost, not to mention the economic cost. If food waste were a country, if would be the third largest emitter globally."
Meanwhile, thousands of people in Australia are still missing out on food donations, according to Casey.
"This is my big challenge, this is what keeps me up at the moment. I have got 65,000 people a month nationally that I can't get to because I haven't got enough food and groceries. Our charities are telling us there are that many people being turned away becaue I can't get them the food that I know is sitting out there in this big country of ours."
In Australia, Casey said, one in five kids are food-insecure, and one in 10 kids in food-insecure homes go a whole day each week without eating at all. Moreover, the problem is increasing over time, and not just in traditionally disadvantaged areas.
According to Casey, taxation reforms are key.
"At the moment, if you're a food and grocery company or you're a farmer donating to Foodbank, you can claim a tax deduction on some of the costs of that food, but you can't claim a tax deduction on the cost of transporting the food."