Spark Sourcing, a distributor of sustainable packaging solutions, says its eggshell derived plastic additive, eco-shell, has received EN 13430 recyclability certification.
This adds to a growing list of certifications that includes SGS eco-certification for plastic, waste, and carbon reduction, as well as EU RoHS and REACH certifications. The company says these distinctions firmly establish eco-shell as the choice for brands and manufacturers dedicated to achieving a circular economy for plastics.
Eco-shell is a bio-calcium compound derived from eggshells through a patented seven-step process that involves calcination. Patents have been granted in the USA, UK, Taiwan and China. Andrew Bliss, business development manager for Spark Sourcing, told PKN the patent is currently pending in Australia, but is anticipated to be granted soon. The Australian market is covered by its office in Taiwan.
One of eco-shell's features the company highlights is a 70 per cent reduction in carbon emissions compared to virgin plastics.
Spark Sourcing says the eco-shell material is compatible with a wide range of plastics, including PP, PE, HDPE, PET, EVA, PS, ABS, rubber, PVC, PLA, as well as recycled plastic, ocean-bound plastics, and bioplastics. Additionally, eco-shell holds both antibacterial and high FIR emissivity certifications, further enhancing its value and applications.
Bliss also told PKN, "In addition to the raw material, we can also offer finished eco-friendly packaging and products through our network of factories in Taiwan and across SE Asia."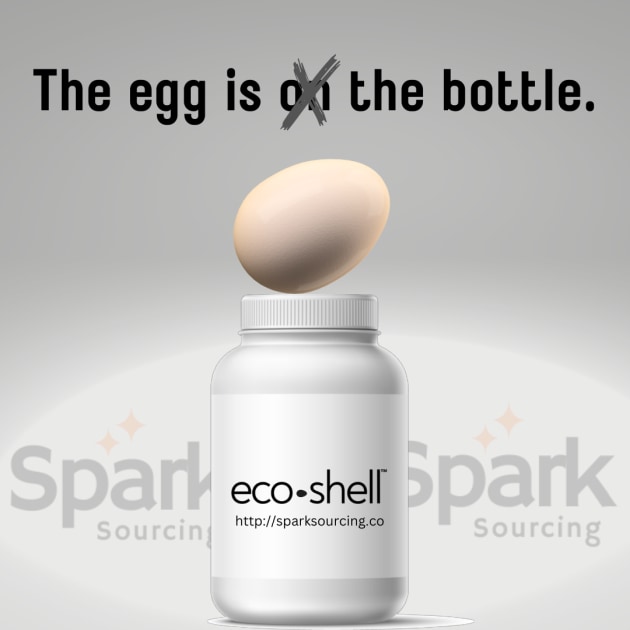 APPLICATIONS
The possible applications of eco-shell are vast, spanning various industries and products: 
        Jars and bottles for the cosmetic, pharmaceutical, wellness (supplements and powders) and cannabis industries (up to 30 per cent plastic reduction);
         Trays and industrial packaging with 50 per cent eco-shell;
         Bags made form 30 per cent eco-shell and 70 per cent recycled plastic;
         eco-shell plus PLA for reduced plastic and biodegradable straws, utensils;
         Industrial buckets, bins, and barriers with a 30 per cent plastic reduction; and
         Pallets made of recycled plastic and eco-shell that pass stringent strength tests.
 According to Spark Sourcing, eco-shell can be incorporated seamlessly into current manufacturing, so companies do not need to change the shape, size, material, or design of their current product or packaging, or the subsequent shipping dimensions. The company also says that it can perform well when compared with traditional CaCO3, limestone compounds, or basic eggshell powders.
The eco-shell material is derived from bio inorganic substitute from eggshells that produces calcium carbonate and calcium oxide. Unlike mined calcium carbonate or basic eggshell powder, eco-shell's particles are much smaller and have more facings that allow for greater bonds with polymers, the company says, which also allows it to work with a wider range of plastic type.