When it comes to the automated and efficient packaging of flat or light products in film pouches, Multivac has modified its B 625 chamber belt machine in such a way that a sealing height of 0mm is now possible on this model, which is designed to pack large batches of product.
Whether it is smoked salmon, whole fish or fillets, sliced cheese or ham, beef carpaccio or steaks, Multivac says the B 625 chamber belt machine now allows you to pack a wide range of flat products even more quickly, easily and securely than before. Thanks to the two sealing bars, which are integrated seamlessly into the base plate in the sealing area of the machine, it is now possible to achieve a sealing height of 0mm.
More secure
The company says the new model version offers even greater security and speed in the packaging process, since the pouch necks lie completely flat during evacuation and sealing. This means that, compared to the standard sealing height of at least 25 mm, the pouch necks are no longer bent. The transport of the product and the infeed into the chamber are also significantly more reliable, since interference areas have been eliminated, and friction points on the infeed plate reduced to a minimum. Another benefit in terms of pack security the company highlights is the temperature-controlled impulse sealing (TI), which ensures that a constantly high level of seal quality at lower energy requirement is achieved - even in non-stop mode.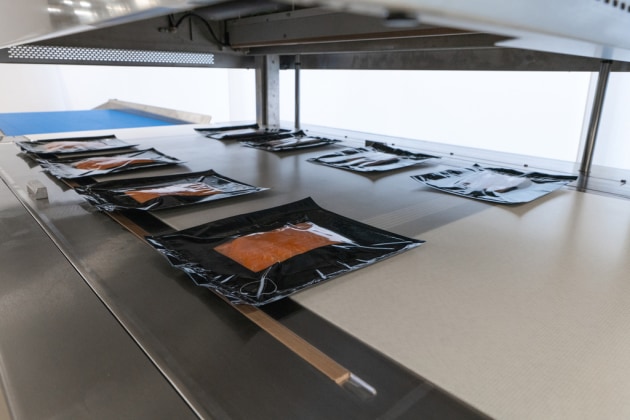 Faster
In order to gain even greater efficiency, Multivac has decoupled the automatic infeed conveyor from the packaging process. This enables the chamber belt machine to be loaded automatically, so that an even higher throughput can be achieved with fewer personnel. Even where the loading takes place manually, the use of just one person for loading creates a significant increase in efficiency.
Easier
The B 625 is designed in the Multivac Hygienic Design, and so the company says it meets the highest hygiene standards. The chamber lid, which can be swung manually and adjusted in any position, makes ergonomic access to the inside of the chamber easy, as well as facilitating maintenance of the chamber belt machine and saving time on cleaning. This is reflected in reduced downtime for necessary service work. In addition to this, Multivac claims the robust and durable construction of the packaging machine is a further guarantee of high performance and efficiency.
Other benefits
The other features of the compact B 625 are a high degree of product flexibility and a small footprint. A wide range of pouch materials and designs can be run easily and above all very reliably. Depending on the particular requirement, it is possible to individually select different types of vacuum pumps for equipping the machine. If a shrink tank or tunnel together with a drying tunnel are added, this high-output model can be easily expanded into a very efficient shrink-packaging line.