Labelexpo Europe 2019, the world's biggest label trade show, is on right now. PKN's Wayne Robinson is on the ground in Brussels with all the latest technology on display – see it here.
Day 1
HP shows raft of developments including digital pouch factory
With one of the biggest stands at the show, HP is awash with new developments including a full digital factory for flexible pouches.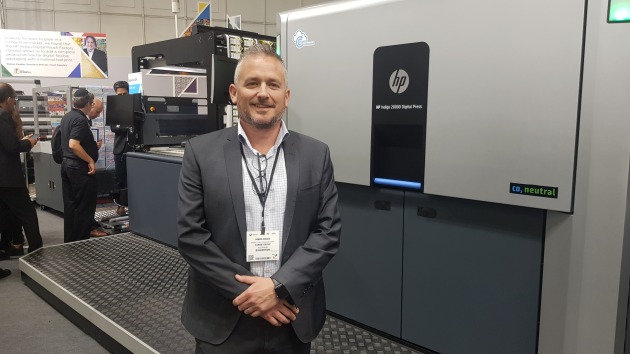 Currie Group director of labels and packaging Mark Daws has described the new technologies as "great news for print businesses looking to operate in higher margin areas".
Digital embellishing is being shown in various formats, with a Kurz Jetliner operating with an HP Indigo, an HP Gem system, and the ABG Digicon digital foiling system all on display.
The company had a complete digital pouchmaking factory on the floor, with an HP Indigo 20000 with inline coater, a laminating system, and a Karlville pouchmaking line all working in tandem to produce the pouches.
Daws said, "The R&D at HP Indigo is huge, and is resulting in new solutions to enable print business owners to go to market with exciting propositions for their clients. The sheer level of innovation on the booth today is staggering."
Brand protection and security is a major feature of the stand, according to Daws.
"New developments such as Taggant inks, which are specifically developed for one customer or one job enabling track and trace, are setting HP apart as it seeks to provide opportunities for print businesses to operate in what can be a high margin world of security," he said.
HP itself points to the systems on the stand at drupa last time out, which are all now available and in the market, as evidence of its understanding of the needs of the market and its customers.
For brand protection, HP is coupling new software and cloud-based solutions that allow anti-counterfeiting marks, micro text fonts, and protected track and trace solutions; converters can offer layered security, static or serialised, for brand protection.
Visitors saw live printing of shrink sleeves on the HP Indigo 20000 Digital Press and inline coating with the ABG ILC 762, followed by converting on beer cans at the adjacent Karlville stand.
The HP Indigo GEM integrated with the HP Indigo 6900 Digital Press is producing digital spot and tactile varnishes, digital foils, and a range of other creative effects. The one-pass solution needs only one operator and one digital file per job.
The new inline Kurz DM-Jetliner digital metallisation solution with the HP Indigo 6900 is making its Labelexpo debut, demonstrating silver and gold digital foiling.
Another new ink, HP Indigo ElectroInk Fade Resistant Orange, is being released to complete a seven-colour ink set for outdoor label applications requiring high lightfastness.
HP is presenting new sustainable packaging solutions and new credentials including Green Leaf sustainability mark from Intertek for the HP Indigo 6900, HP Indigo 8000, and HP Indigo 20000, independently verifying the digital presses for environmental credentials.
Deinking tests have been conducted by Cadel Deinking of Spain, verifying that HP Indigo digitally printed flexible packaging, including coating, can be fully deinked. The results on a range of substrates open new ways for brands and service providers to work towards higher sustainability, where deinking is an essential stage in the recycling process.
New workflow offerings released at Labelexpo for HP Indigo digital press users include an enhanced Esko Automation Engine for HP Production Pro for HP Indigo Labels and Packaging, which enables HP Indigo users to boost productivity while using Esko DeskPack templates.
Web2Pack workflow solutions powered by PrintOS Site Flow, and partner solutions for automating end-to-end packaging fulfillment, will deliver dozens of jobs per day with minimum touchpoints.
HP is presenting new advancements at Labelexpo including PrintOS Enhanced Productivity Mode (EPM) Preflight for Labels and Packaging, replacing manual file analysis and offering an effortless way to check the compatibility of PDF files for printing 33 per cent faster using three colours.
Visitors are also seeing HP PrintOS Marketplace – a disruptive cloud-based solutions community to enable on-demand subscription to a wide variety of value-add workflow apps and licenses, plus a new community of ideas, services and more, from HP and any third-party vendor for customers to share, sell, upload, and download designs and solutions.
HP Service Edge is launching a new service for HP Indigo digital press customers that enables the prediction of potential press issues or failures before they occur. The HP Predictive Press Care service uses artificial intelligence (AI) and real-time press data algorithms to analyse press status.
Konica Minolta launches print embellish finish MGI web line
The Konica Minolta booth at Labelexpo saw the launch of the new MGI Jetvarnish 3D Color+, a webfed high speed print embellish and finish line.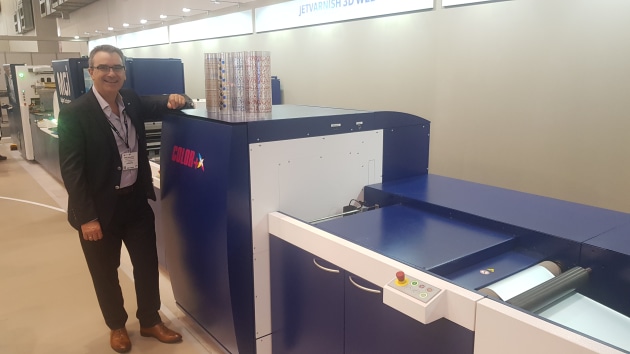 Speaking to PKN at the show David Cascarino, industrial manager at Konica Minolta said, "The configuration on the floor has a flexo printing unit, then the CMYK print engine, then a raised spot UV printer, then foiling, with die cutting, stripping, slitting and spooling to finish.
"You have a reel of raw paper going in one end and finished product coming out of the other, with one-person operation. It comes in different configurations; for instance, you can have it without the print engine."
Also on the stand at Labelexpo was the AccurioLabel 230 label printing system, seen at PrintEx last month for entry level digital label printing, and a new version with an inline flexo printing unit at the front for printing white.
Cascarino said, "There are some packaging and label applications that need a white, this will open that market up."
The new system will go to beta following Labelexpo, with Cascarino expecting it to be commercially available next year.
The AccurioLabel is now past 400 installations, achieved in less than three years. Cascarino said, "Konica Minolta's entry into digital label and packaging print systems has gone better than we expected."
Screen says new SAI press takes labels to next level
Screen GP is launching its new Truepress Jet L350UV SAI inkjet system at Labelexpo, which will print multiple applications including labels of all types, folding cartons, and pouches.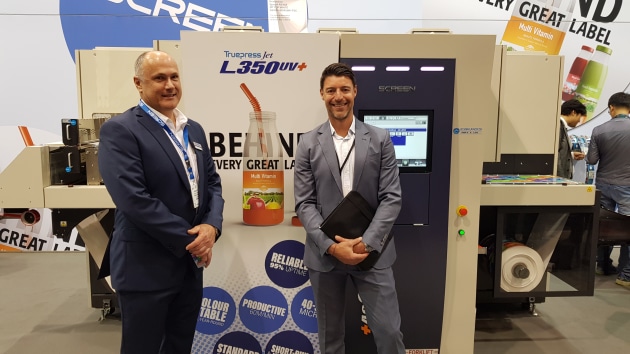 Production speed has been raised significantly to 80 metres a minute. Speaking to PKN at the show, Jack Malki, managing director of local distributor Jet Technologies said, "The Screen L350 SAI takes digital label printing to the next level. The high speed, its ability to be upgraded in the field, and the Screen precision quality add up to a compelling proposition."
Screen says the new press features improved colour reproduction, more speed, and superior scalability that enables it to meet a wide variety of market needs. Applications include labels of all types, as well as a diverse range including folding carton boxes and pouches, according to Screen GP Australia managing director Peter Scott.
"The Truepress Jet L350UV SAI model represents the latest advances in the L350 series, which was introduced in 2014 and is now being run at printers around the world.
"The suffix SAI means stability, accuracy, and integration – with the word Sai also meaning colourful in Japanese. This is a major step for digital label production as additional slots for printheads are onboard, meaning orange, blue and white inks can be added to the wide-gamut CMYK inkset.
"Overall colour management has been developed in collaboration with CGS Publishing Technologies in Germany. These technologies provide a wider range of colour expression than was previously possible, increasing Pantone coverage and reducing colour differences with specific spot colours. CGS has been a leader in colour management for twenty years, with its Oris proofing systems enjoying considerable success in the ANZ region," said Scott.
Four scalable variants of the L350 SAI will be available, including E for entry-level, S for Standard, and the flagship Z model for highest speed of 80 linear metres per hour; there will also be an LM version, using low-migration inks specifically for food packaging applications.
"We, and our dealer partner Jet Technologies, are excited about this latest evolution of the successful L350UV label press line.
"The features really respond to market requirements, and we can point to more than 150 presses shipped to customers worldwide, many of who have ordered a second or even a third machine. As with all Screen technologies, quality and integrity of the build is high, uptime is among the highest in the industry, and image quality is superb," said Scott.
Epson shows SurePress with inline finishing
Epson showed its new SurePress L-6534VW with inline finishing on its stand, which also included the L-4533 SurePress and a new range of label printers – Colorworks – intended for inhouse applications.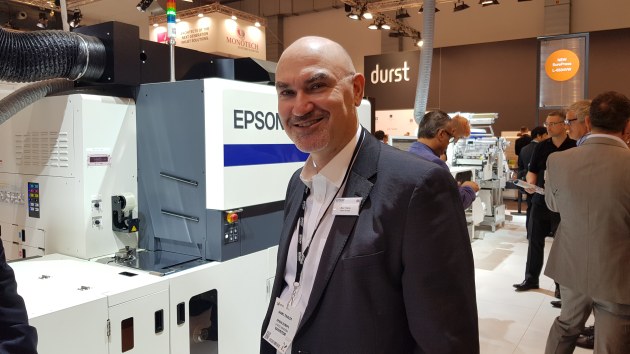 Marc Tinkler, head of product marketing, Commercial and Industrial at Epson Europe, told PKN that the new SurePress L-6534VW would be appealing to printers looking for durability, quality, consistency, and performance.
"With a 50 metre per minute print speed, and a central drum system rather than the more usual camber plate, the press is able to produce the highest quality print at high speeds," he said.
The new competitively priced SurePress UV inks also comply with the European Framework Regulation on Food Contact Materials (FCM).
The press combines Epson's PrecisionCore printheads around the central impression drum to provide what Epson says is "outstanding image quality and precise colour to colour registration".
With Epson's proprietary Nozzle Verification Technology and automatic head maintenance, manual intervention by an operator is minimised.
The SurePress L-6534VW uses low migration CMYK inks with a high opacity white as standard, and includes an innovative inline digital varnish for value added label production.
According to Epson, a high precision web feed system ensures substrate waste is minimal and provides consistent re-registration on a pre-printed roll. Together with a corona treater, web cleaner, and ioniser, the press provides versatility in print production.
Tinkler said, "The new model offers faster full colour variable data printing and supports a wide range of label substrates for many different applications. And now with the SurePress inks complying with the European Framework Regulation on Food Contact Materials (FCM), customers can be assured they are buying an industry leading solution."
Nilpeter promotes FA presses to ANZ
The Nilpeter stand had a pair of the company's FA flexo presses on the floor – a 17" model and the 22" version – and the manufacturer is pitching them to the Australian and New Zealand markets.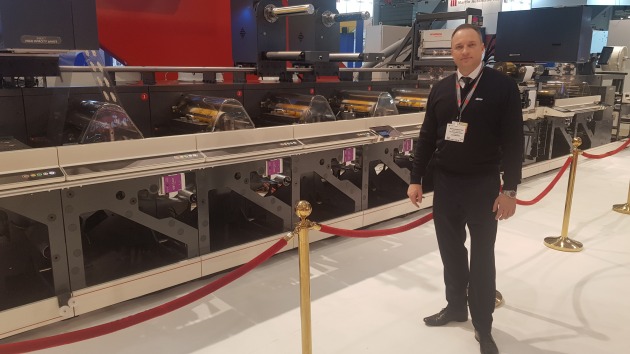 According to sales director Erik Blankenstein, the presses are "aimed at high quality print applications found in Australia and New Zealand."
Blankenstein pointed to the one-piece frame as indicative of the quality of build of the Danish manufactured presses.
"The FA Nilpeter systems will produce premium print quality for wine labels and the like. They are manufactured to exacting standards, and that is why they are able to print to such a consistently high level. Some 80 per cent of parts are manufactured by us in-house," he said.
The FA presses have no offsite component, with the company's MO presses having that capability, along with flexo, screen and gravure.
Blankenstein said, "These are top of the line presses, which along with their engineering excellence have a high level of automation. Each print unit has seven motors, with three servo motors. They are designed to offer every possible assistance to the operator, and to win back work from digital, as well as produce medium and long run jobs."
According to Blankenstein, run lengths as low as 800 linear metres are now cost effective with the FA presses. He said, "Three years ago you would be looking at 2000 linear metres or more as the break-even point – Nilpeter has turned that on its head."
Day 2
Omet launches new combination
Press manufacturer Omet had one of the biggest presses at the show, launching the XFlex X7 combination system which comes with flexo, gravure, flexo wet wash varnish, tactile raised varnish, and cast and cure (foiling) and finishing including die cutting – all in one print system.
Wayne Quayle, sales manager at ANZ supplier Currie Group said, "The Xflex X7 will open up new applications to printers. Its productivity and performance are outstanding: for instance, there is on the fly registration, it prints at 180 metres a minute, and complete job changeover takes less than 10 minutes."
Omet also launched the Digital Xjet, a hybrid printer running flexo and digital inline at 100 metres a minute. The Omet flexo units are joined by a Durst inkjet print engine, the newly launched Tau 420 RCSi. Also inline are white and a primer. Web width is 420mm. Quayle said, "The wider web means more flexibility."
Quayle says the Omet booth at Labelexpo shows the company's investment is reaping rewards for label and packaging printers.
"Omet is enabling print businesses owners through its equipment to offer a point of difference to their customers," he said.
Xeikon focuses on end to end solutions
Digital pioneer Xeikon had four distinct production suites on its booth, as the company focused on its strategy of providing end to end solutions for digital print businesses.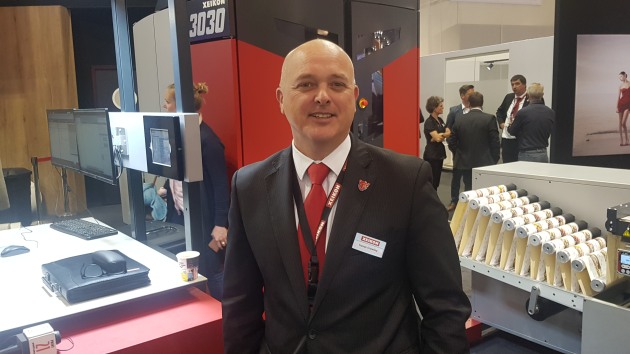 Trevor Crowley, ANZ regional manager at Xeikon, said, "We are running full solutions. We understand that as business gets tighter, and as skill levels diminish, that printers are looking to their supplier, they want a partner that will work with them, that ash the know-how, power and commitment to do that, and that is where Xeikon, now part of the Flint Group, sits."
The four production suites include the Label Discovery Package, an entry-level solution addressing 90% of all end-user label applications; the Xeikon CX500, addressing high-end food and wine label printing; the Xeikon PX3000, the ideal solution for health and beauty markets and high-performance durable label printing; and Xeikon aXelerate, helping printers and converters to go the extra mile.
Crowley pointed to the Discovery solution on the stand as an example of what the company provides. Disocvery is the entry level system, which comprises the Xeikon 3030 print engine and the supporting ecosystem. He said, "Whether you are looking to enter the digital print market, or are an established printer looking to take the next step, Xeikon will provide all you need."
Xeikon has both toner and inkjet print systems, and its presses are able to print on a wide range of media; according to Crowley, this meets the need for new opportunities.
"For instance, the EU has a new directive, which will likely be replicated around the world, that label on drums must be able to withstand three months at sea if that drum goes overboard, with the salt, the sun, and the sand not impacting adversely on the legibility of that label. Xeikon came out on top in all the tests," he said.
According to Crowley, the company is also developing rapidly in track and trace, with a co-development with UPM Raflatac offering label printers the opportunity to provide track and trace solutions to the market.
Crowley said, "Track and trace works both ways: it enables consumers to check the veracity of the product, and it gives the brand a direct line to the consumer, something which they have not had before."
The company also introduced its latest advisory tool Transform, sharing its deeper understanding, experience, and valued digital printing expertise with the international label community. Xeikon can offer printers and converters insights into different ways of transforming a label printing business into a business for the future.
Durst launches new platform Tau 420 RSCi
Durst is launching its first new label platform for seven years with the scalable Tau 420 RSCi, with local sales manager Paul Sanelli saying it changes the rules of label print production.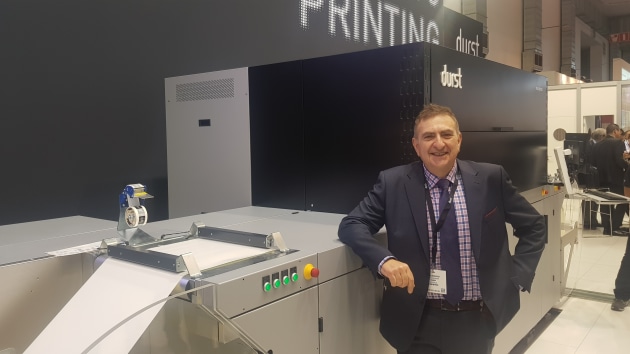 The new press comes with field upgradable web widths and four or eight colours again upgradable, and it prints at 1200x1200dpi using Fuji Samba heads at 100 metres a minute print speed.
The three web width options are 330mm, 420mm and 510mm, the colours CMYK plus orange, violet, green and white. Sanelli says, "Durst has future proofed the investment for label printers, and created a press that offers those label printers multiple new opportunities. It will print from 20 micron film up to 500 micron board, on a range of web widths, the application range is huge."
The Tau 420 RCSi can also be used as an inline digital engine on a hybrid press; here at Labelexpo it is being shown with an Omet flexo printer.
Sanelli said, "High volume printers will benefit from the new platform, with 100 metres a minute in high quality on a range of media giving them real production power."
Under its "We Keep You Printing" slogan, Durst is also featuring dedicated Web2Production workflow software; its own prepress Workflow Label software; and its current Tau 330 RSC and RSC-E presses, as well as a new low-migration UV ink which is EUPIA and Swiss Ordinance compliant for food and pharma applications.
According to Helmuth Munter, segment manager for labels and package printing at Durst, stand visitors have the chance to see how customers use its software and print technology to benefit from an automated production unit.
"Labelexpo marks 10 years of Durst in the label industry with a raft of new innovations: first with 7 colours, first with chill roller, first with low-migration ink and first with an inert curing system. Introduced two years ago, the Tau 330 RSC and Tau 330 RSC E set a new benchmark in label printing and we now have more than 50 installations around the world.
"We are confident that our updated Tau RSC platform will once again set the base for the future of industrial digital inkjet printing in the label industry," he said.
Robots arm Esko Crystal CDi platemaker
Esko launched a new version of its Crystal CDi platemaker, with inline XPS exposure and a robotic arm to move the plates between the units on the system.
The new Crystal CDi exposes the front and the back of the plate at the same time, taking a day out of the traditional flexo platemaking system.
The robotic arm means that once the plate is inserted into the CDi no more human touch is needed. Speaking to PKN on the Esko stand, local sales manager Scott Barry said, "The new CDi with one pass double sided platemaking and robot arm transfer eliminates the possibility of human mistake, speeds up the whole process, and delivers significant efficiencies."
The new CDi was among a raft of innovation on the Esko stand; other developments included a Print Control Wizard which is a guided step by step profile setting tool, which enables printers to set their own profiles and set them in a dramatically reduced time frame.
Labelexpo also saw movement with the business of Esko, with AVT, also owned by Esko owner Danaher, now coming under the Esko umbrella. Barry said, "It will be beneficial to printers. For instance, the two are working on a new closed loop press inspection system, which will inspect at the start of the press, not the end, so saving wastage."
Fujifilm unveils five new flexo products
A new Flenex water-washable plate, processor and water treatment system; a new LED UV curing system and inks; and a new imprinting system are all being showcased by Fujifilm at Labelexpo.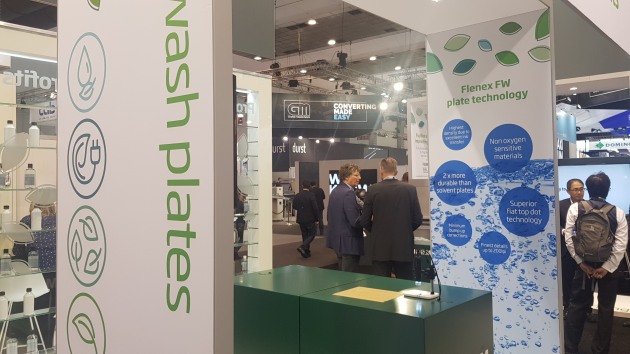 Fujifilm says its range of new products is designed to help label converters optimise their existing flexo presses, under the slogan Protect the planet and your profits. Consisting of enhancements to the company's water-washable flexo plate and processing systems, together with new LED UV curing and imprinting solutions, Fujifilm says it is highlighting just how efficient and eco-friendly the production of high-quality labels can be.
On show for the first time is Flenex FW-FP, Fujifilm's new water-washable plate for flexible packaging, joined by the upgraded SB-938 FLW water-washable plate processor and the new Aquarius Water Treatment System. New Sericol JJ LED UV flexo ink and JF indirect food packaging compliant UV cured inks are also being displayed alongside Fujifilm's established Illumina cold cure LED UV system and additional new Activ LED UV system, while a new industrial imprinting system is also being showcased.
Fujifilm says its new Flenex FW-FP plate features all the quality benefits of the established FW-L2 plate as well as added solvent resistance, reduced curling effect and a thicker polyester base of 188µm.
SB-938 FLW is Fujifilm's easy access, all-in-one, semi-automatic water-washable plate processor designed to provide efficient plate handling. In combination with Fujifilm's Flenex FW plates, the SB-938 FLW processor offers the fastest platemaking times in the industry – under 40 minutes.
According to Fujifilm, this is three times faster than leading solvent systems and 1.5 times faster than current thermal and water technologies.
Rounding off Fujifilm's new flexographic equipment is the new Aquarius water treatment system. Used in combination with either the C-Touch or SB-938 water-wash flexo plate processors, Aquarius reduces water usage, prolongs the bath life and reduces waste water and processor cleaning times.
Fujifilm says that in combination its newest Flenex plate, processor and water treatment system can help label converters reduce water use while also ensuring that their equipment functions effectively for as long as possible.
Fujifilm is also launching a new LED UV retrofit curing system called Activ, which it says allows any traditional UV flexo press to be converted to LED UV curing, bringing major improvements to label production.
Launched in tandem with Activ is Fujifilm's new high performance, Sericol JJ LED UV flexo ink and Sericol JF indirect food packaging compliant UV cured ink. Both are designed for use with the Illumina and Activ LED UV curing systems, as well as most other LED UV curing systems.The Sericol JF flexo UV ink is formulated to comply with Swiss Ordinance SR 817.023.21 and Nestle Guidance Note on Packaging Inks 02-2014 and EC Regulation on GMP 2003/2006, making it suitable for indirect food packaging, in accordance with EuPIA guidelines.
Finally, as a technical preview, Fujifilm's new Industrial Imprinting System offers variable data printing at industrial production speeds. Fujifilm says that imprinting provides a great opportunity to add value and help to increase the range of solutions companies can offer.
The new imprinting solution can be fully integrated easily into existing packing or filling line equipment. Using Fujifilm's inkjet technology, the imprinting system can print images or information as text, logos, QR or barcodes, or any other customised data.
Biggest ever Labelexpo for ABG
Converting solutions developer ABG – supplied in ANZ by Currie Group – had its biggest ever presence at this year's Labelexpo, with some 20 machines, both new and current, on its booth.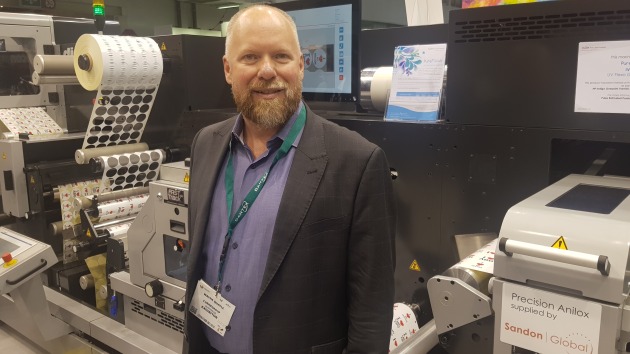 Wayne Quayle, sales manager Currie Group said, "The ABG solutions offer printers and converters a tremendous range of cost-effective options. The Jetfx, for instance, has digital spot foiling and varnishing with no dies."
Among the kit on display is the Jetfx digital embellishment module for the Digicon Series 3 converting line. The offline, fully-digital system includes two inkjet heads with UV pinning and curing; automated cold foil throw-off; shuttle system for inspection and waste reduction; chill rollers for sensitive materials; prepress software; and food-compliant fluids. According to ABG, it allows for multiple processes in one pass including tactile spot varnishing and cold foiling.
In the Digicon range, ABG is exhibiting a high-spec machine for top-end beverage applications, which features two flatbed screen heads as well as 50-ton and 25-ton foiling heads, plus a new-look Vectra SGTR turret rewinder; there is also a new entry-level Digicon Lite with semi-rotary flexo.
The Digilase 4.0 Laser System is billed as being perfect for direct from web sticker production, with a reduced web path and a decrease in necessary lead in/out material both reducing waste. According to ABG, the minimum job length has been cut in half and file downloading takes milliseconds, allowing several jobs to be processed at the same time from unwinding to laser cutting and rewinding.
ABG's new modular B5010 Booklet Machine design is equipped with a feeding system, which the company says can be adjusted quickly and easily to various booklet dimensions; it also has a new, integrative concept of operation, which makes it possible to process up to 36,000 booklet labels per hour with a registration accuracy of +/- 0.5mm.
Two Digicon machines with fleyeVision camera inspection and editing capability are also on show. According to ABG, new developments now enable automatic selection, 100 per cent inspection and rejection of rolls with errors, with no interruption to production. Rejected rolls are then transferred to a small tabletop Omega Horizon rewinder roll mapping system to identify specific roll errors and individual doctoring.
Also on stand is a Ti 200 machine that creates RFID/EAS technology labels, featuring what ABG calls a total solution with chip checking device; and the SRI range of inspection slitter rewinders.