An evening recognising the excellence and innovation within the sustainable packaging industry was held last night at the APCO 2023 Annual Awards. In a room packed with the brightest minds, ingenious innovators, passionate, and determined packaging sector leaders, it was a time to celebrate the collective efforts of individuals, organisations, and projects truly driving change to a more sustainable future.
This year, the awards returned with a host of new features, including a new independent judging panel coordinated by the Banksia Foundation, featuring esteemed professionals from across the packaging industry value chain. A record of more than 100 entries were received.  
Looking to foster greater inclusivity and amplify the collective impact of sustainability efforts, this year APCO opened up entries to non-members in two categories – Our Packaging Future Award and Sustainability Champion Award. APCO said this move was to encourage organisations from all corners of the industry to participate and collaborate towards a sustainable packaging future.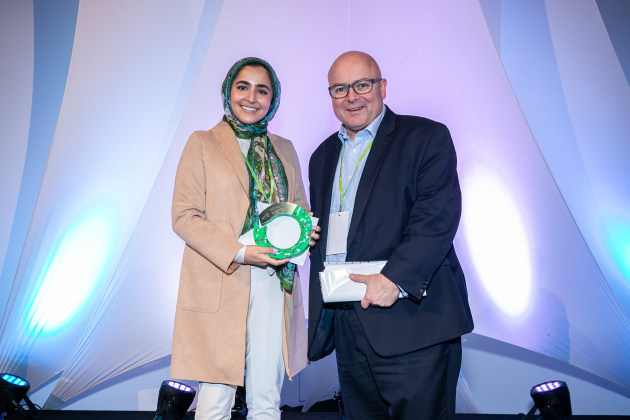 APCO CEO Chris Foley said, "The APCO Awards celebrate the visionaries, the risk-takers, and the game-changers who are shaping the future of packaging here in Australia."
The winners
The highly coveted Best of Reporting Excellence Award is presented to a company that has demonstrated ongoing and outstanding leadership in the industry, with a fierce commitment to packaging sustainability.
This year's winner was electronics company Belkin Limited.  Belkin investigated how its packaging is managed post-consumer purchase. The company used this data to develop packaging that aligns with the 2025 National Packaging Targets for single-use plastic reduction, recycled content, and the use of compostable materials. These learnings were then applied to Belkin products sold globally. 
In a field of remarkable talent and achievement, there could only be one Sustainability Champion of the Year. 
Bryan McKay, Head of Packaging at Woolworths Group, took out top honours in recognition of his work to scale sustainable packaging initiatives, which have materially contributed to packaging circularity within the FMCG industry.
McKay has been at the forefront of packaging sustainability in the FMCG and retail industry for 20 years. At Woolworths Food Company (WFC) he developed a packaging sustainability strategy that he then led the delivery of, across the Woolworths Group. Under his leadership, problematic plastic materials including PVC and polystyrene in Woolworths's own brand packaging was removed in many categories, two years ahead of the 2025 schedule. 
As well as McKay's efforts to scale sustainable packaging initiatives, he was recognised for his work in testing and learning from innovations and partnerships. 
The Our Packaging Future (OPF) Awards, celebrate industry achievements in consumer education, improved recycling systems and end-market developments.
Among the winners of the OPF Awards was CHEP Australia who took home the Reuse Award for its new and significantly upgraded service centres that underpin its successful reuse model. The service centres contain state-of-the-art technology to repair, wash and condition CHEP pallets, bins and containers and enable the supply chain to support thousands of companies to deliver their goods every day. 
Another industry leader, Coles Group, was awarded the OPF Industry Education Award for their supplier packaging enablement program aimed to address key supplier knowledge gaps in packaging sustainability education. With more than 7000 suppliers in its own brand product network, the scale of the Coles' initiative was immense.
Officeworks received the OPF Consumer Education Award for their 'Greener Choices' product range, refreshing and relaunching it as the 'People and Planet Positive' product range. As part of the refresh, Officeworks introduced a Reuse and Refill category, and a Recyclable category. 
Other Award winners included Tetra Pak Oceania and saveBOARD who were recognised in the OPF Improved Recycling Systems Award for working in partnership to launch Australia's first beverage carton recycling facility in Warragamba, New South Wales.
Tetra Pak Oceania sustainability director, Vikas Ahuja, accepted the award and took a moment with the room to recognise the magnitude of what everyone present was trying to achieve, and the privilege and pride that comes from making a difference. 
Also recognised was Brother International Australia in the OPF Sustainable Packaging Guidelines Implementation Award for its transformative journey to pioneer sustainable packaging practices, creating packaging with a clear recovery solution in mind and incorporating recycled content into its packaging.
Earlier in the day, APCO's Industry Sector Awards winners were announced. These awards recognise the top APCO members promoting sustainable packaging design and innovation across a broad range of industry sectors including electronics, retail, food and beverage and manufacturing.
Evening highlights
In his speech, APCO CEO Chris Foley said 2023 has been a watershed year for the industry, with a remarkable scaling of outstanding innovation, leadership and dedication to sustainable practices from businesses across the industry.
"I think we can all agree, it has been a huge year for the packaging community," Foley said, reflecting on the review of the 2025 National Packaging Targets, the communique from Australia's territory, state and federal environment ministers on mandatory packaging standards and targets under strengthened regulations, and roadshows with more than 800 members across the country articulating the need for single system administrator and mandatory Extended Producer Responsibility Schemes."
The evening also featured an address by the CEO of Banksia, Graz Van Egmond. This is the first year Banksia and APCO have collaborated. Van Egmond reflected on the Banksia Foundation since its inception 34 years ago, and her time as CEO – 25 years –and the importance of events like the APCO awards in recognising those at the forefront of innovation and change. 
ANZPAC senior program manager, Angela Mayer, took to the stage after stand-in MC (me) fumbled multiple times trying to say ANZPAC Plastics Pact and well, blamed the sector for poor naming choices. (Quality moment. High point of the night. Sorry Lindy, the night did go well, I promise.) 
Mayer provided an update on the pact's achievements so far, with more than 100 organisations from across the value chain now signatories. She explained the focus on plastics in remote and regional areas has been making real progress with a high level of collaboration. Recently ANZPAC has been working with the Northern Territory government on plastic packaging waste management solutions in remote and regional communities. 
She then updated the room on a pilot project, Circular Pacific Plastic, which enables businesses to purchase PET recovered from the Pacific and to integrate it into their recycled content.
"The pilot will focus on recovering plastic bottles during the Pacific Games, happening later this month on the Solomon Islands, and is estimated to recover more than 3,000 tonnes of plastics annually from the Solomon Islands alone," Mayer said. 
Marina Keil, Samoa Recycling and Waste Management Organisation founder and ANZPAC member, then gave a heartfelt speech about the plastic waste crisis in Samoa and how she was amazed at the range of technologies and innovation available to businesses in Australia.
As then evening drew to a close, Foley stepped up to the lectern one last time, "We've come a long way and we've got another exciting year ahead - there's a lot to look forward to as we continue our sustainability journey to 2025 and beyond."