Plastic packaging is among the flotsam washing up on East Coast beaches after cargo vessel APL England on Sunday lost about 40 shipping containers overboard in heavy weather.
Coles plastic food containers have washed ashore on Frenchman's Beach, with the supermarket's plastic food containers seen on the beach, 7 News reports. Coles confirmed to the news outlet that it had cargo on APL England and some of it was lost or damaged.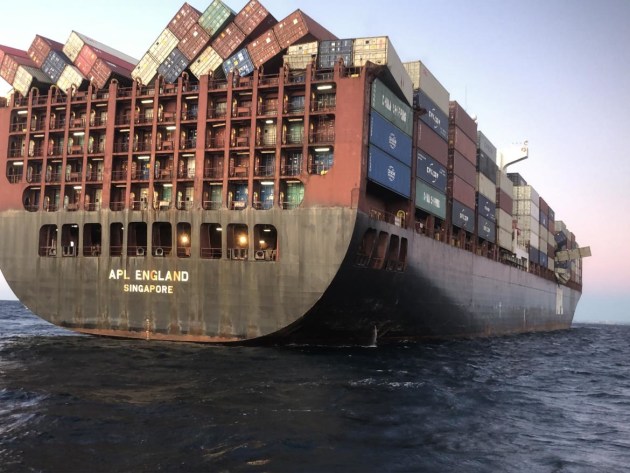 The ABC reported yesterday that Randwick City Council closed its beaches, including Clovelly, Coogee, and Maroubra, while crews clean up the debris, with items also washing ashore at other beaches in Sydney and the Central Coast.
The Australian Maritime Safety Authority (AMSA) said the incident with the Singapore-flagged APL England occurred just after 6.00am on Sunday 24 May, when the ship experienced a "temporary loss of propulsion during heavy seas about 73 kilometres south east of Sydney".
The ship's crew restored power within minutes, but during this time, the ship reported "rolling heavily" causing container stacks on deck to collapse and about 40 containers to fall overboard. An additional 74 containers have been damaged.
"While it is still unclear exactly which containers have fallen overboard, initial indications are that the affected stacks contained a wide range of goods like household appliances, building materials and medical supplies," a statement from AMSA said.
"No dangerous goods appear to be in cargo in the affected areas and we are working closely with the ship's cargo agent to confirm exactly which containers went overboard."
AMSA said the ship was en route from Ningbo, China to Melbourne. The ship is now berthed at the Port of Brisbane and investigations are ongoing.
In a similar incident, the YM Efficiency lost 81 containers overboard off the Hunter Coast in 2018. Salvage operations are ongoing for 60 sunken containers, while 15 are still missing, according to the ABC.