Amcor has taken four awards at the 2019 Packaging Innovation Awards by Dow, including three in its flexible packaging range.
The packaging giant won Gold awards for Coffeemate Natural Bliss Cold Brew and Molson Coors 12-Pack Cooler Bag; as well as a Diamond Finalists Award for Paperly for meat and cheese, and a Silver Award for Full Moon Pet Food.
Michael Zacka, chief commercial officer at Amcor, hailed the awards as proof of Amcor's packaging know-how.
"Winning across our flexible and rigid packaging, for beverage, protein and pet food products, is testament to the expertise of Amcor's global team. We are proud to deploy that expertise to benefit our customers, consumers, and the environment," he said.
Dr William Jackson, chief technology officer, said the three flexible packaging awards highlighted growing consumer demand for attractive, convenient, and sustainable packaging.
"We are working with customers around the world so that their packaging performs when it comes to sustainability and consumer convenience, while also maintaining the highest levels of product protection," he said.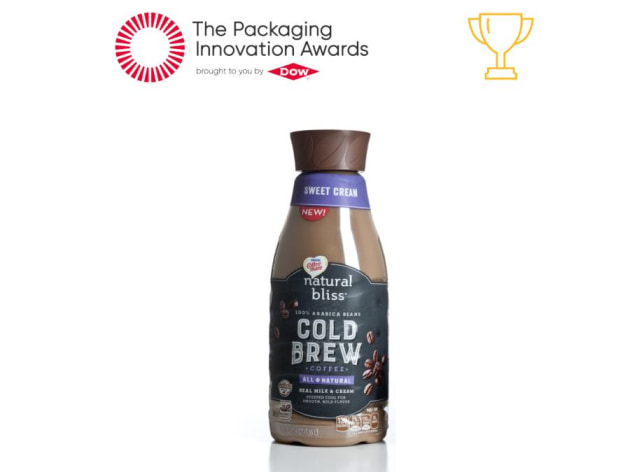 The Gold Award-winning Coffeemate bottle uses Amcor's vacuum-resistant GeoStrap base, replacing a more easily dented bottle design, according to Dr Brian Carvill, vice president of research, development and advanced engineering in Amcor's Rigid Packaging business.
"Our packaging experts worked with Nestlé to create this lightweight, sleek and clear PET bottle. The bottle's structure is designed to achieve both function and an aesthetic that draws the eye of consumers," he said.
The GeoStrap base combines Amcor's PowerStrap base technology and its PowerFlex Geodesic base design to create a low-profile base that flexes upwards, counteracting vacuum generated by the product absorbing oxygen from the headspace.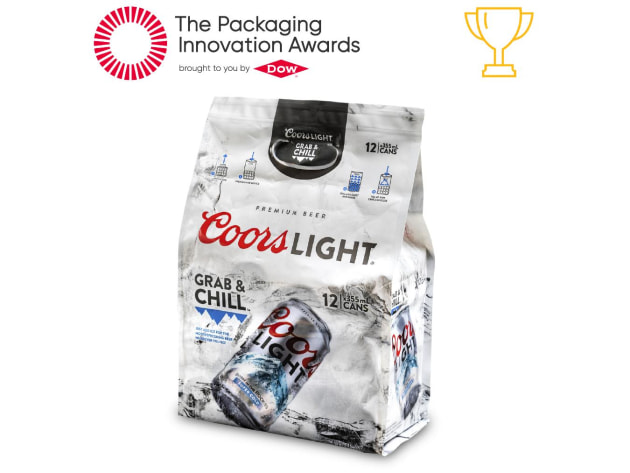 The other Gold Award went to the Molson Coors 12-Pack Cooler Bag, which is designed to be reusable, easy to carry, and able to withstand more than 45 kilograms in force; it expands into a larger bag that can go straight into a fridge or cooler.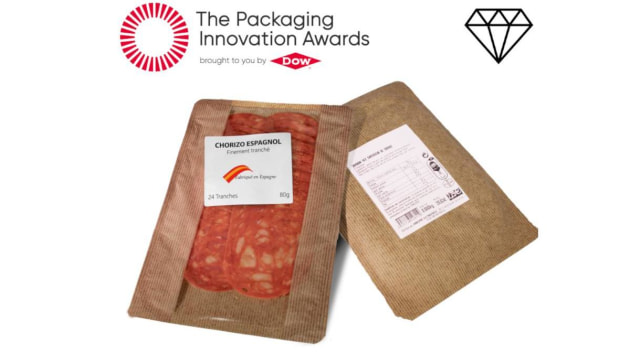 Paperly, a thermoformable paper-based packaging made with FSC-certified paper, won a Diamond Finalists Award. A collaboration with French brand owner Charcupac, the solution is recyclable in the paper stream and uses high barrier liners and reclosable features to retain freshness; according to Amcor, it provides a natural, rustic look and feel for processed meat and cheese.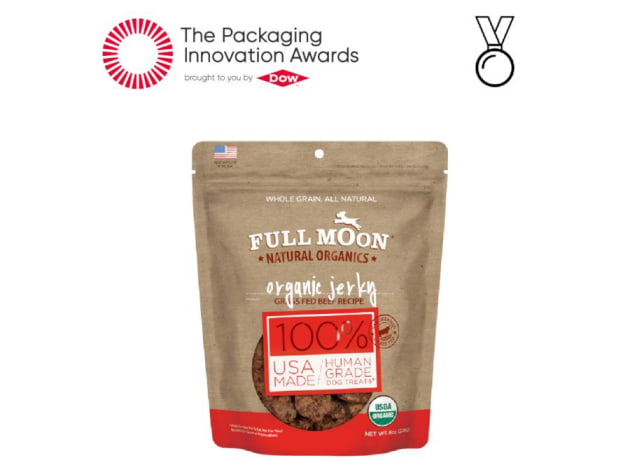 Finally, the Silver Award went to Full Moon Perdue Natural Look Pet Treat Pouch, which combines tactile material with matte and gloss print; according to Amcor, the packaging stands out on shelf and communicates an organic and premium positioning.
"In addition to the smart matte finish with gloss print on paper-like texture, the pouch incorporates a reclose zipper for product freshness after opening," Amcor said.
Diego Donoso, business president for Dow Packaging & Specialty Plastics, said Amcor has been successful in using new materials, paper, and plastics to create winning packaging in new formats.
"This year Dow received a record-breaking number of submissions for innovative, forward-thinking packaging designs from around the world. I'm continually impressed by the world-class innovations that we see year after year. Congratulations to Amcor for helping drive the industry forward," he said.