At Interpack 2017 this week, plastics converting giant RPC Group - which has recently bought two Australian companies - is showcasing award-winning innovation across a range of markets and applications.
The convenience trend is a key driver of RPC's product development, according to Soren Rohleder, Regional Director Central Europe for RPC. He told PKN that on-the-go packaging continues to inspire innovation at RPC, but added that demand for sustainable and barrier packaging solutions are also being met by RPC products.
"Helping to minimise food waste is part of RPC's sustainability message," Rohleder said. 
Samples on the RPC stand demonstrate plastic's flexibility in producing solutions that deliver both superb aesthetics and complete functionality, and the availability of a variety of solutions to provide effective product protection and extended shelf life for food products. Many of these will now be available in Australia as RPC continues to expand its footprint in this market, having clocked up two acquisitions in quick succession: first Synergy Packaging late last year and more recently, Amber Plastics.
According to RPC, the new WaveGrip application is the first genuine alternative to current beverage multi-packing solutions and the most efficient and environmentally-sustainable carrier system on the market, with the versatility to be adapted for all types of drinks businesses, from smaller artisanal producers to high volume operations. The applicator technology can improve line efficiencies by up to 30 per cent while WaveGrip Carriers are produced using advanced lightweighting technology and strength-enhancing polymers to create a carrier that securely and efficiently collates product according to individual customer requirements. Carriers have been rigorously tested to meet the high standards of the retail sector, and enables easy pack reconstruction to avoid spoilage.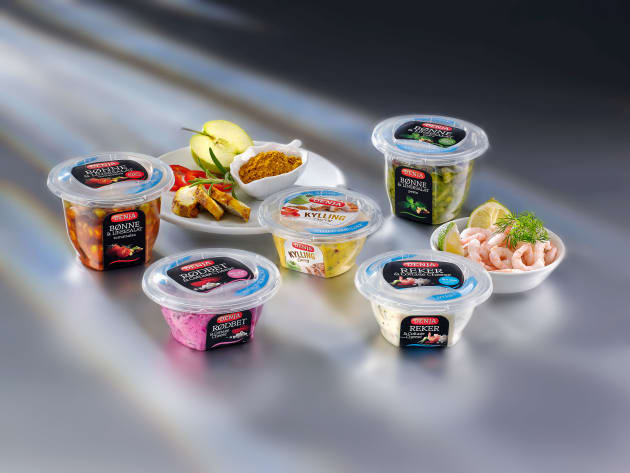 The Twist Cup from RPC Superfos and RPC Promens, which received its WorldStar Award 2017 at a ceremony on 4 May at Interpack, is an innovative packaging solution developed for a range of premium cold salads from Orkla Foods Norway. The pack combines two different resin materials and technologies to create a thermoformed cup with an injection moulded lid. The result has similarities with a traditional glass jar which makes it stand out as something special in the cold salad segment. In spite of the challenges that come from using two different resin materials, perfect compatibility has been achieved between the thermoformed PE body and the injection moulded PP lid. The lid latches into the locking groove of the cup and, when closed correctly, the consumer hears a comforting click-sound.
 The company is also demonstrating its expertise in polythene film products through RPC bpi Group as well as its capabilities in mould design and manufacture.