Industry 4.0, also known as the 'fourth industrial revolution', refers to a world in which machines interact and respond intelligently to their surrounding physical environment.
It spells opportunities for manufacturers willing and able to take their production lines to the next level.
Industry 4.0 is also connected to a need for better data collection in which the 'intelligent' systems implemented can run while correcting any issues, according to Heat and Control's Business Manager - Packaging, Robert Marguccio.
"However, this option is not suitable for all manufacturers as the technology is capital-intensive and requires significant investment," he adds.
Fibre King's MD James Windsor is one who's found the connectivity integral to Industry 4.0  "extremely exciting" for the business and what it's able to incorporate in its machinery. Fibre King deployed its first machines with remote access and monitoring in 2006.
"10 years on they are still running exceptionally well, with the majority having completed over 20 million cycles in a very harsh environment," he says.
"Smart machines are great, but only if they make life easier for the end user."
He uses Fibre King's new preventative maintenance software as an example.
"It monitors components on the machine and provides a warning when it's approaching the end of its useful life," he says.
"This allows the operator to order a replacement for immediate installation, or to have it on hand for the next major shutdown."
Better OEE
Over at Foodmach, says Sales and Export Director Peter Marks, the company has led the implementation of OMAC PackML automation technology in Australia.
"This technology allows for rapid machine automation integration, performance diagnosis, and improved OEE," Marks says.
"OEE improvements come from less downtime, standardised operator interfaces, and more deeply integrated packaging production lines."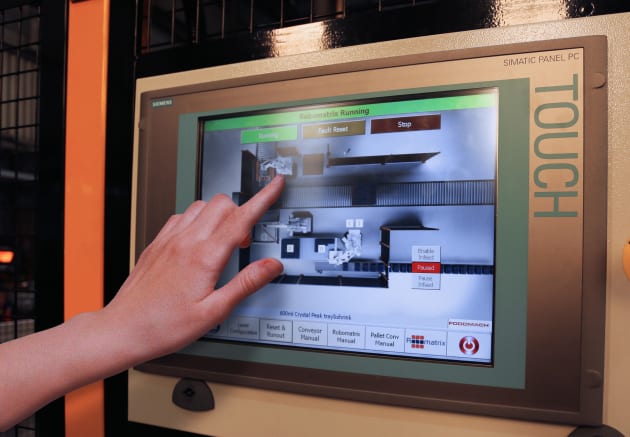 HMPS MD Mark Emmett is another proponent of Industry 4.0, having begun work on software to monitor his machines while operating in the customer factory environment.
"This would be done online and in real time," he said.
"The idea is to capture data which will allow us to provide planned and preventative maintenance.
"For example, we'll know when a motor needs a service, or is at risk of overload.
"We want to take a much more proactive role in our customer's after-sales support."
"It also means the customer can have their finger on the pulse of the manufacturing cycle at all times and can plan more effectively around shutdowns and maintenance."
Tna's MD Michael Green agrees the idea of a "smart factory" is certainly gaining ground industry-wide.
"We recognised the need for greater line efficiencies and less dependence on manual intervention and operator skills some time ago," he said.
"The ability to monitor all equipment from one central location can already be found in many factories across the food industry.
"The latest technology in this area is able to collect and evaluate data from the entire production line and provide manufacturers with immediate and accurate information that can improve processes, lower costs, simplify logistics and inventory operation, and enable them to better respond to changing consumer demands.
"This is likely to increase further as manufacturers start to see what benefits the collection of this type of data can have on their processes and ultimately their profitability.
"Turnkey systems, along with industry standard communications protocols such as MODBUS, are critical to getting the best out of the interconnected world of Industry 4.0."
All of the companies featured in this article will be exhibiting at AUSPACK 2017, to be held at Sydney Showground from 7-10 March. For more on this topic, and on industry trends through the eyes of Australian OEMs, see the Nov-Dec print issue of PKN.