Australian ready meal manufacturer Pitango has introduced a new kids food range called Little Goodness in convenient plastic pots for the chilled food aisle.
Pitango new Little Goodness range of meals, specifically developed for toddlers, is cooked using only the freshest, locally sourced ingredients and each pot contains one serve of veg per pack for toddlers aged 1 to 5 years old.
The pots are microwaveable and have a shelf life of 28 days. Each pot serves as a complete meal for toddlers in under 3 minutes.
The packaging's graphic design was executed by Sydney-based design studio Bangers & Tash, who created unique cartoon characters for the outer pack to give each variant its own identity and personality.
"One of the things our customers have made clear is that there simply are not enough healthy food offerings for their toddlers that are easy to prepare, convenient to serve and that give their little ones a great choice in flavours," comments Alan Lindeque, GM Brands Pitango. "Our Little Goodness range was specifically created to support those parents who want to ensure they are giving their children something that is healthy, fresh and full of goodness."
The new Pitango Little Goodness range has been created using the same home style cooking methods as the famous Pitango soup and risotto ranges, and breakfasts.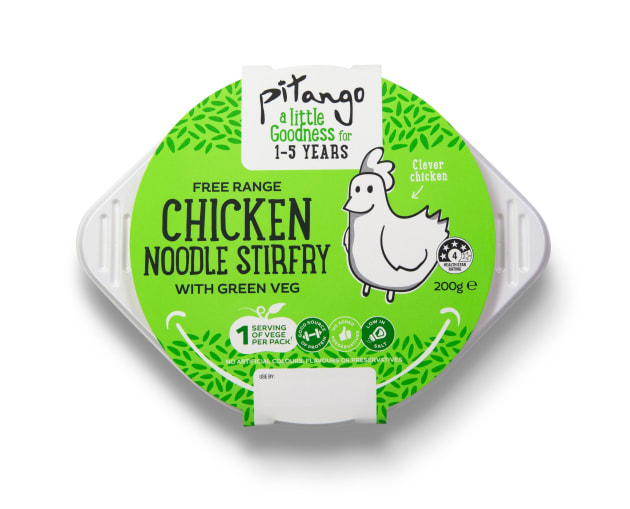 The Pitango Little Goodness range is now available across stores ( Woolworths, IGA, Foodland and Drakes) nationally and initially come in four flavours:
1. Cauli Mac & Cheese
2. Grass Feed Lamb Casserole with Couscous
3. Chicken Noodle Stir-fry with Green Veg
4. Pasta Bolognaise with Grass Fed Beef
"2017 is a huge year for Pitango," comments Lindeque, "we are celebrating our 10 year anniversary in Australia and we are thrilled to launching this new range into the Pitango family."