Murray River Organics (MRG) is stepping away from the traditional cereal box and packing its new range of organic mueslis in PET canisters, as it enters the $1 billion breakfast cereal category in 800 Coles stores nationwide.
The organics company has partnered with Coles for the new consumer brand launch, which features eight products, and is expected to raise $5 to $6 million in revenue per annum.
MRG worked with Queensland-based Ultra-Labels and design agency What Came Next for the labels, while opting for an injection stretch blow moulding process to develop the bottles.
MRG general manager – marketing and sales – Tara Lordsmith told PKN that the team took learnings from the pharmaceutical and cosmetic industry around the type of canister to use for the launch of the new range.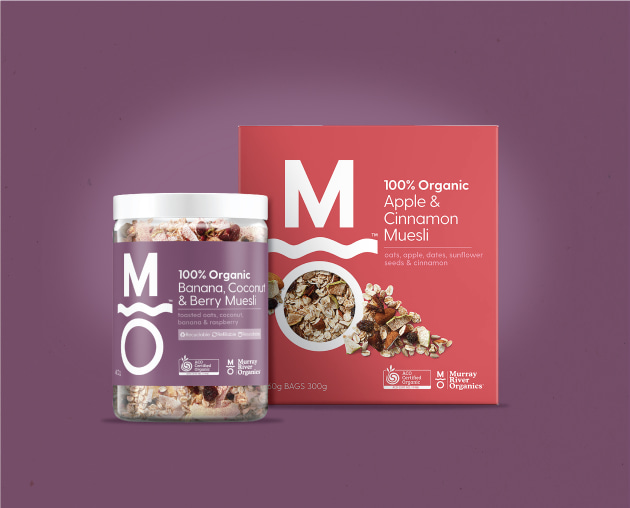 "We considered glass, however, quickly learnt that PET [polyethylene terephthalate] provides similar features to glass packaging and, in many applications, has replaced glass," said Lordsmith.
"As a packaging material PET allows for safe, secure packaging while providing additional cost-effective features not found in other forms of packaging. The PET we use in our canister is recyclable, which is fantastic."
"We looked for ways to reduce energy wastage as we developed our range, as we all know businesses are coming under increasing pressure to reduce the total energy consumed within the manufacturing process. The injection stretch blow moulding process used to manufacture PET bottles is extremely energy efficient and consumes less energy than equivalent glass manufacture." 
The lightweight PET is BPA-free and also provides transportation energy savings together with reduced pollution emissions from exhaust fumes, Lordsmith said.
The organics market is estimated to be worth $2.6 billion, with around 65 per cent of Australian households buying some form of organic product or produce each year – which has an annual growth of five per cent.
In March, MRG announced a $15 million supermarket deal, confirming two new contracts to bring better-for-you products to more consumers.  
"When building our strategy here at MRO we wanted to innovate and bring something new to the category and consumer-led insights really led us to canister format," Lordsmith told PKN.
"The MRO canister is easy pour which is helpful on a busy morning trying to get breakfast organised and the resealability has been hugely popular with our customers. All with the bonus of looking organised and beautiful in your pantry."
"In addition to the organic muesli range, we will also soon be launching 11 new organic products in snacking and the pantry range to be available through Metcash for the IGA and other independent retailers. This builds on the March launch in Woolworths of Murray River Organic's branded Coconut and Avocado oils."
The new range of 100 per cent organic muesli has no added sugar and is available in five flavours across two formats. 
The new range available in Coles includes:
       Coffee, Fruit & Muesli, 400g canister
       Macadamia & Cranberry Muesli, 400g canister
       Tropical Muesli, 400g canister and 5x60gm multi-pack
       Apple & Cinnamon Muesli, 400g canister and 5x60gm multi-pack
       Banana, Coconut and Berry Muesli, 400g canister and 5x60gm multi-pack