In partnership with Navi Co Global, Australian fresh fruit company Costa has released a paper-based bunch bag for premium grapes. 
Gilad Sadan is Navi Co Global's managing director, and PKN sat down with him to learn about this new paper bunch bag, which Sadan describes as "not only an Australian first, but a global first in terms of grapes". 
This is not the first time Sadan has worked with Costa. Their previous collaboration was the Hippie Punnet, a hybrid punnet which used both FSC cardboard and 100 per cent recycled PET, which took a bronze at the PIDA awards 2023. For this latest innovation, however, Sadan says he has cut out the plastic [Ed's note: apart from the sealant and bonding layer].
Sadan is quick to point out the man who started the whole process is Costa's grape marketing divisional manager, Campbell Banfield. As Sadan explains, Banfield had tasked him with moving to a more sustainable format for a grape bag. "We are very aware of the consumer sentiment toward soft plastics and want to move to 100 per cent recyclable option at kerbside. We still need consumers to be able to view as much of the product as possible, so they can have a level of trust to purchase that over something else," he says.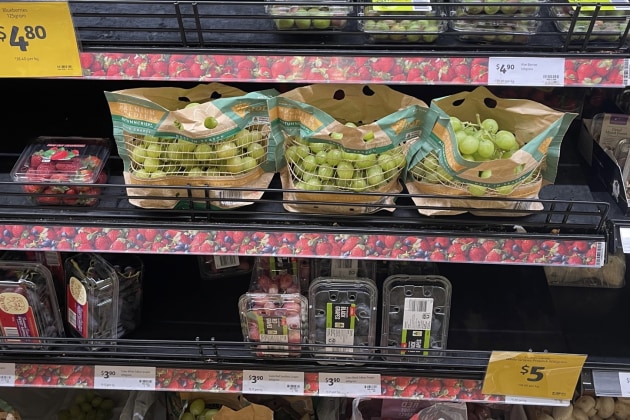 The challenge then was how to make the product visible inside while still using paper. "We had to come up with a way to be able to view the fruit not only from the top, but from the side," he goes on to say, as he points to the mesh window on the front of the packaging. "Paper is not new to anyone, but the ability for it to increase the visibility from the sides, while also withstanding a cold supply chain was," he says, adding that the main point of the brief was that the product must be visible on the shelf at eye level. 
One question that may be on consumers' minds, though, is how does paper compare to plastic when maintaining shelf life of the product? Sadan says that through rigorous testing that included storing the product for extended durations as well as high moisture conditions in the supply chain, the paper substrate used was able to withstand and maintain a good shelf life. During tests, he says, it was found that there was significant ventilation through the bag, cooling the product down, while at the same time, the bag was able to absorb excess moisture while still maintaining structural integrity. 
"The other amazing feature in the bag is that it is genuinely 100 per cent paper including the mesh. Yes, people find it hard to believe, however, you can just throw it in your recycling bin at home without needing to remove anything from the packaging," Sadan says. 
Sadan's passion for creating a more sustainable future is clear. His drive is to make the sustainability of the packaging a prominent part of the marketing of the product. "You have to cut through some clutter and create a point of difference," he says, emphasising the importance of packaging that both protects the product (and environment) and tells a story on the shelf. 
"Packaging is a genuine marketing tool that is just as strong as social media or ads on the side of a bus," he says. "It is a vessel the consumer carries home and therefore you have the opportunity to tell your story to them." 
The story of this grape bunch bag is that not only are the grapes of premium quality. Most of Australia's premium grapes are currently exported to overseas markets, which presents a great challenge on how to range a premium grape alongside regular grapes. 
"The new paper bunch bag creates recycling opportunities at kerbside, and also creates a great point of difference on shelf," he says. 
"We wanted to ensure the sustainability message was loud and clear. On this bag we put it front and centre, saying 'I am 100 per cent plastic free, please recycle me at home'," he says. 
Sadan is confident there will be more innovations with Costa on the horizon. There are plans to use a similar type of packaging for other fruits, starting with red and black grapes, citrus and expanding into other varieties in the future.