Three new machines, made by Tomra Foods, Compac, and BBC Technologies, were featured at Tomra's stand at the recent Fruit Logistics Berlin event. The machines aim to make sorting and packing of produce more efficiently while maintaining safety and quality.
Fruit Logistics Berlin attracts 80,000 visitors from more than 120 countries to browse new solutions and concepts in fresh produce.
Tomra Food, which makes sensor-based sorting solutions for the food industry, showcased a new sorting machine at the event, the Tomra 5B. The machine is suitable for potatoes, fruit, and fresh-cut produce.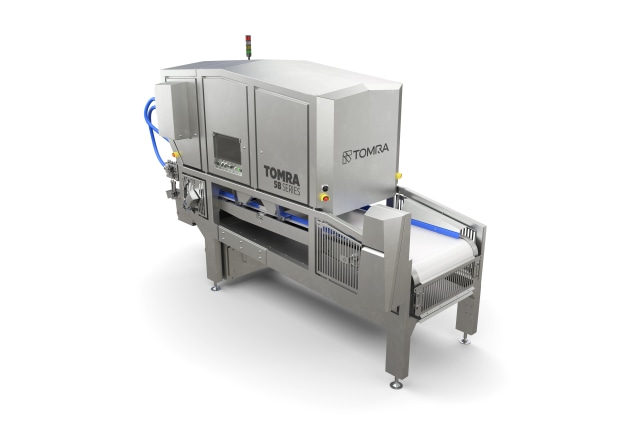 Michael Picandet, head of Tomra Food, said Tomra's new sorting machine and the CURO8 filling system would help food productesr and packhouses enhance efficiency and profitability while ensuring food quality and safety standards.
"These are important new additions to Tomra Food's product line, which offers sorters and graders of many different types and sizes.
Tomra said its new 5B sorting machine is designed to remove small foreign materials from lines of fruit or vegetables and allow the operator to easily adjust sorting criteria to the required food quality, eliminating the unnecessary disposal of useable produce.
The 5B comes in four frame widths, from 800cm to 2000cm and operates at belt speeds of 2-5 metres pers second. As the produce moves along the belt, foreign material and produce imperfections are detected by up to six on-belt cameras, a laser, and an off-belt camera.
The cameras can detect defects as small as 1mm and the laser can detect up to 99 per cent of foreign material, Tomra claims. High-speed air jets remove rejected objects from the line.
Jeffry Steemans, product manager for the Tomra 5B said the new machine gives operators flexibility by offering a broad range of easy to control settings. "In addition to ensuring food quality and safety, the Tomra 5B minimises food waste to improve yield and further increases profitability through the precision of its quality settings," he said.
Another machine showcased at Tomra's stall was Compac's new sorting platform, along with the company's inspection module.
The sorting platform can sort a wide variety of fruit to a high degree of accuracy, according to the company. Wherever the fruit comes into contact with the sorter, the machine's parts are made of injection-moulded plastics or food-grade stainless steel, which are resistant to corrosive elements, and allow the use of chemicals for faster and more effective cleaning. Also, the food contact components are designed for quick release, allowing for faster and effective deep cleaning. The company claims the cross belt can be dismantled and cleaned thoroughly without specialist skills in 15 minutes.
And also, BBC Technologies exhibited its new CURO8 filling system, which has eight filling stations. The system is designed for cherries, blueberries, and small tomatoes, and accommodates a range of final pack options. It can fill 125-gram packs of blueberries at a rate of up to 110 packs per minute.