Byron Bay Cookie Company has launched its first vegan cookie as it approaches its 30th anniversary, working with Australian illustrator Chloe Joyce for the brand's new packaging design.
The new Maple and Pecan Vegan Cookie will join the company's gluten free range and is the first of Byron Bay Cookies' single wrap products featuring the company's packaging redesign.
Byron Bay Cookie Company marketing manager Emilie Emond said she was excited to see the new product hit the market and to introduce the new packaging vision to life.
"The design is a departure from the existing range that we have as we wanted to create something that was fresher and more modern," Emond told PKN.
"Currently our packaging design is characterised by its stripes. We feel we've outgrown this look and wanted to get closer to the vibrant Byron Bay lifestyle and its character, starting with the new Vegan Cookie."
"We fell in love with Chloe's illustrations and knew it'd be the perfect fit for the new design approach we were looking to achieve."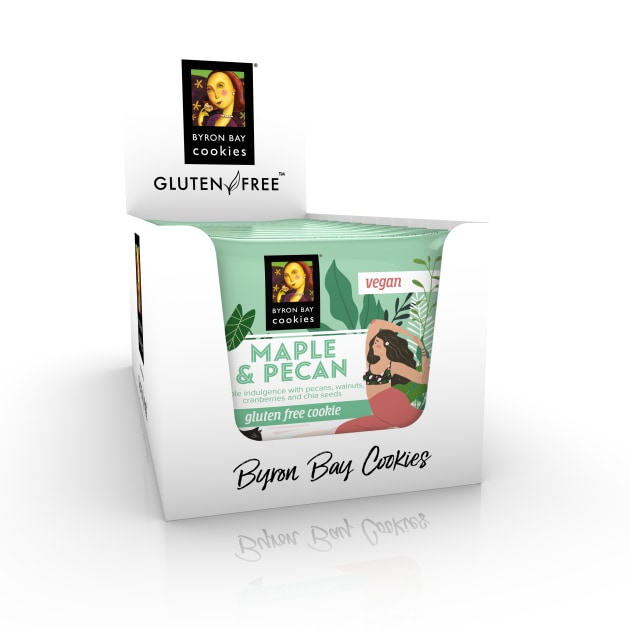 The new design features a soft, pastel palette and is complemented by Joyce's illustrations, including a leafy background and a woman in a yoga pose.
"We wanted to keep the vegan element in mind and have the illustrations tie into the idea of mindful living," said Joyce.
"Emilie and the team were amazing to work with and I was given a lot of creative freedom to recreate the design. The concept and colours in mind were already there and so it was wonderful to bring a collaborative design to life."
Emond said new designs will be rolled out over the next six months, and that she was "happy to have Chloe on board again to create the illustrations for the other flavours in the range."
The Byron Bay Maple and Pecan Vegan Cookie is now available online and in select cafes nationwide.