Twinings has released Asha, a range of certified organic and Fairtrade teas, with packaging design inspired by nature, as created by Melbourne-based studio Point 3 Design and Watermark Creative illustrator Jo Tronc.
The four variants in the range individually highlight key ingredients, natural imagery and warm palettes to evoke a variety of moods relating to each tea's benefits.
Morning Time tea uses uplifting and energising tones of deep oranges and reds, while Sleep Time creates "the feeling of an underwater dreamscape". Refreshing Mint and Blissful Green both use tones of green with complementary colours to ensure a refreshing and calming tea experience, respectively.
"My brief was to create hand-rendered illustrations for the packaging to visually communicate the high level of care and craftsmanship of the ASHA range," said Tronc.
"Overall the illustrations were required to cue feelings of luxury, have a youthful appeal, and spark an emotional connection with the drinker through layers of depth, detail and discovery."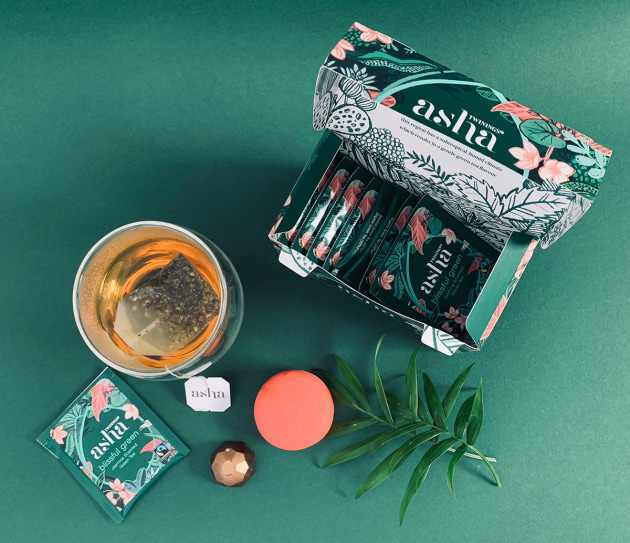 On pack, the Asha leaf brand shape is blind embossed as an added tactile detail, demonstrating "care and craftsmanship that further elevates the Asha tea experience," said Amber Carne, lead designer on the project from Point 3 Design.
Carne said Asha targets a more youthful audience by moving away from the traditional pack layout and literal depiction of tea ingredients that has long been used in mainstream tea packaging.
"The design creates an immersive world inspired by nature. The illustration has a lushness and level of depth, layering and detail that draws the consumer in," she said.
"Each tea has its own intrigue and elements of discovery, that appeals to a more youthful, design savvy audience looking for products that are customised to the different moments in their day.
"The design is supported by organic and fair trade sourced ingredients (where possible) making it a powerful combination of looking good, doing good and feeling good for our younger target."
Twinings Asha tea range is now available in Woolworths stores around the country.