The in-house design team at West Australian-based Gage Roads Brew Co has created a look for its new limited-edition beer that aims to reflect its taste – "smooth, easy going and approachable".
The Bay XPA was launched in collaboration with surf publisher SurfVisuals in support of the Australian Marine Debris Initiative (AMDI).
AMDI is a program coordinated by Tangaroa Blue Foundation, which helps clean beaches and track ocean health. Since launching in 2004, it has removed 16 million pieces of debris from Australian coastlines, and continues to record data, which helps source where the debris items are from.
Gage Roads creative manager Dwight O'Neil told PKN the design brief was to create a contemporary minimal illustration depicting a bay and a surfer, that also supported the collaboration behind the beer.
"It was a great opportunity to pivot our illustration style away from our current core brand design, while still incorporating consistent elements. The limited release was a fun brief and lent itself to an exploration of contemporary styles," O'Neil said.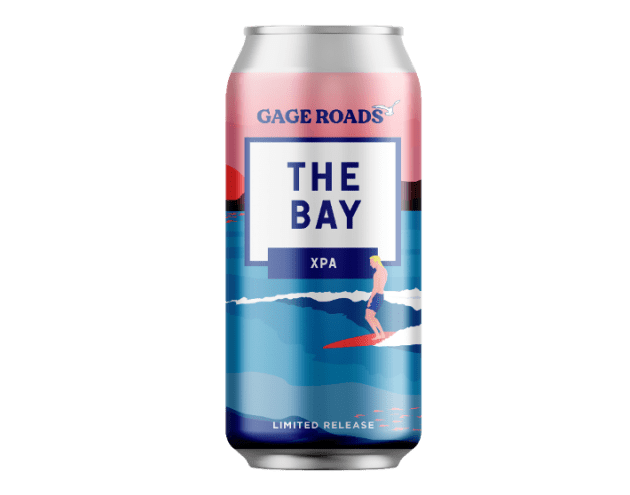 The colour palette was inspired by a sunset theme with a little creative licence, O'Neil said, with the team wanting "it to feel refreshing, yet different while encompassing a costal theme".
"While we wanted to create an authentic and realistic sunset look, it was actually inspired by multiple images. We hope the blue of the water and the pink hue of the sky takes people back to a dreamy sunset they may have experienced at some point in the past," he said.
"One thing we're very proud of, and something I love about my job, is that all our design for Gage Roads products are created in-house. It keeps our design authentic to the brand and provides the team with a great opportunity to collaborate and get creative."
Gage Roads's new beer, The Bay XPA, is made with Citra and Sabro hops for the tropical beverage, packed in a 500ml can.
The Bay XPA from Gage Roads Brew Co is now available for a limited time across the country, with part of the proceeds of sales going towards supporting AMDI.