Mela Creative has designed packaging for CellAED, which is described as the world's first handheld personal defibrillator and developed in Australia. The manufacturers approached Mela Creative to create a sturdy box design that can protect this life-saving medical equipment during transportation.
The design agency said it created a cardboard retail shipper box to fit the CellAED "in its protective case snuggly and protect it from damage during transit". This was achieved, the agency said, by adding a 2cm thick insert into the retail box that cushions the unit from impact. The packaging was subjected to drop tests alone and packed into an outer carton to set the standard for the thickness of the flute board used for all packaging. To allow for easy removal of the CellAED from the box, Mela also developed a sleeve with a pull-tab that wrapped around each device and also housed accompanying printed informational material.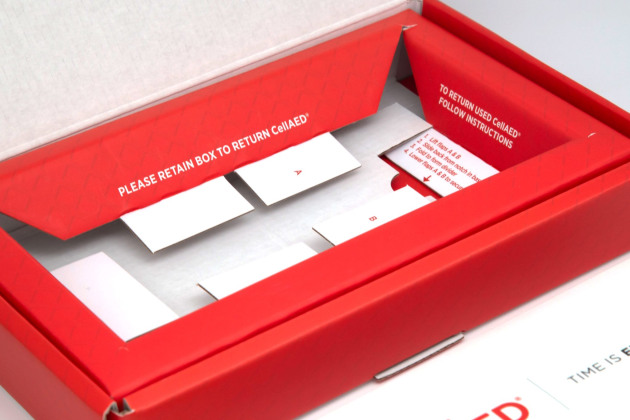 Mela Creative said that in addition to safe delivery, the manufacturer wanted a system for returning a device to them after use. The agency responded to this by designing the box so that it can be repurposed to safely return the defibrillator to the manufacturer for appropriate recycling. The base of the box insert has been designed so it can be easily repositioned to house a used and deactivated device to prevent it from moving around during transit.
The agency said it designed the layout of the retail and trainer boxes from existing branding and regulatory labelling requirements and ensured that the packaging continued to meet these requirements.
Mela Creative designer Rosanna Mazzucco said it was designed with recyclability in mind. "The outer box offered enough protection for the device, eliminating the need for an inner box. We created a carded sleeve with a pull-tab to both lift the device out of the box and to hold together the information brochure and magnetic stickers, so further reducing the need for plastic wrapping," she said.