Sorbent has partnered with The Edison Agency to develop its brand identity strategy, design system and portfolio architecture strategy to rejuvenate its portfolio across all product lines – from rolls to wipe and everything in-between.
The Sorbent brand wanted to pivot away from a commodity product to a branded experience, which reflected its Australian heritage, and a unique attitude and point-of-view that would resonate across all mediums – from packaging to communications.
"Talking to consumers, it was clear that the Sorbent packaging needed a refresh," explained Daniel Coleman, head of marketing at Sorbent.
"Working with The Edison Agency, we needed to ensure that the brand's key distinctive assets were maintained and enhanced, while at the same time making the packaging work harder to stand out on shelf, and ensure our product range was easy for shoppers to navigate. 
"The update will breathe new life into our range, and we are looking forward to seeing it roll out onto shelves and into Australia's bathrooms." 
According to Amber Bonney, founder and head of strategy at The Edison Agency, the Sorbent brand was at risk of losing relevance with Australian consumers as their brand lacked meaning, and their identity and packaging system had become dated.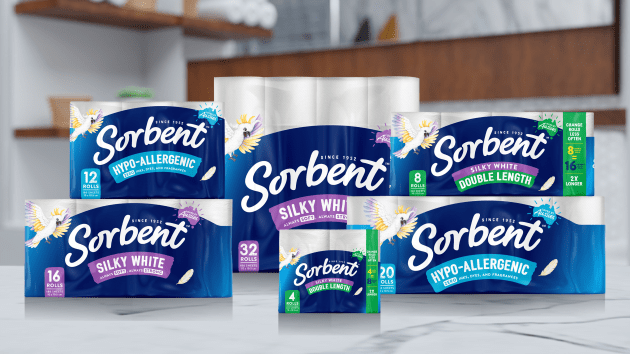 "Research uncovered that Sorbent's brand language did not leave an impression, of any kind, be it positive or negative," Bonney said. 
"In a category that is largely convenience based, we needed to find a solution that built both distinctiveness into the Sorbent identity to re-engage at shelf, but also a compelling reason to buy into the brand." 
The Edison Agency asked itself several questions when working through its solution for Sorbent, including:
How can we unite a superior product, and latent consumer sentiment to paint a compelling narrative for new and existing consumers?
How can we increase appeal for a youthful audience?
How can we create distinction so that Sorbent means more with improved brand recall?
How do we prepare the brand for emerging audiences with stronger relevance and connection?
How do we translate this to a cohesive packaging identity?
How can we communicate the tangible superiority of the product?
"With an undeniable connection to Australia, we saw the opportunity to convert this into an emotional resonance that distinguished Sorbent from its competitors," Bonney explained.
"Representing the egalitarian nature of the bathroom and the activities that occur in there was the foundation to a new tone of voice that was distinctly Australian, and distinctly Sorbent. One that was inclusive, endearing and relatable. 
"A touch of larrikin and unashamedly honest, this tone shaped the visual identity and packaging design solution. 
"I'm proud of the trust the Sorbent business showed in Edison and their commitment to being brave, and following through with their intention to challenge the status quo."
The new brand system celebrates Sorbent's proud history in supporting Australians with the introduction of new character asset 'Sunny' the Cockatoo, a modernised brandmark and revitalised colour system, along with a portfolio architecture system that enhances product and benefit navigation.