Australia's Own has launched its new 'Smooth As' Oat & Almond Milk range, which comes with a new packaging design that showcases the "Aussie flair and appeal to the younger market".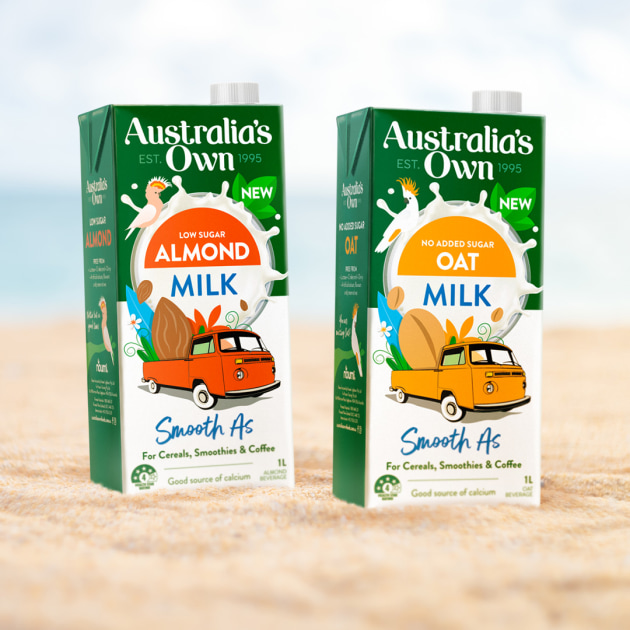 Design studio Jam&Co worked on the brand and identity, packaging, advertising, and social media from the outset of Australia's Own's rebrand project. 
The packaging sports with 'fun' packaging assets, along with the Australia's Own branding and colours. It follows through with the distinctive brand and packaging assets already used in other Australia's Own products. 
"It's more than just showcasing our new 'Smooth As' packaging, it's a celebration of our Australian heritage," explained Jennifer Segail, CEO of Jam&Co. 
"From the iconic kombi van with its surfboard perched on the back, the packaging disrupts the plant milk ambient category with an unmistakable Aussie flair.
"The packaging disrupts the shelf and brings the creative to life. It's exciting to work on packaging that allows the brand to shine through its distinctive assets."
Segail says the assets ensure that the brand is concise in a line-up, distinctive to any consumer that sees Australia's Own, and sets itself apart from the competition. 
"The new 'Smooth As' range disrupts what is a very traditional category with a vibrant and tasty offer, which is highly relevant for the future of the plant milk category," said Hamish Thomson, marketing manager at Australia's Own.
The new Oat & Almond Milk range's packaging is exclusive with Coles, with the publicity campaign including billboards, BVOD, press, social media, and promotion on Coles radio.