Iconic Australian jam brand IXL has refreshed its look after working with brand and design agency BrandOpus. The new design deep dives into the history of the brand to help deliver a competitive advantage on shelf.
Sitting under the SPC banner of brands, the IXL story began with its founder Sir Henry Jones in 1898 who was nicknamed the 'Knight of the Jam Tin'. BrandOpus tapped into IXL heritage to visualise its founder's philosophy on pack.
"The new visual identity plays into heraldry, success, pride and Sir Henry's philosophy, 'I excel at everything I do'. The brand's heritage is an absolute treasure trove, full of interesting and funny stories, values and assets we could tap into," said BrandOpus Australia design director Adam Rickett.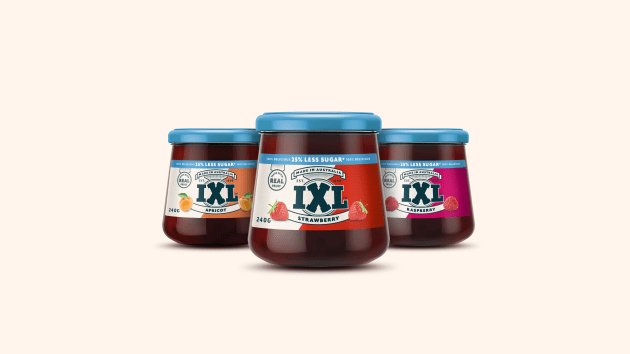 "This is exactly the type of project we love at BrandOpus. We look backwards, to grasp the root of the brand in order to create a brand platform that's disruptive, memorable and meaningful and we deliver that narrative through the use of metaphor and symbolism."
SPC category marketing manager Natalie Cukierman said the story of Sir Henry had been lost over the years and the brand had stopped resonating with the modern Australian consumer, which the brand was looking to change.
"We needed to reinvent [the brand], clarify its position in the market and elevate its meaning above the generic product feature and benefit stories being told across the category," said Cukierman.
"Our challenge was to articulate the values of the past in such a way that they resonate with everyday Australians. We feel that BrandOpus have delivered this delightfully."
The new pack design for IXL jam extends across its range of flavours, which includes, Strawberry, Raspberry, Breakfast Marmalade, Forest Fruits and Apricot.