Perrier has partnered with renowned Japanese artist Takashi Murakami to develop a limited edition series of label designs for its iconic mineral water.
Murakami has developed a range of paintings, sculptures and films with characters of his own creation, with his work often embodying a mix of pop culture, history and fine art.
He has collaborated with brands from Louis Vuitton to Google, and has now partnered with Perrier to deliver the full Original range to Australia and 34 other markets across the globe.
The screen printing was delivered by Saga Décor while the label partner company was CPC Packaging, with Murakami's designs presented on glass and PET bottles, as well as cans.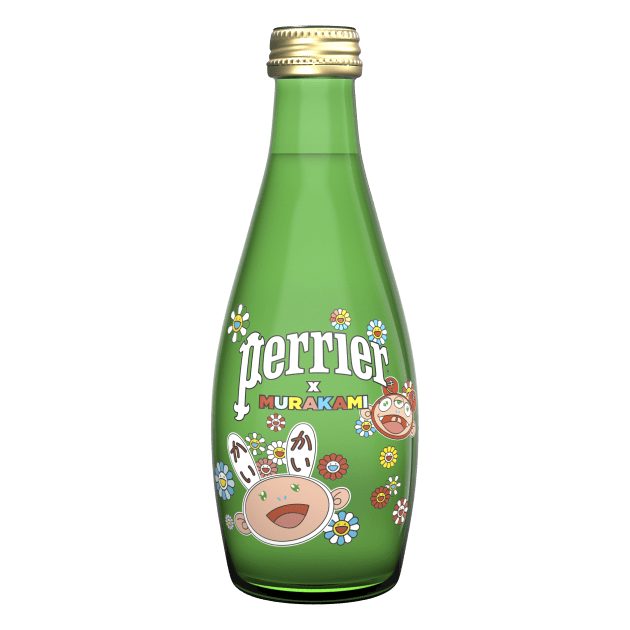 "The vibrancy and delight of Murakami's work is the perfect match for Perrier, a brand that has invested for over a century in creativity to bring out a differentiating brand spirit, tinged with its unexpected, crazy and original personality," said Perrier global communication manager Paul Cordina.
"We hope that this collaboration, inspired by the pop and colourful universe of Takashi Murakami and the creative spirit of Perrier, will increase the accessibility of art for an even broader global audience."
Murakami said he felt "extremely lucky" to be working with Perrier, which was a brand holding many positive connections and memories for the artist, as well as its close associations with colour.
"Perrier for me is closely associated first with the colour green – of course! – and then with the pleasant bubbling sound of carbonation," said Murakami.
"I'm grateful to be part of the brand's expanding views and future-facing concepts through this collaboration. I also wonder if today, when we can no longer unthinkingly hug, kiss, or shake hands, the stimulating sensation of the Perrier bubbles on our tongues will be even more heightened as one of the enjoyable tactile experiences still available to us."
"I am delighted to be a part of this collaboration and I hope that together we can heighten that sense of relationship further, sharing a little more joy and hope for the future."
The Perrier x Murakami limited edition range is avaiable in 750ml and 330ml glass bottles, one-litre and 500ml PET bottles, and 330ml cans, which will start rolling out across stores and indepdent retailers from December through to June next year.