Sydney-based studio Percept has worked with Dulux Group to create new packaging for the launch of its premium RotaCota brand of paint brushes.
The paint brushes were aimed at trade and professional painters in the 'better to best' market space and at a mid-to-premium price point.
Percept used a colour-coded packaging design across the range with a bold typeface, complemented with metallic stocks and high-end print finishes on pack.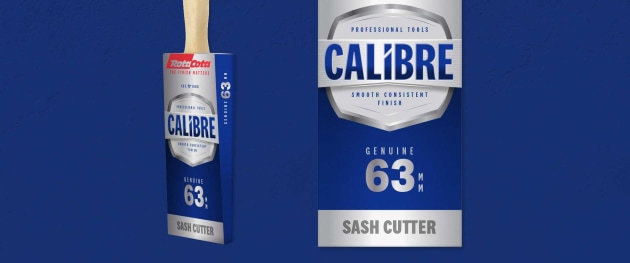 "There was an opportunity in the market to position the product range as a premium and trusted option, specifically targeting trade and professional painters. RotaCota have long been known in the industry as reliable and we wanted the packaging to reflect this perception," Percept account manager Zac McCall told PKN.
"The desired premium packaging design feel comes across in quality finishes. Matt silver stock and varnished print treatment is executed on the 'Calibre' logo, badge and details, further contributing to the product's quality positioning.
"All these things combine to achieve the aim of differentiation amongst its competitors in a saturated market such as hardware stores and trade centres."
McCall said consistency and clear product hierarchy was further established on pack to "assist consumers choice, both in-store and on-site when the products are in use". 
"It was fantastic working with the awesome team at Dulux Group on this project. We have built a long standing working relationship based on trust and collaboration, which has allowed us to deliver many successful projects – like this one."
The new RotaCota paint brush range from Dulux Group is now rolling out in stores across the country.