Melbourne's newest soda drink brand Somersault has launched its products with a range of crafty, vector-based designs, after teaming with drinks brand and pack design specialists Denomination.
The slow-brew soda start-up found a need for a healthy option in the growing adult soft drink category, appealing to consumers who wish to drink less alcohol without increasing their sugar consumption.
Denomination was given a brief to create the brand and packaging as, "aesthetically distinctive, aspirational and memorable, and that café and bar owners would be happy to display 'like art on a shelf'."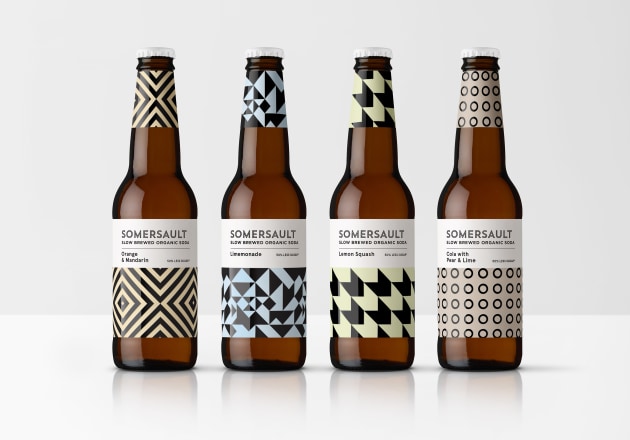 "Denomination exceeded the brief to create pieces of art that the coolest of cafés and bars are happy to display next to premium drinks and gourmet coffee brands," said Somersault director Neil Barker.
"The designs provide a contemporary expression of craft soda, and the patterns provide a generous canvas that is highly disruptive, engaging and refreshing, while being understated, confident and stylish."
The contemporary design features pastel colours on the labels and bottle necks, using uncoated paper stock, embellishments and a bespoke logotype to reinforce Somersault's position in the premium craft drinks market.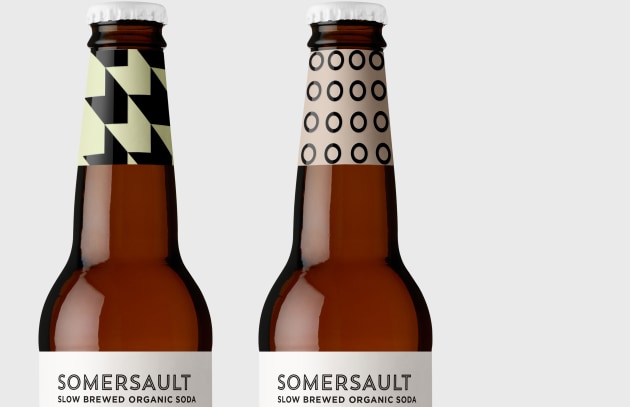 "One of our key challenges was to create an identity that would overcome consumer scepticism that 'healthy' fizzy drinks lack flavour or contain artificial sweeteners," said Denomination CEO Rowena Curlewis.
"To do this we created a distinctive packaging design that sets Somersault apart from other brands, reassuring customers that they are drinking a high-quality product that tastes good and looks gorgeous."
Somersault is available in four flavours – orange and mandarin, limemonade, lemon squash, and cola with pear and lime – and is sold exclusively at cafés and bars throughout Australia.