McCain Australia has teamed up with branding and design agency BrandOpus to refresh the Healthy Choice brand. The new look aims to give the range a relevant role in the evolving health and well-being landscape.
The design brief focused on making the Healthy Choice brand the preferred option in the frozen ready meals category, rather than being driven by price promotion, as the category is commonly known for.
The new carton packs were printed by Melbourne-based printer GPIA on Simcote 450um, using six colours and aqueous varnish. The Healthy Choice brand strategy also identified macro trends, as well as the emergent codes within the health and wellness trend.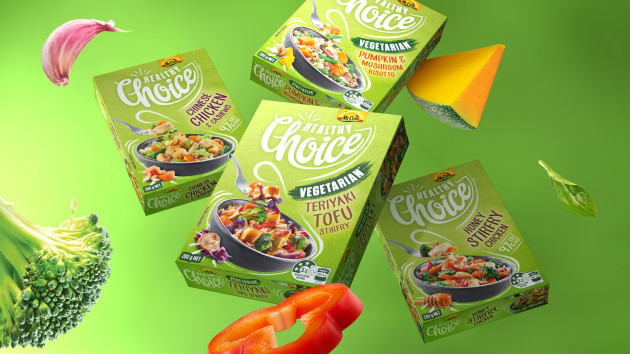 BrandOpus managing director Nikki Moeschinger told PKN reinvigorating iconic brands is the team's favourite type of brief, as they focus on a brand's ability to be distinctive, memorable and meaningful.
"Healthy Choice has been a part of the Australian ready meals landscape for as long as many of us can remember. It simply needed to be repositioned to better fit today's definition of health and well-being, and that's as much about being happy as it is about being healthy," Moeschinger said. 
Healthy Choice marketing manager Karen Marshall said the McCain team was thrilled with the new positioning and introduction of brand assets, which they can use across various activations for future growth.
"In addition to the development of a new range of vegetarian options, the redesign of the Healthy Choice brand and packaging brings movement and energy to the frozen ready meals category while retaining our distinctive green colourway to enable ease of recognition," Marshall said.
"We are clearly focused on positive, manageable well-being choices, full of vibrancy and variety."
The new look Healthy Choice range will now be rolling out across freezer aisles around the country.