Good Earth Kombucha has escaped the shelves of health food stores and entered mainstream supermarkets and cafes with a brand refresh developed by TATA Global Beverages Australia and creative partners Boldinc.
With the trend toward healthy beverage alternatives on the rise, kombucha is becoming more commonly consumed in replacement of alcohol and soft drinks.
Boldinc global creative director Jon Clark said the Good Earth Kombucha packaging design was developed to convey a tone that is as playful and balanced as the lifestyles of its drinkers.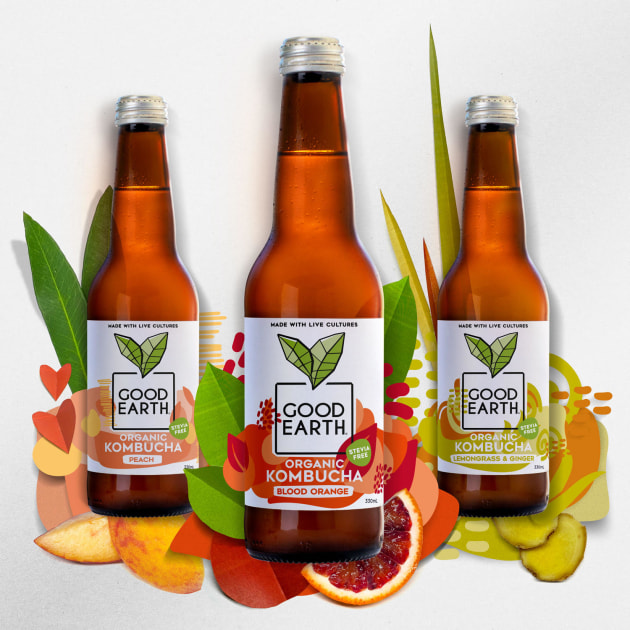 "While the previous design satisfied the 'natural health' image, a new persona was required to be inclusive of more relaxed, everyday drinking occasions – at your dinner table, social events, the beach, and as a part of your favourite cocktail," said Clark.
"This sparked the opportunity to redesign Good Earth as a brand that showcases its vibrant flavour first as well as its commitment to good-for-you, good-for-the-earth beverages with natural ingredients at the heart."
Boldinc and TATA Global Beverages Australia evolved the Good Earth logo to be stronger and bolder on shelf, and uses textured off-white paper stock for the labels for a natural look.
The design features abstract shapes to represent the ingredients and flavour experience in an unexpected way, compared to cliché fruit imagery, while also using flat, simple colours to achieve "a naïve, honest feel".
Good Earth Kombucha is now available in Woolworths stores in 750ml formats across three flavours – Lime and Mint, Lemongrass and Ginger, and Passionfruit and Lime.
Also in 330mL bottle format via the Good Earth website are cases of 12, for flavours Passionfruit & Lime, Pomegranate & Acai, Peach, Blood Orange, and Lemongrass & Ginger.