Melbourne-based design consultancy, Elmwood shares its branding and pack design processes for Carman's, Dairy Australia and the Roll'd range. Managing partners Rick McEvoy and Kate Richardson talk to Colleen Bate.
For creative duo Rick McEvoy and Kate Richardson, effective design work, acting as an extension of the clients' teams to work collaboratively, and creating long-lasting client relationships is a source of pride and underscores the award-winning studio's work ethic.
"In short, we go beyond client-agency relationships and create partnerships," Richardson says, emphasising the importance of having long term clients.
"We get great results from this, and the familiarity helps us understand the client's current situation and where possible, enables us to plan for what may be upcoming," she says, pointing out that, when looking to create a point of difference, their consultancy's approach is to create a disruptive and distinct standout, to arrest the consumer in their purchasing habit.
CARMAN'S' AUSSIE OAT BARS
When Elmwood took on the Carman's Aussie Oat project, an important consideration was for the boundaries of appeal to be stretched.
"Our relationship with Carman's spans over a decade. It's been incredibly rewarding to see how they've grown and expanded their consumer range, by tapping into the family market through one of its newer ranges Aussie Oat bars," says Richardson. 
"At the time, when we were briefed to create the identity for this new range the Carman's brand was more associated with gourmet products and adult consumers. This range needed to expand that by appealing to the lunchbox and family markets. So, we created quite a different proposition for the Aussie Oat bar range – still inherently Carman's, still healthy and tasty but as a design, it stretched the brand's identity to build on its existing distinctive assets and create appeal and relevancy for all the family.
"The creative idea for the design of 'explore the wonder' was about capturing the wonder of imagination so the consumer could wonder: what does a flavour look like? What do colours taste like?
"The designs brought to life each flavour name with bespoke illustrations for each letter and word, using abstract patterns within these to represent the ingredients and flavours. Combinations of bright rich colour tones contrasted with the dark black backgrounds synonymous with Carman's to create stand out."
"With design thinking and storytelling, we creatively talked to the nutritional power of oats," she says, explaining that the success of the initial Aussie Oat bar launch built momentum for the second back to school campaign in January.
DAIRY AUSTRALIA
Dairy Australia's 'Buy. Support. Enjoy Aussie Dairy' recent campaigns successfully targeted the brand's evolution and addressed the misconceptions about dairy.
"We started working with Dairy Australia in 2018 to define a strategy to engage consumers and unite the industry. Kicking things off with in-depth one-on-one interviews we set out to gauge people's propensity to act on food issues, with a dairy lens applied. We then built upon these foundations with an extensive quantitative research study that focused on attitudes and behaviours of everyday Australians," explains McEvoy.
The process, which took six months, led Elmwood to create platforms to engage diverse audience groups and deliver an entire Dairy Australia rebrand to celebrate the role and value of Aussie Dairy Farmers.
The most recent 'Dairy Matters' campaign that ran heavily across the Olympics showed the ripple effect that buying our dairy 'made here' has on local communities, economies and livelihoods.
ROLL'D – COLES PARTNERSHIP
Elmwood also developed the packaging identity for the popular quick-service restaurant success story, Roll'd Vietnamese, designing a range of authentic Vietnamese pantry items and condiments, which are available exclusively in Coles supermarkets.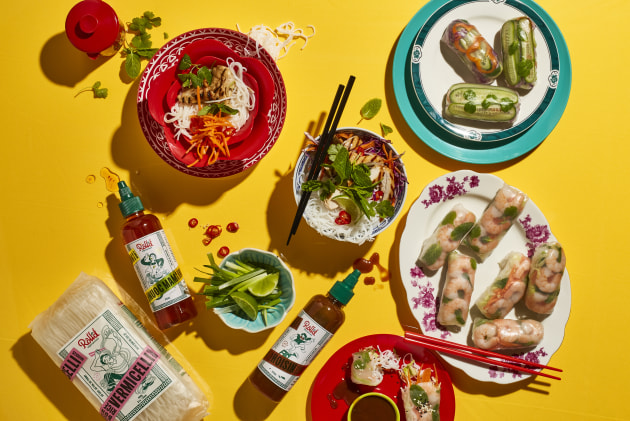 "It was really exciting creating a retail identity for Roll'd that reflected the brands unique mash up of authentic Vietnamese culture with a contemporary Australian personality to help them stand out in the busy retail environment," says Richardson.
"The design idea 'our roots remixed' is a celebration of the rich Vietnamese culture and multi-generational heritage, contemporised to inspire Aussie families to try Roll'd at home," she says, explaining that Elmwood worked with Vietnamese-Australian illustrator, Matt Huynh, to bring to life each playful character depiction inspired by different Roll'd family members.
"The simple line work illustrations of the almost 'cartoon-like' characters were designed to bring a lightness to each scene, representing the brands playful and witty personality," says Richardson.
"Contrasted with the vibrant colours used for the overlay of product names to create the mash up of traditional and contemporary elements in the design," she says. "We've loved seeing the range hit the Coles shelf a couple of months ago and the great response it has received from customers."
This article has been published in the September-October print issue of PKN Packaging News, on page 30.