BrandOpus has helped build Alberto Borin's gin brand Upperhand, taking a deep dive into the creator's background to develop the visual narrative and incorporating special packaging decoration techniques.
In 2018, gin maker Alberto Borin approached BrandOpus -- a creative design agency operating out of London, New York, Chicago and Melbourne --  to develop the brand and packaging design of his gin around his approach to life.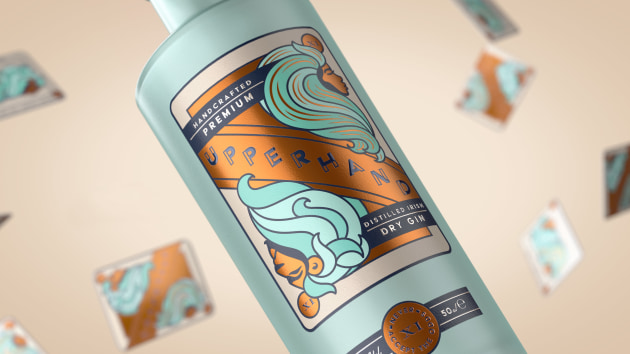 Discovering Borin was a man who seeks to exceed the expected and often considers himself the underdog, BrandOpus wanted the work to encapsulate this strength and desire to take on life from an alternative perspective. Turning to tarot cards for design inspiration, BrandOpus uncovered that the number 11 had significant meaning in Alberto's life.
Inspired by never accepting the hand you are dealt, they looked to the 11th tarot card. It depicts a story of a maiden overcoming adversity to tame the strength of a lion. It represents fortitude and is the ultimate story of the underdog who never accepted the odds. 
The Upperhand gin design heroes the maiden, lion and roman numerals XI, using shades of blues and gold on a Pampa White, uncoated paper pressure-sensitive label. Spot gloss is used on the border, the 'Upperhand' wordmark, batch and bottle number 'premium Irish craft gin' on the back of pack label and ''never accept the odds XI' on the neck label.
Silkscreen used in the lion's mane and maiden's hair on the front label and corresponding illustrative elements on back of pack.
Adding to the detailed finish, the cork stopper has 'XI' printed on top and 'never accept the odds' around the circumference.
BrandOpus has taken the decoration to molecular level by opting for coloured glass for the Upperhand bottle, creating a semi-opaque effect where the liquid can be inside and illuminated in on-trade environments.
"The Upperhand project is a brilliant example of an extremely strong brand narrative executed beautifully across the visual identity and broader brand world," BrandOpus Australia managing director Nikki Moeschinger told PKN.
"We believe every brand has a story to tell, and delight in working with our clients to uncover their unique narrative."