Celebrity chef Manu Feildel has knocked on Boxer & Co's door to help create the packaging design and brand strategy for his new fresh sauce range.
The final creative concept is based on 'the man behind the chef', with two faces of Feildel on the top corner of the pack – one to capture the "narrative of the perfectionist professional chef with years of expertise," and the other a more playful image, to show the fun and charismatic character.
The pastel colour palette aims to communicate the lightness and freshness of the product designed for consumers, complemented with bright hues to add strength and shelf-shout.
The packaging has a matt appearance and spot gloss highlighting the Manu brandmark, with the crafted letterforms featuring curved corners to resemble a sharp kitchen knife.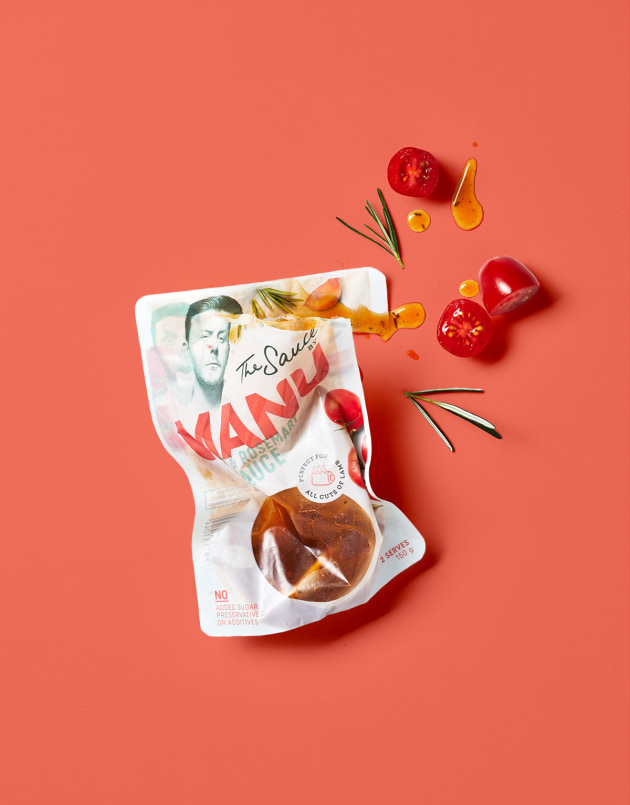 The range of six sauces – including Lamb & Rosemary, Peppercorn Sauce, White Wine Sauce, Red Wine Sauce, Mushroom Sauce and Mustard Sauce – will sit in the chiller cabinet alongside the meats for consumers to choose different flavour combinations.
Calligraphy is used on pack as a nod to Feildel's French roots and "fresh ingredients are loosely scattered as though thrown onto your kitchen bench ready to be used".
"Working with Boxer & Co has been a pleasure from day one. Not only have they created an amazing design that totally embodies the product and name behind it but they managed so much more along the way," said Feildel.
"Although the original designs were created by Boxer & Co it quickly became clear that this was a shared vision and our two teams became one."