Arnott's has brought the well-known consumption ritual 'Tim Tam Slam' to life with its new 'designed to slam' flavour range, teaming with The Edison Agency for its design strategy.
Biting the corners off a Tim Tam and sipping a drink through the middle is a popular consumption ritual that Arnott's looked to celebrate through the limited release Tim Tam Slams range.
The Edison Agency created packaging design and messaging to tap into the playful, sensorial ritual through indulgent colours, engaging imagery, and a strategic connection of the three SKU Tim Tam flavours.
"The most challenging part of the brief was delivering the 'Slam' sensory appeal in a disruptive manner while staying true to an iconic brand asset system," said The Edison Agency design director Brian Llagas.
"Our solution created new sensory assets that utilised an angular range navigation system – this combined familiar Tim Tam assets with a new explosive sensory composition."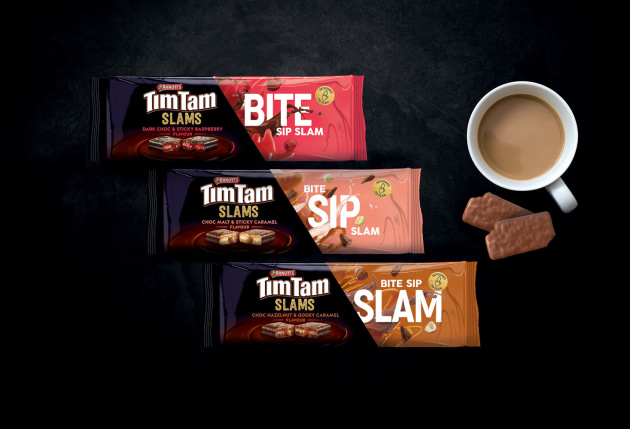 Llagas said differentiating the designs of the "BITE SIP SLAM" messaging allowed The Edison Agency to hero each step of the Slam ritual across the three different flavours, while allowing the product range to interact and tell the complete picture of the ritual.
"The new Tim Tam Slams design moves away from the design convention that people who know and love Tim Tams are used to. The impact of the individual ritual-step per pack creates a wall of interactive messaging and breaks the standard shelf monotony, we think it has great impact," he said.
Arnott's marketing manager Matt Grant said the brief given to The Edison Agency wasn't a straightforward task and the end result was delivered in a creative and compelling way.
"We are excited to deliver a key product innovation which cuts through the
clutter and drives shopper engagement on our most important touchpoint at shelf, our packaging," said Grant.
Arnott's Tim Tam Slam is available in three flavours – choc hazelnut and gooey caramel, choc malt and sticky caramel, and dark choc and sticky raspberry – and is in national distribution.