Australian almond milk brand Almo has introduced Almo Crème, a jar of liquid almond cream, to the market, working with design agency Pull & Press for its packaging design.
Almo Crème uses 100 per cent Australian almonds and, when blended with water, produces instant and fresh almond milk. It is packaged in a 250g glass jar and uses a minimalist design by incorporating the transparency of the jar and white labelling.
Almo founder Linda Monique said the new packaging design aligns with the company's vision of creating clean, simplified and sustainable products.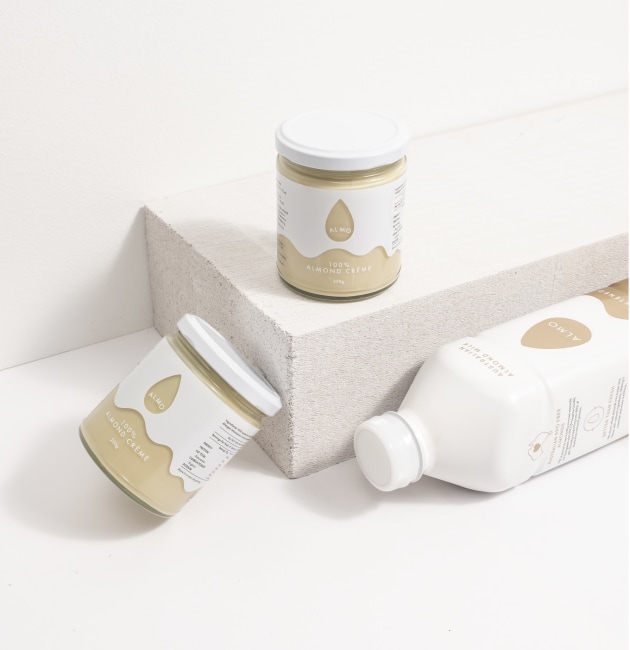 "Almo Crème stands out on shelves given its clean, minimalist and simplified design aligning with what Almo's overall brand strategy and vision is: to communicate clean, simplified and high quality almond based products. The hollowed logo pops against the glass jar and almond crème, making it look 3D," said Monique.
"Pull & Press have maintained some of the iconic elements of Almo Milk through the Crème design, including the almond milk wave and almond milk drop. It was important to maintain certain elements and simplify the design."
Monique says she explored many packaging formats, including squeeze tubes, metal tins, plastic containers and pouches; however, given Almo's focus on health and sustainability, "it made sense to utilise glass due to its recyclability and re-use."
"The multiple uses of Almo Crème to not only make milk but use as a spread, drizzle on virtually everything, and use in baking meant an overall consumer preference for packaging the crème in a jar and storing it in the pantry."
Almo Crème has a 12-month shelf life and can make up to five litres of almond milk. It has an RRP of $15.00.