Branding and design agency Hulsbosch has completed a design project for Coles, creating the brand strategy, identity, and packaging design development for the supermarket giant's new Woofin' Good! dog food range.
According to Hulsbosch, with the Woofin' Good label, Coles aims to "capture emerging consumer attitudes that show pets are increasingly being integrated into family life and recreational lifestyles", including the desire to provide healthy and nutritional products for our furry friends.
Hulsbosch shot high-quality food photography of the raw ingredients of the product to communicate the product's proposition of "Simply Great Nutrition" on the packaging design.
The design team also incorporated an eye-catching colour suite for enhanced product recognition to help packs stand out better on the shelf – with consistent fonts to reinforce the brand, iconography and photography that identifies flavours, as well as highlights of the benefits of the range.
A specialty UV-coated gloss pack finish has been used, which Hulsbosch says will bring a "vibrant, striking appearance and attention for on-shelf".
"Woofin' Good! is an incredible name that brings together the right balance of playfulness and quality credentials," explains Mikey Hart, creative director at Hulsbosch.
"We hero a black Labrador-breed dog licking its chops with those honest, friendly eyes and lovable face looking right at you. Consumers can really identify with the dog's satisfaction.
"Our furry friend is used in all product communications throughout the range. In combination with the name Woofin' Good!, both elements encourage an emotive engaging response."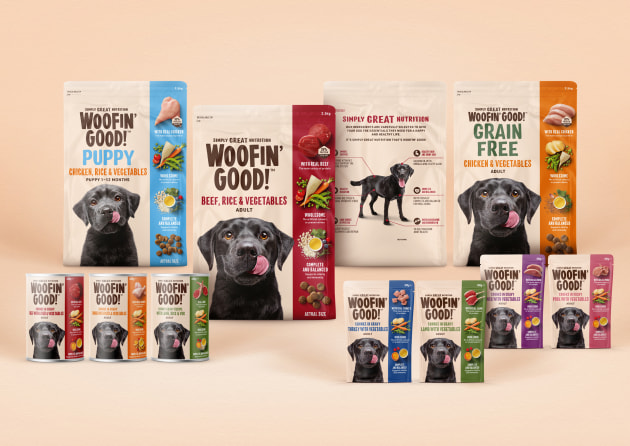 According to internal statistics, Coles says that with more than 80 per cent of pet owners buying their pet food from them. The supermarket giant aims to "inspire its customer base with premium quality dog foods with real meat and no artificial colours or preservatives to give our furry friends the essentials they need for a healthy life".
"Pet food is a very important category when it comes to providing customers with a great range, quality and value, and the Woofin' Good! brand does just that," says Belinda Anderson, head of marketing, Own Brand at Coles.
"Hulsbosch has an in-depth understanding of category schematics and elite brand packaging architecture skills.
"We are thrilled with the work that the Hulsbosch team has delivered to create our Woofin' Good! brand – it's not just credible, but also has loads of endearing personality, just like our own pets, to grab attention at shelf."
The Woofin' Good! dog food range is currently available online and on-shelf at Coles stores around Australia.