Brisbane-based Beforeyouspeak Coffee has updated its packaging design in time for the launch of its first ready-to-drink (RTD) range, working with local suppliers for the new boxes and cans.
The boxes were printed by Platypus Print Packaging, featuring gold foiling and embossing, while the cans were supplied Orora Group, using a matt varnish with metallic gold.
The team worked with UK-based illustrator Greg Coulton for the design of the new packs, focusing on an illustrative and sketchbook approach, using only black, white and gold for its look.
Coulton said he was inspired by act of drinking coffee, not only physically, but also the mental and emotional experience connected to it.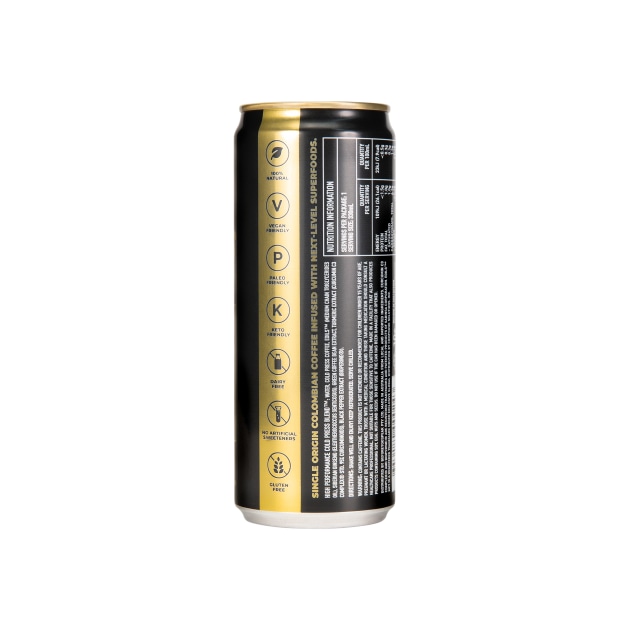 "All this stimulus led me to develop a visual style centered around the concept of mindfulness. The head space we get in whilst enjoying a BYS coffee. Think mental wellbeing, living in the moment and allowing ones thoughts to wander, to expand, and create," said Coulton.
"Representing this visually, it felt like a natural step to develop a sketchbook look and feel. The sort of thing you might explore while sitting with a coffee, allowing your thoughts to meander as you watch the world go by."
The High Performance Coffee range is designed based on liquid shapes and swirls created when making coffee, said Coulton, to make a luxurious pattern, while the Glow range, which has an aim to healthier hair, skin and nails, has an artwork pattern based on flowing hair and the coffee's key ingredients.
Beforeyouspeak creative director Matt Brassington told PKN the team kept its signature gold foiling, but improved the quality of the stock and added embossing as a key element of the packaging.
"A recurring piece of feedback on our old boxes, was that at a glance it wasn't immediately apparent that it was a 'coffee' product. We've dropped the 'ONE' name, and replaced with 'High Performance Coffee' for our flagship range, which features the OG, Caramel, Cinnamon and soon Unsweetened flavours," said Brassington.
"Instead of hiding away in the Nutritional Info, we now feature the product's unique ingredients on the front – meaning people who haven't engaged with the brand before, can see straight away that this is coffee with a difference. Finally, we've introduced some subtle coloured tabs to distinguish between flavours and add longevity to the packaging as we continue to expand our range."
Brassington said the team was delighted to have shifted to Australia-based packaging suppliers – "literally around the corner from our warehouse" – which has both reduced carbon footprint and increased efficiency. 
Beforeyouspeak Coffee uses cold press technology, differing from cold brew, and is "relatively new to the market". The technology allows the team to lock in stronger flavours for their product and extract more from the coffee beans. 
The new Beforeyouspeak Coffee RTD range is now available in health food stores and independent supermarkets for RRP $5.95.