Labelexpo Brussels has finished up for another year, and Wayne Robinson wraps the innovations from his final day at the show.
Gallus optimises label power
Gallus showed the whole range of possibilities for digital and conventional label printing and converting with its extensive product range on its stand. The company says it has a focus on digital printing and converting as a growth market.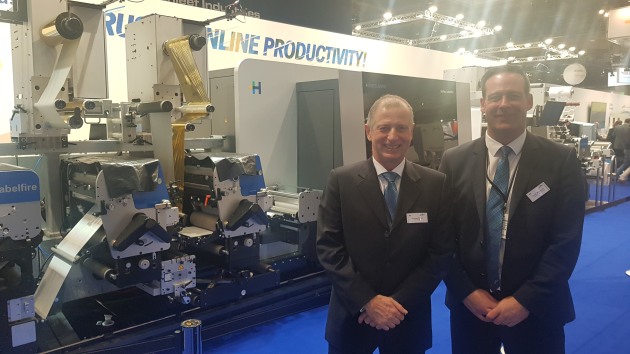 Dierk Wissmann, ANZ national sales manager for Gallus at Heidelberg, said, "Gallus is showing a raft of innovation on its label printing systems – conventional, hybrid, and digital – as the company builds on its leading position in the market."
Among the innovations at the show were a digital print bar for digitally printing an opaque white; a new rotary, quick-change die-cutting unit; and further optimised features for conventional narrow web printing on its Labelmaster solutions.
Speaking to Print21, Wissmann said, "The Labelmaster eight-colour, for instance, now has complete job change in less than three minutes, and that includes printing, foiling and die cutting change."
Wissmann explained that, while the Labelmaster eight-colour has a fixed configuration with two changes possible, the Labelmaster ten-colour Advanced can have virtually unlimited configurations.
Gallus launched the Digital Printbar, an inkjet printing unit designed specifically for digital insetting of opaque, digital white. With a printing width of 430 mm, the new, shiftable Digital Printbar benefits from inkjet-based digital print technology and achieves opacity similar to screen printing, says Gallus.
Gallus premiered its new Rotary Die-Cut unit for quick change die-cutting formats in less than one minute, and it is being demonstrated at the Gallus Labelmaster. The new solution means die changing can be achieved in less than ten minutes.
The hybrid label press Gallus Labelfire combines industrial inkjet printing with conventional label printing at printing speeds up to 70 m/min. At Labelexpo, Gallus showed a range of digital finishing possibilities with the integrated Digital Embellishment Unit (DEU).
The Gallus Labelfire is designed for digital production of narrow web products, especially self-adhesive labels. The Gallus Labelfire on show comes with a range of finishing possibilities – flexo printing and cold foil embossing, combined with digital finishing with the Digital Embellishment Unit (DEU). If integrated inline, as shown during Labelexpo, the digital finishing technology of the DEU creates tactile relief effects and matt or gloss spot coatings in various thicknesses digitally. The advantages: shorter set-up times, minimised cleaning and no costs for additional tools. Inkjet low migration inks for the Digital Printing Unit (DPU) of the Gallus Labelfire, under the Heidelberg Saphira Digital inks brand, were introduced.
Gallus launched its Your Smoothie programme, to highlight its variable data capabilities with Labelfire. These include iVDP industrial variable data printing for high volume text work, the regular VDP variable data printing and the fVDP full variable data printing for each print different to the next at full speed.
The Gallus Smartfire entry level digital label printing press was also shown live at Labelexpo, and attracted plenty of attention. Gallus says it is ideal for short runs, and that this press is a cost-effective, professional solution for anyone who is looking to move into digital label printing.
Océ into packaging with LabelStream
Océ (soon to rebrand as Canon Production Print) marked its commitment to labels and packaging with the LabelStream 4000 at the show, an industrial-scale four to five colour UV inkjet conversion platform for self-adhesive labels and selected flexible packaging applications.
The company says that with this integrated production line optimised for digital workflows, label converters can boost profitability and productivity of short-run and medium-run job sizes, and produce labels of quality and customised messaging.
Speaking to PKN, Crit Driessens, vice president labels and packaging at the company said, "We recognised labels and packaging as a growth area. We knew that with the technological expertise we have, combined with our organisational assets and service support, we would offer label and packaging printers something they have not had before."
Print resolutions of up to 1080 dpi and print speeds of up to 75 m/min allow label converters to expand their application range while increasing throughput and minimizing turnaround times. The top speed in combination with a 410mm digital print width results in what the company says is an industry-leading productivity of up to 1845 sqm per hour.
A single-pass digital white opacity exceeding 70 per cent can be achieved at standard press speed. Higher digital white opacity of approximately 80 per cent can be attained at a reduced speed, matching the opacity of analogue printing technologies such as rotary screen and flexo. The choice of white opacities at different print speeds enables users to balance application costs and quality for the most profitable production.
The high volume webfed inkjet business at Océ is now worth around €350m a year. For Labelstream it has partnered with FFEI and Edale. Printheads are from Xaar.
It can print on multiple media including film, paper, board, metallics and PP, in a range of thicknesses; for instance, for film up to 400 microns, and for board up to 600 microns.
Prati goes for applications focus
Finishing solutions supplier Prati had a host of new solutions on its stand, each one focused on a certain application, with systems for pharma, wide web digital, in-mould, and high volume.
Local ANZ distributor James Rodden said, "Prati has decided to build platforms for market segments in order to give the best possible solutions to label printers. Labelexpo is where the fruits of that strategy are seen and released."
The new Saturn Bidi for pharma labels has an automated stop and return function for mistakes in individual labels seen by its inspection system.
The Digifast 20000 launched at the show is Prati's first wide web finishing unit, and has been developed to work with the HP indigo 20000 flexible packaging printer. Web width is 760mm; it comes with various options including semi rotary varnish, full rotary varnish, laminating, and can slit the reel into four smaller reels. Rodden says, "This means it is delivering a big yield."
For in-mould labels Prati launched the Saturn Digi in-mould label finishing system, which uses a vibration system to stack any shape of label.
The company also launched the Jupiter for high volume work. The 670mm wide web system offers non-stop production thanks to a nifty swinging arm system. The new Prati DigitalOne is aimed at the wine market; it will take a printed roll, add flexo, hot and cold foil, screen print, embellish, die cut, and finish all in one line.
Rodden said, "Prati is a family owned business which has ISO 89001, ISO 140001 and ISO 4500. It is producing high quality innovative solutions, which will be warmly welcomed by ANZ label printers."
Bobst claims new era with non-stop hybrid Master DM5
Bobst launched a new a hybrid digital and flexo label press, the Master DM5, which it says is the industry's first non-stop digital label press and heralds a new era in label printing.
The Master DM5 has the company's Mouvent inkjet digital technology inside, and is designed for flexibility for high added value labels, with short job setup and fast return on investment.
Carsten Wendler, managing director of the Bobst ANZ distributor Print & Pack said, "This is a fully integrated digital and flexo label press. Its digital printing is based on the Bobst Cluster technology.
"Two of the greatest benefits of the Master DM5 are its productivity and reliability. It represents a total flexo-digital-converting integration, with non-stop productivity, and the highest press uptime in the industry."
It prints at speeds of up to 100 m/min at 1200 x 1200 dpi. Full digital automation means that only one press operator is needed to print high added value label jobs in short and medium runs. Job changes on-the-fly, without stopping the press, are possible for flexo, digital, die-cutting, and stripping processes.
All analogue tools (print cylinders, flexible dies) are changed automatically. Waste stripping is also fully automated. Eliminating traditional analogue bottlenecks, Jean-Pascal Bobst, CEO of Bobst, says the Master DM5 "is the first digitised non-stop label press".
"The Master DM5 is our first ever fully digitally integrated hybrid press and represents a new era in the production of self-adhesive labels with totally new standards of productivity and profitability.
"Bobst can now offer the full range of digital, hybrid and digiflexo solutions, which are integrated, interchangeable and scalable to all present and future needs," he said.
The Master DM5 has what Bobst says is the smallest footprint in the industry, with user-friendly access to digital print heads, and the automated set-up of multi-process operations. The digital print engine inside the Master DM5 is made up of Mouvent's proprietary Cluster Technology – integrating Fujifilm Dimatix Samba print heads – which is the innovative basis of the entire range of digital printing machines developed by Mouvent, Bobst's digital printing competence centre.
The Mouvent Cluster heads are compact and simple to change for easy and accessible maintenance, and have all-in-one fully integrated inking, conditioning and electronic circuits for the highest print heads reliability.
Bobst says the Master DM5 has the widest digital colour gamut in digital printing, and the most accurate and easy to achieve digital colour matching. It has an exclusive screening and digital front end (DFE) solution.
Ink-on-Demand (IoD) is an optional extra for DigiFlexo print units, a solution that replaces conventional inking reservoirs with a single rubber pipe that dispenses 30 grams of ink to the print unit. The system eliminates ink trays and chambered doctor blades and performs fully automated washing of the print unit in less than one minute.
It also has a full range of added value capabilities, including coatings, varnishes, tactile effects, 3D effects, hot stamping, cold foil, embossing, die cutting, punching, silk screen, flexo, and digital variable data printing (VDP).
A fully digitally integrated label press like this has never been invented before, according to Federico D'Annunzio, product owner, Hybrid and Label Printing at Bobst.
"The benefits for printers and converters are significant, and we are planning to demonstrate the full capabilities of this highly innovative press at Labelexpo," he said.
Kurz launches DM-Jetliner
Foiling specialist Kurz launched a new solution to work with HP Indigo digital printers: the DM-Jetliner, which sits in-line in front of the HP Indigo 6800 and 6900.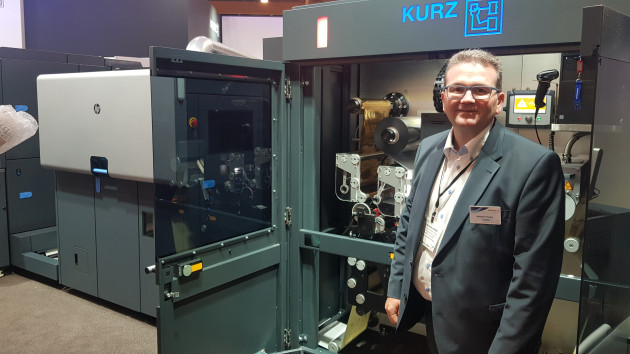 Stephane Royare at Kurz told PKN that, "Kurz is the leader in foiling, and we recognised we need to provide a solution for the digital world. We have worked with HP Indigo, and now have the DM-Jetliner. We have the first two in the field, and it is now available."
The DM-Jetliner lays down the foil first, then the HP Indigo prints on top. The Jetliner operates at full press speed. Royare said, "Kurz is already a machinery manufacturer – we make machines for the security and plastics sector, so we know how to build. The technology for the Jetliner is developed to provide the optimum solution to label printers."
The DM-Jetliner is suitable for self-adhesive labels made from a wide variety of plastics and coated papers, and processes roll widths of 150 to 350mm. The key feature of DM-Liner finishing is its flat, color printing equivalent application of the metallisation, which makes what Kurz says is problem-free multi-coloured overprinting possible thanks to the non-bulkiness of the coating.
The Kurz solution also offers diffractive designs and continuous holograms. These serve not only as decorative eye-catchers, but also provide a barrier to counterfeiting.
Labelexpo debut for printIQ
Local workflow management and MIS solutions developer made its Labelexpo debut at this show, with its new label printing module now part of the core printIQ product.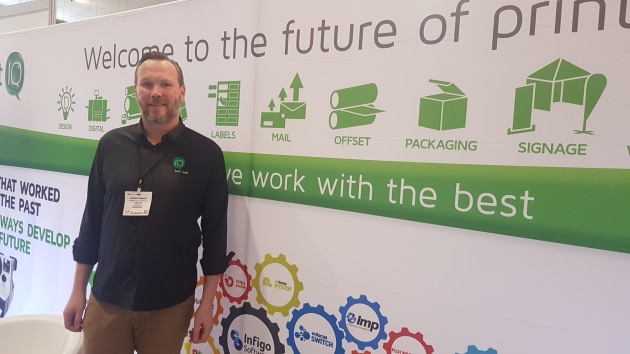 Sales director Adrian Fleming, who was at the show along with Mick Rowan, said, "We were at Labelexpo in Chicago last time, so we are building on that. This is our first showing here, and we are having a lot of interest in the printIQ solution."
Fleming says, "For the label printing industry, you can't just stick a label on your MIS and call it a label MIS. Here at printIQ, we have built the functionality specific to label printers into the software – it is now part of the core product."
Fleming said the company's mantra of innovate, integrate and automate is still its basis.
"Label printers will partner with printIQ because they will be with a business that has a clear roadmap, an understanding of the market, and a commitment to create relevant efficient solutions that bring clear benefits," he said.
Mark Andy revamps digital presses
The Mark Andy booth was a hotbed of new developments with new hybrid and digital presses attracting the crowds to the US manufacturer, supplied here by Aldus Tronics.
Chris Bodger, sales manager at Aldus Tronics said, "The Digital Pro range is now second generation, with Mark Andy launching different solutions to suit different businesses."
The company has the Digital Pro 1, Digital Pro 2, and Digital Pro 3. The new Digital Pro 1 is the reel to reel printer; Digital Pro 2 has rotary die cutting and can have a single flexo unit; and the Digital Pro 3 has semi rotary die cutting, and the single flexo unit. Bodger says, "The 3 is what many printers have been asking for – it is good news that it is now here."
All three printers run at 23 metres a minute. Bodger said, "Mark Andy is a leader in flexo presses; in fact, in Europe, it is selling more than anyone else, but it also recognises that digital is growing, so it has created the Digital Pro series to meet that market demand."
The company also launched the Digital HD Series at the show, which is end to end Mark Andy and a modular press. Bodger said, "You can essentially have whatever you want: any number of digital units and any number of flexo units, at any position on the press."
It comes in 330mm and 430mm width options and is built on the P7 frame; digital is CMYK with white, orange, violet and green.
The Evolution flexo press launched at Labelexpo is available in 330mm or 430mm widths. It is a reworked P7, with the mechanics exchanged for servo driven units, and is scalable.
Oki launches label printers for bespoke jobs
The Oki stand had the new Pro 1050 CMYK + white label printer as the centrepiece, the new system aimed at the burgeoning craft food and beverage markets.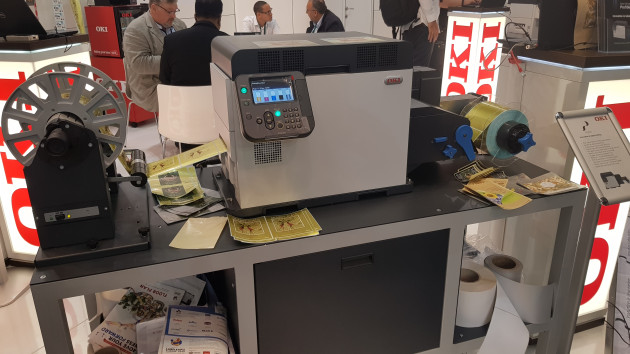 In Australia the LED printers are available through Labelpower and Gulmen Engineering, and were seen on the stands at PrintEx.
Oki says it has developed the Pro 1040 and Pro 1050 narrow-format label printers specifically for the growing market of users who need on-demand label printing that is easy to set up and requires minimal training to use.
On the stand, Oki's Atsumi Honda told PKN that the new printer will enable businesses to produce high quality labels in-house with minimal waste. He said, "We are targeting the food, beverage, and household items sectors."
The company said converters who require short run production will also find these printers beneficial. It says users will benefit from a wider choice of label designs with a lower print-volume/high SKU mix, reduced pre-printed label stock and reduced wastage. The ability to print in-house will also remove the necessity to wait for consignments of externally printed labels to arrive.
The printers provide the ability to print on a wide range of materials in professional four or five-colour finishes. The Pro1040 prints in CMYK, whilst the Pro1050 prints in CMYK plus white (CMYK+W).
With the white toner, users have the added advantage of printing on transparent or coloured label media – this is done by printing an opaque white background under the CMYK image.
The printers are able to print on a variety of roll widths onto standard stocks. Because they are LED, there are few moving parts. They print onto standard label materials, including synthetics. RRP in Australia will be $11,475 for the four-colour version, and $15,945 for the five-colour with white.
Avery Dennison gets strong with rough surfaces
Avery Dennison used Labelexpo to launch 12 new innovations, including what it says is a breakthrough adhesive for rough surfaces like cardboard boxes.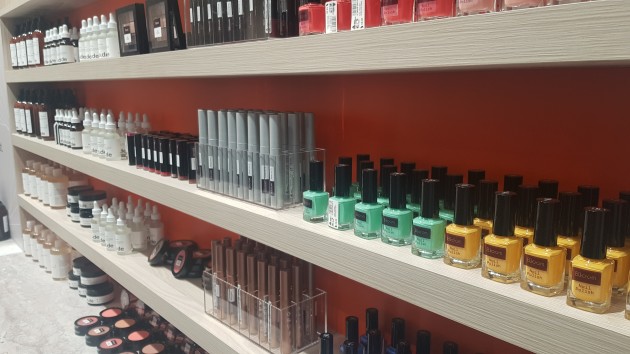 The company says it is focusing on four strategic areas: imagination, sustainability, connectivity, and materials science.
It showed off its "store of the future", saying collaboration is key to its product development. One innovation on display, the new Surfas adhesive, is designed to give better adhesion for labels to cartonboard and other rough surfaces, in the era of internet shopping.
Eric Bartholomew, Global R&D director, said that Avery Dennison has cracked the code for labelling irregular surfaces.
"The technology's stronger initial tack and higher adhesion make it a solution you can count on across the life of the label," he said.
Avery Dennison also celebrated being awarded the Environment and Sustainability award at the Label Industry Awards for its recycled PET liner, which uses 30 per cent PET post-consumer waste.
The company aims to reduce waste across the entire packaging and label value chain, according to Jeroen Diderich, vice president and general manager for Label and Graphic Materials EMEA at Avery Dennison.
"We designed the rPET portfolio to help converters and brands meeting the increasing demand for sustainable solutions that incorporate recycled content and promote recycling.
"We're pleased to see this award as proof that Avery Dennison is creating materials designed to solve the sustainability challenges that matter most to the label industry," he said.