Maverick, pioneer, innovator: Ross Read, founder and managing director of Read Labels & Packaging, is all three. In 2000 he established the first label making company in Australia to offer only digital print, and in the ensuing two decades has successfully delivered the technology to flexible packaging, enabling small food and beverage brands to create a big impact on shelf.
This article was sponsored by HP. HP invites you to learn more through its ebook and webinar series
Being first to market with a product and service no-one else can offer gives Ross Read tremendous satisfaction. This is why, as one of Australia's first label printers to take the leap of faith in digital – purchasing an HP Indigo press back when digital printing was very much the new kid on the block – he was able to grow his business significantly by servicing the small end of town.
And it's this same sense of satisfaction he seeks to deliver for his customers, many of them start-ups or artisan brands needing help to amplify their market presence through high quality, head-turning, printed labels and packaging. Companies like Chai Spice Beverages (see case study below) are among the many customers whose testimonials showcase how digitally printed packaging has unlocked value for their businesses.
WHERE IT BEGAN
As the first label printer to focus on a digital-only offering, Read quickly grew his customer base in the boutique wine industry, and also among food and beverage start-ups, by addressing the need for labels with high quality graphics, produced in short runs and for multiple SKUs.
With the labels side of the business ticking over at a steady pace, Read, ever the entrepreneur, saw a gap in the market for short-run flexible pouches. He knew then what he still knows now: digital print could offer small brands agility and a creative edge to compete in niche sectors in a way that big FMCG brands could not.
With no requirement for platemaking or minimum length of runs, and offering variability within the print run, digital print enabled unprecedented speed to market and the ability to mount a nimble response to seasonal opportunities and special events through the branded packaging platform.
Variable designs and limited-edition packaging could see a small brand create cut-through with consumers at a level that was previously not possible.
"Previously, if you were a small producer of protein balls and you were looking for some flexible bags, you'd have to go to one of a few large packaging companies and buy 150 kilograms' worth," Read says
"The language has changed. Thanks to digital printing, we can offer runs of 2000 pouches or less, and on top of that, we're able to split that 2000 into multiple SKUs.
"It's a completely different story. Now brand owners small and large can conduct market trials for a new product quickly and at relatively low cost, or create seasonal packaging, limited edition and personalised packaging. And all of this can be scaled up for mainstream production."
READING IT RIGHT
Back to Read's unfolding story. Determined to find a way to leverage the rapidly advancing technology to the benefit of his growing base of food and beverage customers, the company upgraded its press through several iterations of the HP Indigo, honing its craft along the way.
Meanwhile, in the packaging market flexible formats were reaching lift-off, and so too was the artisan food industry, driving demand for stand-up pouches and centre seal bags, produced in short runs with a quick turnaround.
Read moved fast. He trialled converting flexible pouches in house, investing in pouch making equipment and using the HP Indigo WS6800 to print the film.
"I was clear I didn't want to be only a printer," Read says. "To address this new market – short run pouches and bags – we needed to offer an end-to end solution to create our point of difference."
Once the process was mastered, he was ready to invest, and once again turned to trusted technology. In 2019, Read Labels & Packaging took delivery of a new HP Indigo 20000 press – the second press of its kind in Australia at the time – stepping up significantly the quality of the printed rewind and the capacity.
UNLIMITED SCOPE
Around the same time, the company had moved into new premises in the Melbourne industrial suburb of Ravenhall, a purpose-built, light and spacious facility to house the new equipment and with plenty of room for expansion. It's the latter point that's most telling, because from this it's clear Read sees huge scope for growth off the back of digital print, which is borne out by the growing number of small brands turning to his company for marketing help.
"We offer the full marketing package in a collaborative partnership," Read says. "We help brands ramp up the R&D side of their product development, to create a range of variants in any given product line with impactful packaging to match."
"It's usually risk-takers, true entrepreneurs that seek us out, and we find a like-minded kinship in the pursuit of a packaging solution that will give their brands an edge. It requires a lot of trust on their side, and we have to be light on our feet to find a solution that challenges the norms and delivers the result," Read says.
"If you're smart about the way you use digital, it really can take your brand places."
CASE STUDY: Digitally printed pouches save costs and boost sales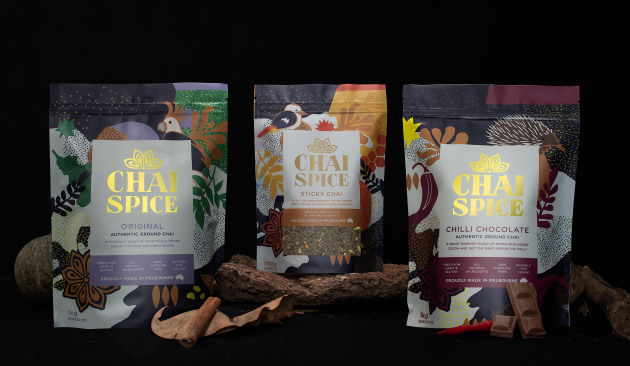 Some years ago, café owner Abdul Bey started Chai Spice Beverages following a desire to bring a new chai offering to his own café while seeing a gap in the market to also supply other cafés.
"Every café had the same chai on offer. We had good food and coffee, but were serving a supermarket chai blend. My business partner soon changed that, developed an artisan blend that centred on spices, and we packaged it to sell on café counters," Bey says.
About four years ago the company approached Read Labels & Packaging. Its packaging was dated. The pouch was a kraft paper bag with a label stuck onto it. The catalyst for the company to change its packaging, Abdul relates, was the high cost of buying bags and printing multiple labels for the different blends.
"Once we moved into printed bags, we found we could standardise our bag sizes, and get a print run done with our variable SKUs all at the same time.
"We saved time and money because of that, and the process was so much easier," he says.
The packaging has been instrumental in building the brand's following.
"We did a test run with one of our customers with the old packaging and the new packaging. The new packaging has increased our sales three-fold."
Customers (café owners) embraced the new packaging, and Bey says the response was so positive to the colourful, themed on-pack graphics that customers have been dressing up to match the packaging, with outfits posted on the company's Instagram page @chai_spice_beverages.
To find out how digitally printed packaging can add agility to marketing executions and amplify your brand, contact Read Labels & Packaging.